My father – Douglas Jones, was born and raised in Coventry and spent his working life involved in the car industry (as did all his family).
Starting at 14 (1930), as an office boy for his father – a senior buyer at Rover, then moving to Humber-Hillman in 1935 and to Triumph in 1936/7'ish.  He left Daimler in 1958 and moved to Plymouth, Devon to work for Tecalemit until his retirement in 1976.  He recalled going to Donald Healey's home on a number of occasions for parties etc.  The Doug Lee mentioned in fact became my god parent.  By a strange coincidence, I live in West Cornwall not far from where Donald and his family lived.
The following is an extract from my late father's autobiographical story:
At that point I was off again to the employment agency and got fixed up as the Coach Buyer at the Triumph Motor Company.  (Under the original name Triumph Motor Cycle Company they had also started making cars and the faction interested in the four wheel activity had split off), the Engineering Director was Donald Healey, and one of the Riley's was on the Board.  It was a happy ship and I made strong friendships with Doug Lee, Ron Stansfield and Norman Parker and Wal Belgrove, who was the coachwork designer on the Standard Vanguard, Renown and the Mayflower…. they were a talented crew, the models made were the Southern Cross (in which Donald Healey won his class in the Monte Carlo rally) the Gloria, Dianne, the Vitesse, and then at the end, the range of Dolomites.  At the time we were producing sixty cars a week, whilst next door was another operation producing two cars a week, with bought-in engines, gearboxes, axles etc called SS Jaguar.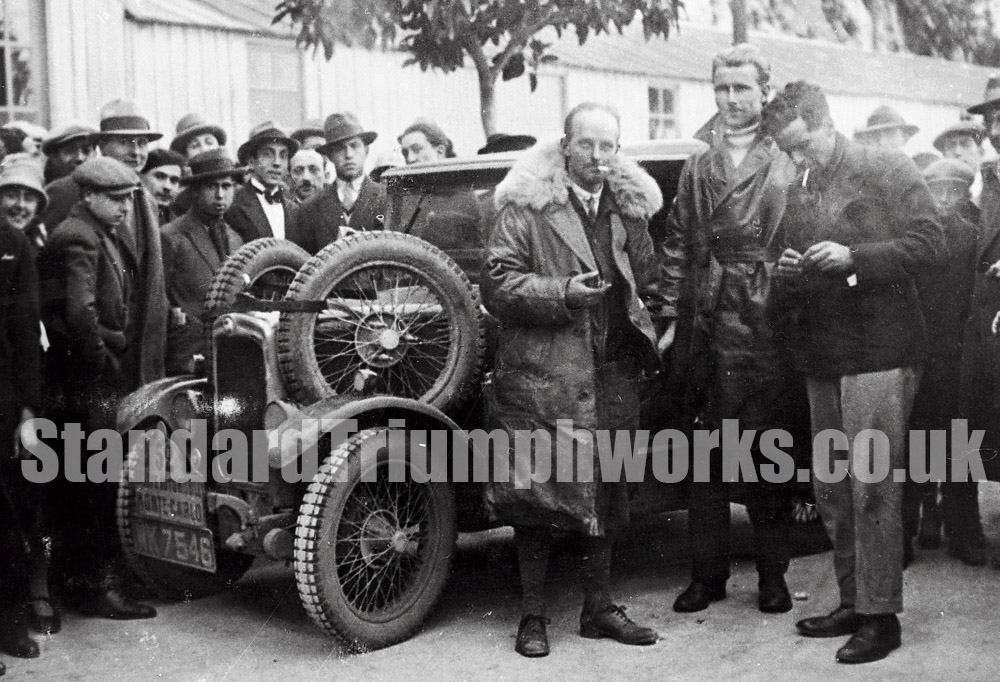 In 1938, the company was to go into liquidation, but before this my chief advised me to look around before the axe fell on all of us and again through the Agency I was interviewed at Daimler for the vacant post of Assistant Chief Buyer and appointed.