On the first anniversary of the launch of this website archive we thought we'd write something about Alf Welch.
Alf was actually one of the key inspirations to producing the archive and he first appeared in a Triumph Herald book demonstrating a series of "how-to's" for Standard Triumph dealers.
Here he is…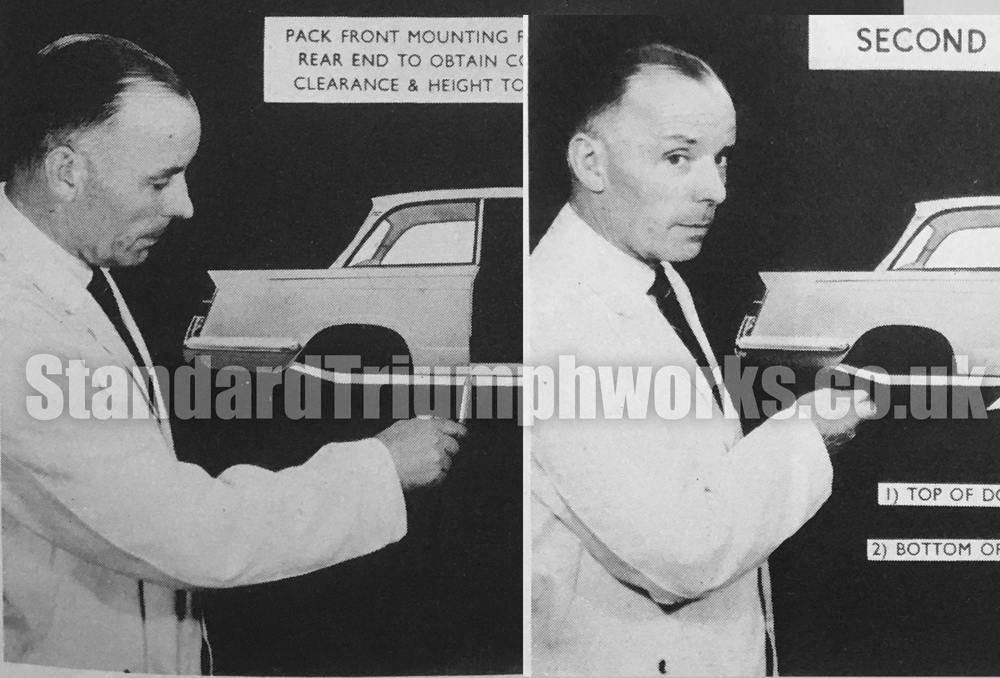 A couple of years later an ebay purchase of the in-house Standard News newspaper contained a photo and brief write-up on Alf. What a coincidence that he should appear – and what a story….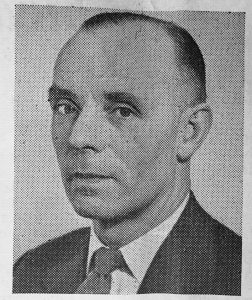 Standard News, August 1961
As briefly reported in the News last month, Colour-sergeant Alfred T. Welch, drum-major of the 7th Battalion, Royal Warwickshire Regiment, who was awarded the British Empire Medal in the Birthday Honours,
Alf is a service instructor in Market Promotion and Training at Radford. Alf has been with the Company for five years, and for the first four was in the Service Division at Allesley.
Aged 50, he was born in Coventry, where he is well-known among local bandsmen. He made more than 100 broadcasts with the City of Coventry Band, of which he was a member for about four years, and he has also broadcast with the Standard Military Band, for whom he still plays the drums.
He took up drumming in the Territorial Army, which he joined before the war and in which he has again served for the past nine years. Alf went to France with the BEF in 1939 and was rescued from the beach at Dunkirk. He landed in France again shortly after D -Day.
In ceremonial parades today he bears the mace presented to his regiment by the City of Coventry. Alf is married, and has a son and two daughters.
 ***
Alf, like so many at the time, endured a lot due to the war. This man managed to escape the beaches at Dunkirk, fought throughout the campaign and returned to normality by showing how dealers could fit Triumph Herald windscreens in their workshops. I thought is Alf still known? Still remembered? Sadly, I thought probably not so I set about establishing the archive in order to try and identify Standard Triumph people and tell their stories.
The archive has been very popular and it's thanks to a great deal of people who have gladly got involved to enable the archive to grow throughout its first year, 2017.
So a year later, and we are contacted by John Whittall, an apprentice from 1956 who worked with… you have guessed it Alf Welch!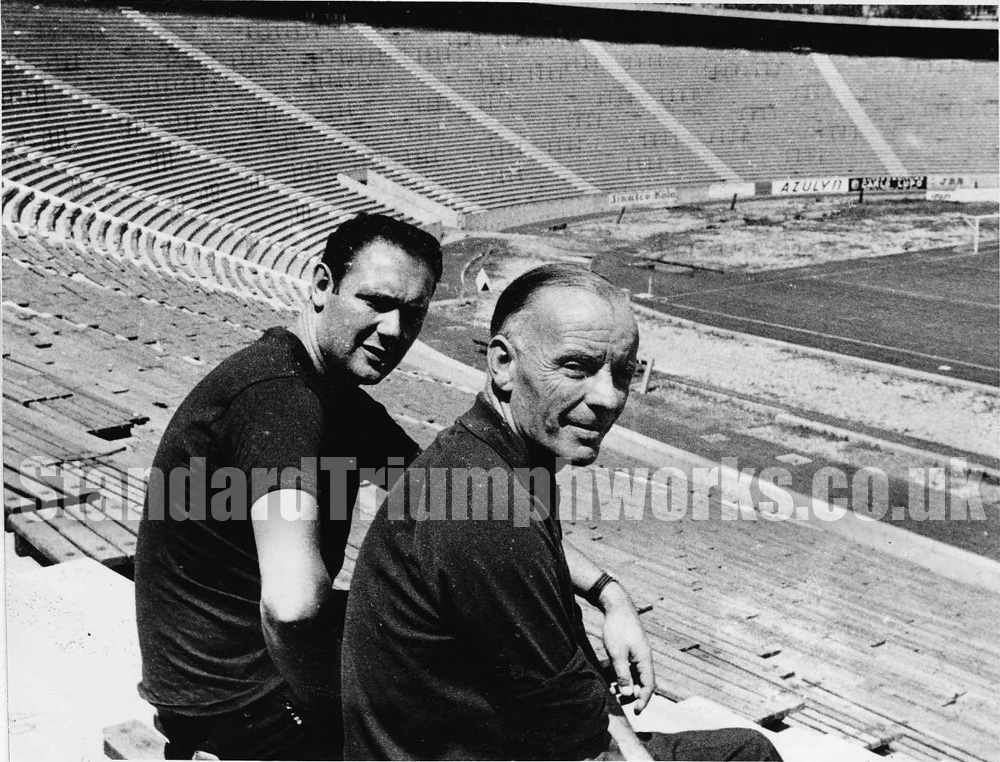 John says "The photo show us visiting the stadium, home of Red Star Belgrade. We did several trips together with Alf covering the bodywork instruction. Alf was a genius who could solve any problem with two bits of wire."
John has many stories (which we'll add later) and recounts another moment with Alf,
"
We were crossing Austria and despite having a carnet du passage the 
customs insisted on sealing the rear door of our Atlas van. No problem 
till we were in the mountains in a snow storm with our tyre chains in 
the sealed van. No problem for Alf, out came one of the side windows, 
the chains were taken out, fitted and the window replaced.
Again, in Austria, Alf saw that the local cinema was showing "The
Battle of Britain" when we went along to get tickets, the manager said
"It's in German, you won't understand it" Alf said "Just give us the
tickets we know the ending!"
During our trips Alf was continually apologising for boring me with
all his war stories which were anything but boring. It was a privilege
to hear them first hand, something I only fully appreciated later."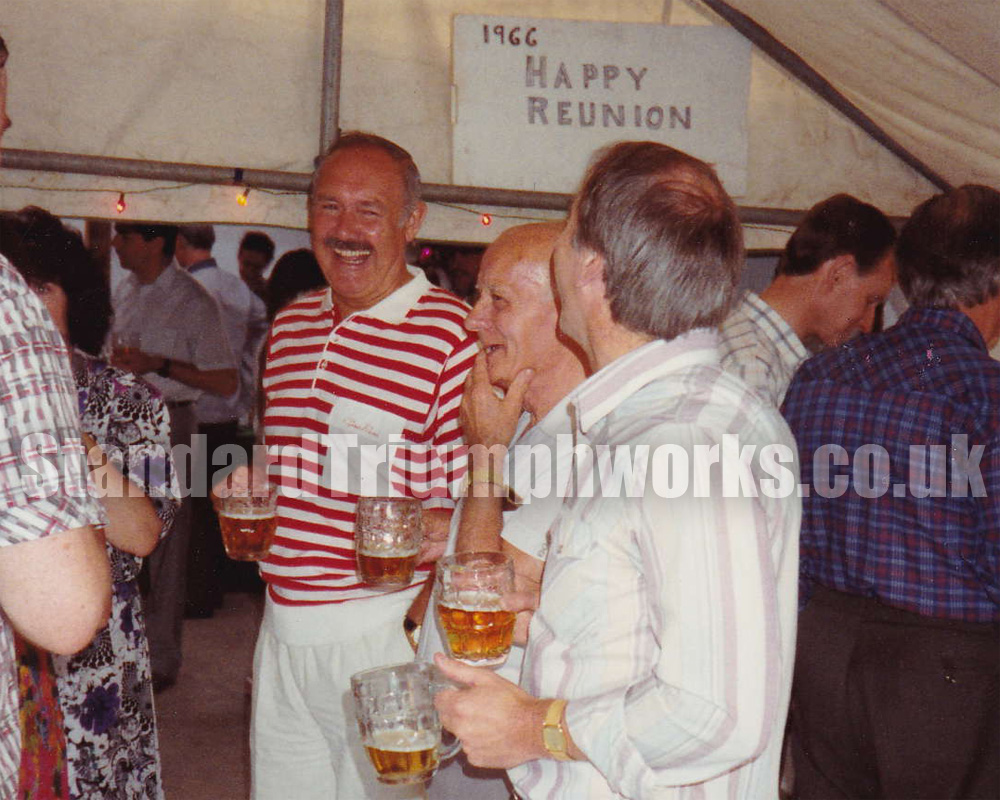 Funny isn't it? That's almost full circle.
Thank you Alf for serving your country, serving your community, showing how to fit those windscreens and being the inspiration behind the Standard Triumph Works Archive. You weren't forgotten.
22527556 Staff-Sergeant Alfred Thomas Welch, The Royal Warwickshire Regiment, Territorial Army.
British Empire Medal (BEM), 1961
UPDATE:
"You wrote a lovely article about Alfred Welch back in February of this year.  I am Claire, his Grand Daughter. The family loved the article and would like to say a huge thank you!!!! It made us all very proud. "
"I am the eldest daughter of Alf Welch living in Australia. I was so thrilled to read the lovely article. It made me feel so proud of my Dad. Thank you."
Valerie Thomson