I cannot let yet another milestone of motoring history pass by without recording that the Canley factory of BL in Coventry has commissioned its very last motor car, a Triumph Spitfire.
It was in September 1916 that the new Standard Motor Company factory at Canley began to take shape, and the skeleton steelwork formed a new landmark in what *had hitherto been a quiet piece of Warwickshire countryside. BE-12, RE-8 and Sopwith aircraft, totalling 1,600 examples, were made there before the Armistice and from then on, apart from the Hitler War, it has been cars all the way.
The variety of Standard models is too numerous to catalogue, but many were evocative of Warwickshire towns and villages with names like Kenilworth, Warwick, Leamington and, later, Stratford, Charlecote and Wellesbourne. Canley then turned its attention to the ubiquitous Standard Nine, first in worm-drive form (1927) and later as Big and Little Nine versions. The 1936 Flying Standard range, produced under the dynamic Captain John Black, who had succeeded Standard founder, R.W. Maudslay, in 1934, was successful enough to warrant extensions to the Canley Works which was producing 144 cars per day. Standard 8, 12 and 14 production was the cornerstone both before and after the Second World War, which was also to have, in its aftermath, the acquisition of Triumph. Canley produced its last Flying 8, the 83,135th example, on July 9th, 1948, and then it was into Vanguard production with a vengeance.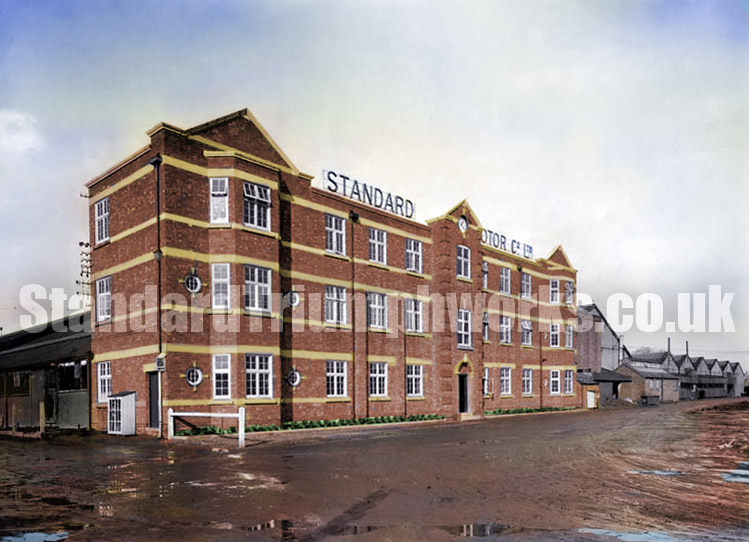 Maudslay, Black, Dick, Stokes and others more recent have all stepped onto the terrazzo tiled floor of the vestibule at Ivy Cottage, Canley, the old Standard office building. Set in the tiled floor is the Standard badge, now faded with the passage of countless feet, which incorporates the Union Jack and the words Standard – Coventry. How long will this last relic survive and how long too will the Standard slogan "Count them on the Road" be applied to the surviving products of Canley?
ARCHIVE: JOHN DAVY, 1980
Bigbury-on-Sea