In the early years of the 1st World War air  warfare was in its infancy. The first planes were used for observation and as "spotters" for the artillery. They carried no armaments — except the pilot's revolver! Later, the planes were fitted with light machine guns and the epic battles between enemy "aces" have become legends.
The first fighting scout aircraft built by  the  Standard Motor Co was in action on the Western Front in November 1916. Before the war ended Standard had built more Sopwith Pups than any other company ! We are indebted to Norman Davies, of Styling Department, Fletch. North, for the story of this particular aircraft. He painted this detailed picture of the plane in action on the Somme Front. Norman also carried out research and provided the following story.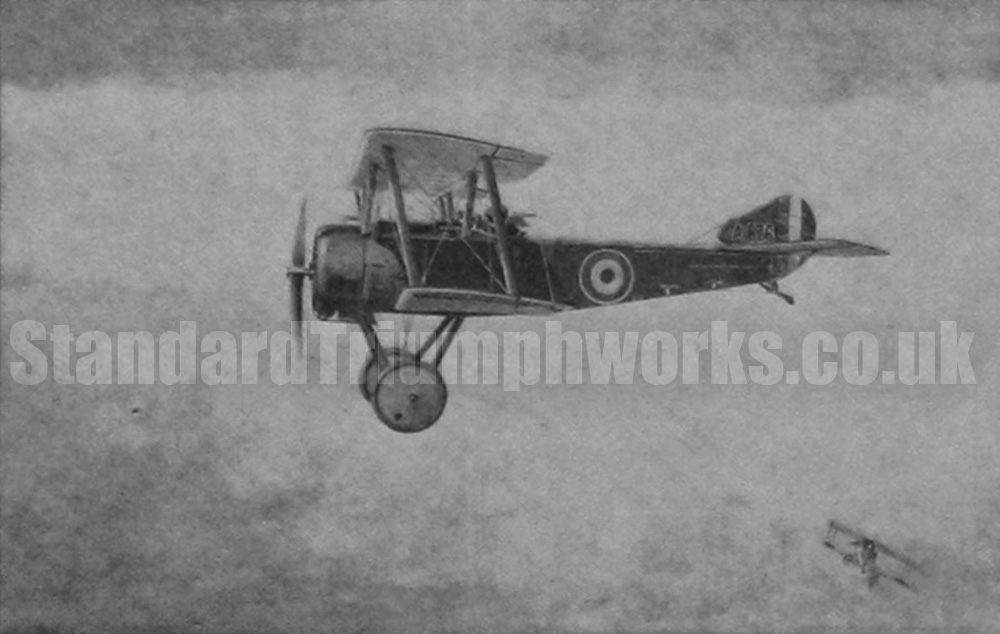 SOPWITH PUP A 626
The first contract built Sopwith Pup to be manufactured for the Royal Flying Corps was assembled in the new erecting shops at Canley under contract by the Standard Motor Company, which built more Pups than any other company, totalling altogether 850. The bulk of airframe construction, sewing and covering work was done in the Victoria Park Works in Leamington and shipped to the new Canley shops for erecting as complete aircraft.
After test acceptance Pup A 626 was flown to France and joined No. 8 Squadron, Royal Naval Air Service, as a 'B' flight aircraft, in November 1916.
The squadron was based at Vert Galand on the Amiens Doullens road, later to become one of the most famous of the R.F.C. fighter aerodromes on the Western Front.
On Boxing Day 1916, the A 626, flown by Royal Naval Flt. Lt. J. C. Croft, shot down a German single seat scout believed to have been either a Halberstadt or Albatros. During eight days of Hying in December 1916, the squadron shot down 13 enemy aircraft.
The Sopwith Pup was lost to the Germans on 4th January, 1917, when again flown by Flt. Lt. Croft it was forced down behind enemy lines by Lieut. Mallincrodt of Jasta 10. Before Croft could set fire to hts aircraft it was captured intact by the Germans as the first example of the type taken by them. Croft was made a prisoner-of-war.
Apart from Sopwith Pup aircraft, Standard Motor Company also built B.E.12s., R.E.8s., and in 1918, Bristol Fighters, a heritage which followed through to the Second World War when Airspeed Oxford and De Havilland Mosquito aircraft were built.
ABOUT THE ARTIST
Norman Davies (44), has been in Triumph's Styling Dept., for four years. Previously he was at Rover for some years, and also at Pressed Steel Company, Oxford. Norman had been interested in aircraft since his schooldays and towards the end of the 1939-45 War he found that he was still interested — and served in the Fleet Air Arm for three years.
After four years in commercial art studios he entered the motor industry. He draws watercolour pictures of vintage air-craft as a hobby. They have to be correct to the last detail and this involves much research. Ten of his watercolours of early aircraft will be displayed later at the Shuttleworth Collection, in Bedfordshire, where there is a permanent exhibition of early aircraft, cars, carriages and cycles. Later he hopes to display his work in Kenilworth. Norman was born in Ludlow, but brought up in Oxfordshire. He is married, and his son is an apprentice with the Company. He has a married daughter and has recently become a grandfather.
ARCHIVE: Standard Triumph Works Archive