Recently found your wonderful web site, thought I might pass on this information about my Father and Brother, both Standard and Triumph employees.
My Dad, William Francis ( Frank) Gentle and my Brother Adrian Francis
(Frank) Gentle both worked for Standard and Triumph. My dad was with
Triumph in the late 40's through 1960. My Brother joined Standard –
Triumph as an apprentice in 1955.
My Dad was a Service Representative, his district as far as I remember
was the Cheshire area, we lived just outside Nantwich. He also
traveled abroad and as a kid remembering how long he was gone, they
were not short trips, The Middle East and Africa were part of his
territory. Dad's good friend was David Cooke, a Standard-Triumph
dealer in Crewe.
In 1957 Dad was transferred to the U.S.A, New York, NY office. We came
over on the Queen Mary, another Family being transferred also traveled
with us, Joe Smith and his family. Smith went onto California as the
West Coast Service Manager, my Dad was the East Coast Service Manager.
My Brother was able to finish up his last year of apprenticeship at
the NY office.
They were exciting years growing up around Triumphs, remember doing a
lot of sailing with A. F. Bethell. President of Triumph U.S.A.. what a
wonderful gentleman.
Sadly my Dad passed away in 1960, I was 15. Mom decide we should stay
in the U.S.
My Brother Francis continued in the auto industry. He now lives in Port Townsend, Washington State, USA. He will be celebrating his 79th this week
I am currently finishing a frame off rotisserie restoration on a 1961
Triumph TR3A TS/81208LO, certainly brings back lots of wonderful
memories.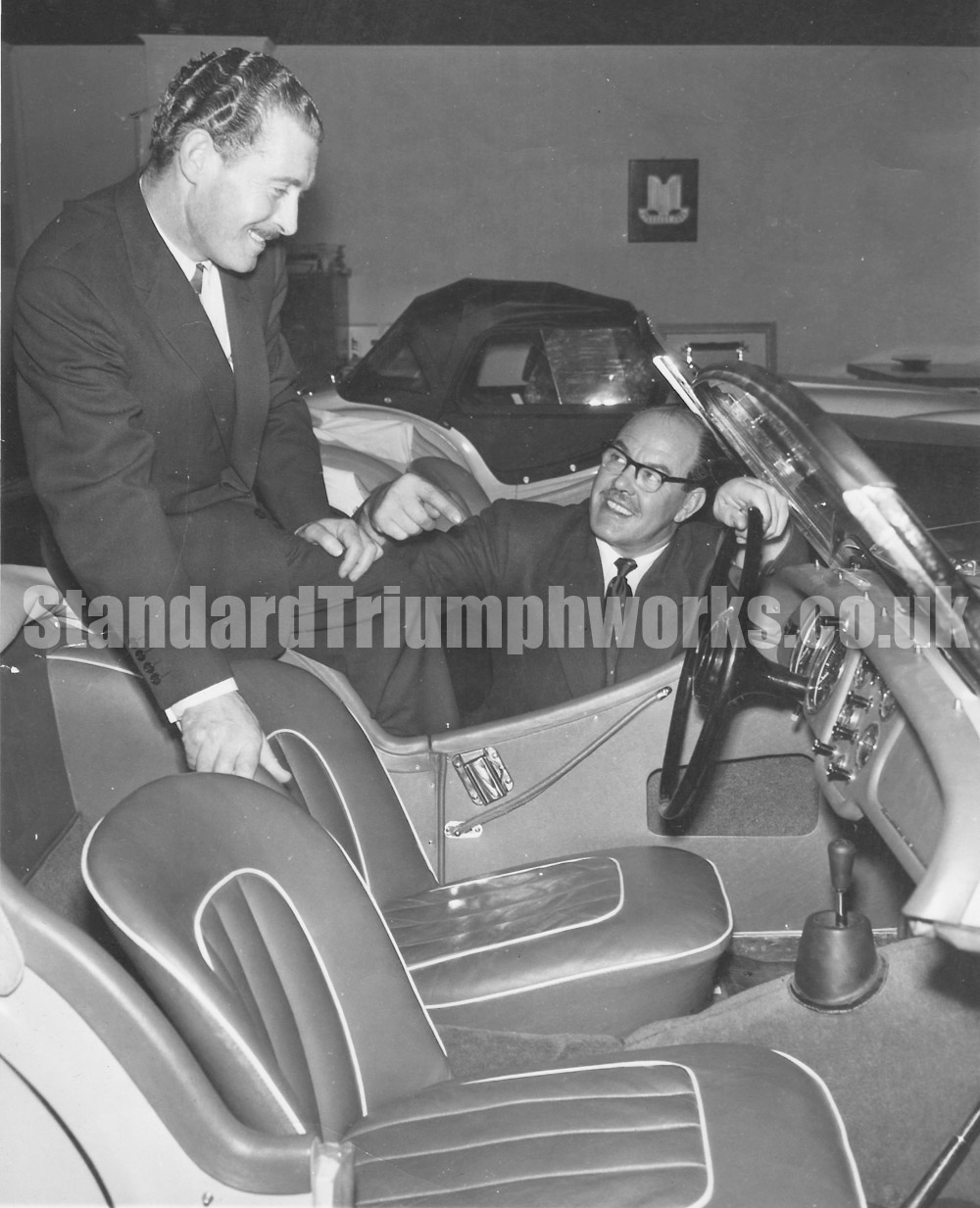 I have attached a publicity photo of Dad, kneeling on the right and
Joe Smith on the left, taken at the Broadway N.Y. City Showroom 1957.
Best Regards,
Colin William Gentle
Bethel, CT USA