Horace Castledine, chief storekeeper, Tool Stores, No. 2 Machine Shop, Canley, retired last month after 38 years' service with the Company.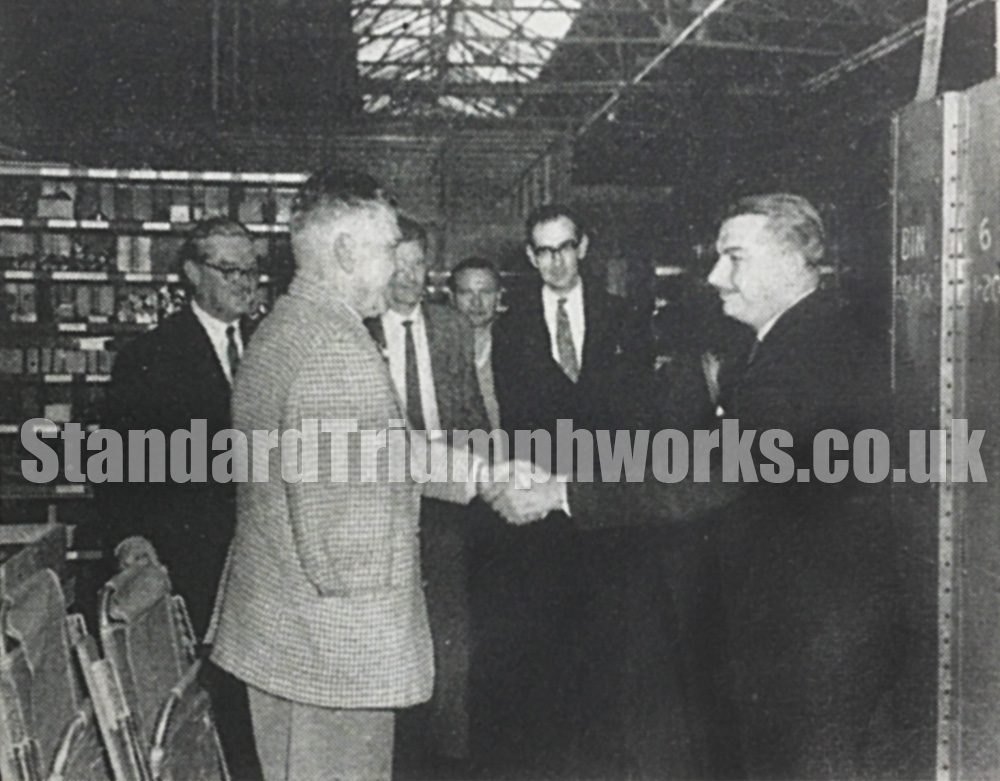 The day Horace retired was also his 65th birthday, and he had many gifts from his colleagues and workmates. Horace is a 1st World War Veteran. He joined the Army in 1914 when he was 17 years of age, and was in many famous battles. In 1917, at St. Quentin, on the Somme, he was seriously wounded and lost an arm. His workmates have a high regard for Horace, and as a compliment to him they have said that Horace probably fought on to the end of the War, with only one arm. Horace was discharged from the Army in 1918.
FOOTBALL INTEREST
Joining Standard's in 1924 as a store-keeper, he became chief storekeeper in 1936. From the time he joined the Company he took a deep interest in Standard Football Club, and was on the committee and management for a great many years. He retired from these duties in 1956, due to ill-health. The football club presented him with an engraved wrist watch, and elected him a life member.
ONE OF THE BEST
Mr. A. C. Swindle, Works Manager, presented Horace with two lightweight folding chairs, on behalf of colleagues. An expensive luxury lighter was noticed among the many other gifts which Horace received, and everyone summed-up Horace as "one of the best." Horace is retiring to his new bungalow —"Chez Nous," Rugby Road, Barby, Northants.
ARCHIVE: September, 1962
What a fascinating account. Does anyone remember Horace? This archive was set up to remember people like this. The factory workers keep being referred to as the Standard Triumph "Family" and with your continued help we'll try to remember all members of the family within this archive. Thank you. (ED)
UPDATE:
We have found a record for Horace Edward Castledine, born 1898 who died in 1969, Northamptonshire. Army Service No. 265534, Royal Warwickshire Regiment.