Life at Standard Triumph by Martin Longmore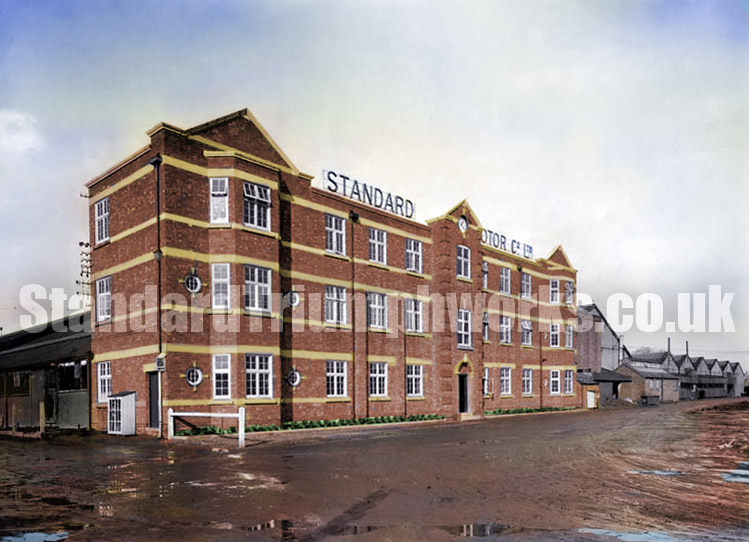 It was 3rd, August 1969 and I was starting my first day's work at Standard-Triumph Motor Company in Coventry. Full of anticipation I parked my old 1951 Riley and made my way to 'Ivy Cottage', the reception area, and asked for Harold Knibbs, who was to become my manager. My interview with Mr. Knibbs had gone far better than expected and I was duly given the job. He was an affable gentleman of the old school, well dressed and very polite.
My father had worked at the company during WW2, and was a friend of long-standing with John Bevington who, at that time, was Personnel Manager, or so I believe. They both enjoyed trout fishing together and it was John Bevington who introduced Sir John Black to the sport. I remember my father telling me that one day he had a telephone call from John Bevington, telling him to be outside of the reception area at 11.00am where a car and driver would be waiting to take him to Billy Lane's fishing tackle shop, in Coventry. Once there he was to choose some good quality trout fishing gear, creel, rods and flies etc, and the driver would pay for these items by cheque. The fishing gear was for Sir John, as he was going to try his hand at the sport. John Bevington had suggested my father choose the gear as he was an experienced fly fisherman. How Mr. Black got on with his sport is unknown to me, but my father and I spent many happy hours together fishing with John Bevington before, and for some time after, his retirement, until he decided in the early seventies to migrate to New Zealand with his long time friend Ken Green and family. Ken had just secured a position overseeing the distributorship in NZ. I continued corresponding with JB by letter as he had known me since my birth, until his death in the late seventies.
Standard-Triumph was a very family- and friends-orientated company. Fathers and sons, brothers and sisters, and anyone who knew someone who worked there, all had a good chance of being employed by the company. I must add a caveat to my statement, as I can only verify this statement to apply to the areas of the company that I worked in, or knew of. Harold Knibbs being an ex-colleague of John Bevington, without doubt, helped me gain employment with the Company.
Mr.Knibbs met me in the small reception along with someone from personnel. I had a brief introduction to the company structure, and then Mr.Knibbs led me to the small office where I would be working. Ted Bowers was the team leader of a small group of some five personnel. I didn't fully understand what his remit was, but I was told that I would be involved with the introduction of a new procedure dealing with safety critical items. After being introduced to the other members of the team, Ted suggested that one of them show me around the factory.
Ivor was a tall slim Welshman with a wry sense of humour. He explained that every day he had to visit various areas of the factory and collate information on production build figures. We left the office at 09.00 am and made our way through the factory, stopping off every now and again for a chat with people he knew. We strolled up and down a few assembly lines until 10.30 am, then we eventually stopped for tea, a bacon roll and a chat with more people. The factory was enormous and covered a large expanse so, according to Ivor, frequent cups of tea were extremely necessary owing to all the walking and talking that had to be done. By Ivor's estimation, if we organized ourselves correctly, we would get back to the office at exactly 12.30 pm just in time to start lunch. No wonder Ivor was of a skeletal nature as he spent every day clocking up that kind of mileage around the factory.
As the introduction of the safety critical procedure was taking longer than expected, I was virtually unemployed. I spent most of my time reading trade magazines and clock watching. No-one in the office spoke much, it was totally enclosed and remote from the large purchasing office which was completely open plan. An elderly gent sat in one corner hunched over his desk, he looked a bit of a weird character, he had a monocle over one eye and smoked continually, so much so, that the dark green and cream painted wall where he sat had lost all of its colour and was now completely stained nicotine brown, even the ceiling had a brown area of stain directly above him. He was affectionately called 'Puffing Billy'. During the day I could continually hear him quietly mumbling to himself. Lunchtime ended at 1.30 pm, and for about ten minutes before, this hunch-backed, grey-haired, balding man could be seen pacing up and down the corridor outside the office looking down at a book and mumbling to himself. Being the late nineteen sixties and in the middle of August, nearly all the young women were wearing very short mini-skirts. As the girls passed by on their way back to the office, Puffing Billy stopped reading and gave every girl a long protracted gaze, looking them up and down as they walked by. This pastime carried on every day until some of the girls complained to Ted. Puffing Billy was then instructed to terminate this practice, ogling was to stop. I asked Ted what Puffing Billy was reading, and he told me that he was a part-time Lay-Preacher who used to practice his sermon for the following Sunday, no doubt on the immoral dress code of young women; although I don't remember any complaints from the men about the short skirts.
There was another Ivor in the office. He also had a job which was a 'wandering minstrel' kind of role. He was a quiet enough, unassuming, character of about thirty six, lived with his mother and was probably still wearing the same suit that he bought ten years earlier. Because I was still unofficially unemployed, Ted suggested that I take a trip to Fletch North with Ivor, to relieve some of my boredom. Fletch North was situated on the Fletchamstead Highway and was another part of the Standard-Triumph company some twenty minutes walk from where we were based. Instead of walking, Ivor decided to use his Triumph Herald 1200.
When I looked at the car I noticed that the passenger seat was fitted in the reverse position. I asked Ivor about this, and he said that when he took his mother out in the car, she could not bear to see the oncoming road, so he reversed the seat. Well, this was a first, as I had never travelled in a car with the front passenger seat facing in the opposite direction. I was now beginning to wonder about the sanity of the people I was working with.
John R worked in the same office and was the same age as me. He had two uncles who were managers in the purchasing office, and his wife to be was employed in salaries. I never knew what John did, not a lot from what I envisaged, as I spent an hour or two with him on his rounds, which mainly consisted of long conversations with the typists in the purchasing office many of whom were friends of his girlfriend. He was a friendly chap, a bit light-headed but totally at ease with himself. We got on well, as we were both the same age, and used to meet up socially with our girlfriends. Ted would get annoyed with him every now and again and say, 'Martin, do you know where the hell John is? I haven't seen him for over an hour'. I would then be despatched to go and find him. This was almost as difficult as trying to find 'Macavity the cat', he could have been in a dozen different places but never where he was supposed to be. Nothing was ever said when he eventually returned though.
I used my time in the office getting to know the layout of the factory; as I stated previously, it covered a large area and I enjoyed some of my time wandering along the production lines. I always carried a couple of blue print drawings with me, so as to make it look as if I was investigating some problem or other. There was always the chance a foreman on the line might possibly confront me, as they were always suspicious of office workers lurking about. It was interesting watching the assembly of the cars from the start of the line to the finish. The work seemed repetitive and very noisy though. My favourite area was where the engines were built. All manner of engines could be seen in various stages of build, some were being run on a test rig before being passed off. Again, I dared not linger too long.
In one part of the factory was some kind of underground bunker; I understood that it was previously a gearbox assembly area before the process was moved to another location. However, I found out it was then used as a kind of bar/social, which sold beer, wine and spirits to anyone wishing for some refreshment after a long day's work. I visited it occasionally with a friend from the buying office. We would regularly polish off a few pints of Newcastle Brown Ale before leaving. I eventually curtailed this activity because it was not conducive to riding my Velocette motorcycle home in the dark Winter months.
Having now spent six weeks in that quiet little office, I had read virtually every trade magazine that was available. I had spent hours touring the factory with Ivor, drinking endless tea and eating bacon sandwiches. If I stayed in at lunchtime it was now almost unbearable as Puffing Billy, now banned from standing in the corridor ogling the mini-skirted girls, was now confined to the office. Everyone else had some place to go over lunchtime except me and, of course, Billy, who spent his time marching up and down our small space like a Benedictine monk reciting prayers. I could stand it no longer, my forthcoming work had not materialised and I envisaged this situation continuing for months. As I rushed out of the office at 3.30pm, end of play on a Friday afternoon, I decided that I would approach my manager first thing the following Monday to discuss the situation.
Monday came, I spoke to Mr. Knibbs and stated that I could no longer sit around being unemployed. He was very understanding about it, and after a couple of hours he found a temporary position for me on a small section consisting of some five men, a female typist, and an office junior. This section was responsible for keeping a record of every part and quantity used in vehicle production from about 1947 onwards, including nuts, bolts and washers. When engineering changes were made to a build program, this information was issued on a form called an Engineering Change Note, or ECN. This information, along with a blue print drawing of the new, or changed, part and with the reason for the change, was registered and then passed on to the purchasing section who then decided whether or not the affected part would be manufactured in-house or sourced externally. I now had the grandiose title of 'Specification Analyst'.
As expected, this little section contained it's fair share of odd-balls. The supervisor, Fred, was sixty-something, held a cigarette in one hand whilst continually looking down at his desk neither stopping to talk nor to drink a cup of tea. He seemed totally engrossed with whatever work he was doing. One late summer afternoon the cigarettes took their toll and he collapsed over his desk with a suspected heart attack, cigarette in hand. He returned to his desk some months later, but retired soon afterwards and died of a heart attack within a couple of months.
Harry, who had been Fred's right-hand man, now assumed command. Harry was one of life's nice guys, helpful, pleasant, and with a ready smile for anyone who spoke to him. Away from work he was the organist at Eastern Green Church in Coventry where he played most Sundays. For over twenty years Harry and his family went to Jersey for their holiday. They went to the same hotel and visited the same places. One year Harry's wife said enough was enough and suggested a break in Spain. Harry couldn't be convinced, so his wife and daughter went to Spain, and Harry went to Jersey again. One of my favourite memories of Harry was when we visited the church one lunchtime and he played Bach's 'Toccata and Fugue' for me on the organ. We both liked classical music, and this was one of my favourite pieces. When he played it, it sounded totally terrific as the acoustics were awesome.
Ron, a Yorkshireman, was a friendly chap, he also worked on the section. He was another truly nice man; although there was a thirty year difference in our ages we became the best of friends. He had been held prisoner of the Nazis during WW2 in one of the Stalags in Poland. Most of his right arm had been blown off during a skirmish with them. The operation and subsequent amputation of his arm in a Nazi field hospital under battle conditions, had not removed all of the metal fragments from his remaining stump, because of this he was in continual pain and had to make frequent trips to hospital, where they endeavoured to remove more of the debris when the pain got too much for him. Ron would appear at my desk for a chat and relate some of his war stories over and over, sometimes lasting for half an hour or more. Some were very funny, but some were very sad, but it was an accurate account of what happened to soldiers who were captured and interned in such places.
Pete looked after the stationery on the section. Harry had given me a quick run down on the staff, but when it came to Pete there was a bit of hesitation. 'Pete's a bit different', Harry said. I replied, 'oh, in what way' there was more hesitation. What he wanted to say but couldn't quite get it out, was that Pete was gay. We just left it at that. Pete had his moments, insomuch that if he was having a bad day, it would be bad form to ask him for anything from the stationery cupboard, even a pencil. The office junior would often be the recipient of his bad temper along with some of the other young women in the office. Pete seemed to get on best with the middle-age ladies in the office. Sometime after I had joined the section, Pete, in his roundabout way of asking for something, asked me very politely if I would mind giving him a lift to his brother's house.
His brother lived in a house in a small village along my route home. As Pete didn't own a car I said I would be happy to take him; also I would pick him up the next morning on my way back to work. During our journey, Pete explained that his brother lived in the United States and had returned to the UK on holiday. Rather quietly, and in an embarrassing kind of way, he went on to explain his brother's employment. His brother, no less, was the butler and chauffeur to Bing Crosby. At this stage of our conversation we had arrived at his brother's house, whereupon he thanked me for the lift, and headed off to meet his brother. I gave Pete a few lifts until his brother, wife, and children, headed back to the States. I never had any problems getting stationery in the future. At Christmas he bought me an enormous box of chocolates by way of a thank-you. The following year Pete went to California to visit his brother. On his return he showed me photographs of himself, his brother, and Bing standing alongside Bing's Rolls-Royce. Bing allowed Pete's brother to use the Rolls at any time unless he was needed for chauffeur duties. Pete was very lucky to have his own chauffeur driving him around whilst on holiday, but he was amused at some of Bing Crosby's idiosyncrasies, one of which was the state of his house. The exterior of his house was in dire need of decorating, the green paint had been flaking off the front door and windows for years, and there was a plentiful amount of rot visible. What some of Bing's VIP guests thought of it was anyone's guess.
Paul joined the section just a week or so after me. He was in his early twenties, of Liverpool descent, and had that wicked sense of humour and the quick wit that Liverpudlians seem to be blessed with. Combined with a mischievous and antagonistic streak, it made him a source to be reckoned with. No-one could escape his hilarious barbed comments if he disliked them, or being the target of some of his jibes even if he didn't. Our office junior was a gangly sixteen-year-old girl who seemed to have articulated limbs, she was always the recipient of his sharp tongue. For some reason he didn't like her, and he made no excuses for it. Another young woman in the office, Ann, was in the habit of falling asleep at her desk in the afternoon. Most nights she would be out with her boyfriend drinking to excess to the early hours. Having had a bad argument with him one night, she subsequently stabbed him in a drunken frenzy. He was rushed to hospital and she was held in custody for some time at the local nick on a GBH charge, but was released sometime the next day as her boyfriend decided not to press charges. She was consequently named 'Ann the knife' by Paul.
The offices where we were housed were originally factory premises, which consisted of a large open-plan area with sub-divisions of screens and were filled with desks and filing cabinets. There was no ceiling, so looking upwards the view consisted of an array of large steel beams and an enormous expanse of Georgian wires cast glass roof lights. On hot days these roof lights could be opened about 15 degrees by pulling on hanging chains and pulleys. During the Summer months the heat build-up in the office could get to unbearable levels if the roof lights were not opened. Naturally, having some of the fair sex in the same office, we had quite a bit of conjecture about if and when the roof lights should be open. During spells of hot weather I would get into the office early and 'let the air in' before the ladies arrived.
All went well until we had a cold morning, complaints to management were made and, from then on, we were told not to open them. Everything went well until we had another spell of seriously hot weather. By 12.00 noon the temperature had risen to the mid-90's fahrenheit. Everyone was 'cooking' in the heat, it was like working in a greenhouse. None of the men would open the windows because we had been told not to. Management were consulted again, and the staff were told that they could have a ten-minute break outside if the temperature broke the 100f mark. At about 14.00 hours the thermometer hit the 100f mark, with the help of someone's finger pressed on the mercury bubble. Word soon got around, and before long the office began haemorrhaging staff. After that event, it was agreed that the windows should be opened when the temperature got to a certain level.
There was one drawback to having the windows open, insomuch as it enabled the local sparrow population to invade the office. These little birds were flying all over the place above our heads and, occasionally, someone would get hit with sparrow guano and rush off to the toilet to remove the mess. If a sandwich was left unattended on a desk at lunchtime, the birds would soon make short work of it. The problem was exascerbated by Paul firing bent paper clips at them with a strong elastic band. Come the end of the day, all of our desks had to be covered with old 'blue prints' to save the mess on our desks. Mice could also be a problem in the office. A favourite trick of mine was to leave some sandwich remains in a waste bucket, in an area under the desk where the cleaners would miss it. The next morning would guarantee the presence of a mouse, or maybe two. I would get to work early and exchange my waste bucket with one from a particular troublesome lady. Sometime during the morning all hell would break loose as the mouse was spotted trying to get out of the bucket. We were prime suspects owing to the howls of laughter from our end of the office.
It was common practice in the buying office for some of the male buyers to take their typists out for a drink at lunchtimes. The majority of times this was an innocent pastime and there was never gossip, as groups of people would congregate at 'The Herald' pub just up the road. Lenny worked in Purchasing and regularly went out at lunchtime with his typist. Over a period of time Paul noticed that their lunchtime liaisons were getting more and more frequent. Lenny and his friend were often quite late back from lunch; Paul sensed that their friendship had now risen to another level. Lenny always parked his car, a Triumph Herald, at the front of the office. Paul and I decided to move his car just before their lunchtime getaway. It was August, the weather was very hot, and his car windows were open. We moved the car about fifty yards to an area behind some trees called the spinney. It was an area where some of the GT6s and TRs were parked after they had come off the assembly line. The car was moved, and we stood in the shadows of the trees waiting for the couple to appear. Sure enough, after a few minutes, Lenny and his friend scurried innocuously out of the door well before the rest of the staff. Almost immediately, panic set in with Lenny. He was searching everywhere for his car. After a few minutes, Paul appeared grinning from ear to ear, and shouted at Lenny and making some rude gestures. Naturally, Lenny responded with some choice language.
Mary, not her real name, sat in the desk in front of me. She was a twenty-one year old Irish woman. She never spoke very much so conversation was always difficult with her. She never seemed to mix with the other women, only wishing to keep herself to herself. One morning she never arrived at work and that was the last time we were to see her. It was later confirmed that her husband and a local Catholic Priest (plus others) were involved in an IRA plot to place explosives, and subsequently blow up some well-known establishments in Coventry. Luckily, the Police foiled the plot before it materialised. This was around the time of the Birmingham bombings where several people had died. Whether or not Mary was implicated with the bombing plot I don't know, but I feel that she must have been aware of what her husband was up to and had scurried back to the Republic. Her husband was subsequently jailed but died some time later, as a result of a self-imposed hunger strike.
The factory staff always finished work at 15.00pm on a Friday afternoon. Ten minutes before, hundreds of men would be waiting some fifty yards distant of the security gate at the Canley end of the factory, they would be huddled in large groups waiting for the hooter to go. At the precise time of 15.00 pm the hooter would sound, and several hundred personnel would run the distance en-masse to the security gate, cross the road to the car park, and queue for some twenty minutes in their cars to get out. I got together with Paul and we decided we could have some fun on the following Friday at knocking off time. I had a hunting horn at home, the tone of which was very similar to the Triumph hooter. The next Friday we hid in the spinney almost adjacent to where the men congregated awaiting the signal to go. About seven minutes before the hooter signal, I gave one loud blast with the hunting horn. There was a sudden rush of the men to the gate. I gave two more 'call to hounds' blasts. The men started cheering and shouting. The red and white striped barrier was still down when the first contingent of workers reached it. The build up of men trying to force their way through the barrier soon rendered it useless as it was ripped away from its housing. Vehicles on the road passing the factory were stopped, as the excited workers crossed the road to the car park with complete disregard for their safety. Paul and I sloped off quietly but kept this prank to ourselves as we knew there would be an inquiry into what happened. Weeks went by and we heard much talk about the event, but we never knew what the conclusions were.
The hospital shop was a repair shop facility situated half way along the Burma Road, this was a road within the company that linked one end of the company to the other. The main purpose of the hospital shop was to repair any production cars that had sustained minor damage during their removal from the production line to areas of storage. The hospital shop always seemed to have a steady flow of work. It was a good place to go if you needed some flatting paper, cellulose thinners or maybe a small jar of paint to do a job on your own car, if you knew the right people to ask. Occasionally, a production worker would be stopped as he was leaving work by a security gate man. His lunch bag would be searched and they would find a small jar of thinners. How they knew he had it I don't know, but the next morning he would be dismissed. Maybe it was a set-up, I never knew.
There were a group of men who moved some of the vehicles to different storage areas within the company. This activity seemed to take place in the evening on a late shift. How many men were involved I don't know, but now and again when we arrived for work in the morning the news on the grapevine would be that a car had been involved in a collision with other vehicles the previous evening, and that they were being sent to the hospital shop for repair. One morning we arrived, and word went round that ten to twelve cars had been damaged in a pile-up the previous evening. I suspect that the group of men had decided to move some cars and ended up racing each other from Canley along the Burma road, the cars involved were GT6s and TR6s. As the road narrowed about half way along due to parked production cars, they all seemed to go for the small gap. The result was a collision, resulting in a large mass of very damaged cars and tangled debris. The racing event at high speed during the evening shift seemed to be common practice. I guess the people responsible were dismissed, and the hospital shop was back to Saturday morning overtime again.
It was not all "fun and games" working at Canley. Some supervisors had a policy of no talking amongst their staff on the section, unless it was work-related. Vera, a plump, be-spectacled, middle-aged woman, was one such supervisor who ruled the scheduling section. Her husband held a managerial role in the company, and they both took their responsibilities very seriously. It was best if she was away from her department before chatting to anyone there. The typing pool, also, was subject to the same treatment. If I needed any typing doing I had to drop it into the "in" tray and walk straight out, not daring to speak to any of the girls. It was very sad one Monday morning in that office when three of the girls did not arrive for work. Apparently, the three of them had been to a night club at the weekend in Leicester, and on the way home their car had left the road and ploughed into a tree. All three died at the scene.
Lots of other naughty things happened within the confines of the purchasing office. One manager, working late, was spotted in a compromising situation with his secretary in his office by some cleaners, no doubt they were not working legitimate overtime. They were both fired the following day. One of the buyers was arrested by the Police one afternoon. Four Police officers marched into the office and the offending man was led away in handcuffs. We heard that he had some illicit deal going on with a supplier. It must have been a good deal, as it later emerged that the supplier rewarded him with a brand new Triumph Spitfire Mk2, and the buyer was stupid enough to come to work in it. After being charged and subsequently found guilty by a court, he was given three years at Her Majesty's pleasure. Before being sent down, he was allowed back into the company, accompanied by two police officers, to empty his desk of any personal effects.
The "big cheese" in the buying office, and responsible for all the junior management, was a man called Arthur Heins. He was indeed "L' Homme Formidable". He never spoke to any of the underlings if he could help it, not even to say good morning. If one happened to pass him in a corridor, he would look straight ahead. He was a tall slim man with greying hair that was cut in a sort of military fashion. He stood 'bolt upright' to his six-foot frame, was always immaculately dressed, and wore gold-rimmed spectacles. When he left his den to enter the main area of the buying office, the whole office would go immediately quiet. He reminded me of a character from the TV series 'Allo Allo', Herr Flick, but with a serious attitude. His demeanour was that of a senior officer in the Wehrmacht. His managers were quite frightened of him, on one occasion a manager was given a severe dressing-down and left the office in tears. He retired when the purchasing division was transferred to Longbridge. According to a friend of mine, Mr. Heins gave a farewell speech during which he castigated several members of staff individually by name, stating how useless they were and how the likes of them had reduced the company to its present state.
Shortly before this time, I obtained a position in the Parts and Service division at Fletch North. As I had been the owner of a TR4a for some eighteen months it seemed to me to be the most appropriate place to work. The work mainly consisted of collating information for the parts manuals, and arranging the illustrations, and in my spare time, studying the TR parts and workshop manuals in great detail. It was interesting work as I would answer the odd technical query relating to the PE 188 engine/Stag which was assigned to me as the whole parts catalogue was in a parlous state. Was it any wonder that our Distributors had problems ordering the correct parts, when we had sixteen different part numbers for new/reconditioned automatic gearboxes?
Occasionally I would have someone telephone me from the USA. One such call came from an extremely frustrated man who wanted a water pump for his Stag. He had tried his local agent in the States without success; he used his Stag for commuting to work, covering over two hundred miles each day. I took his vehicle details and promised him the pump. I promptly obtained it from the parts bin, wrapped it up, addressed it and put it into parts despatch, labelled it free of charge, including delivery and air freight. He telephoned me when he received the part, quicker than expected. During the course of our conversation, he explained that he had covered over 200,000 miles in the Stag from new, and changed the oil and filter every 1000 miles.
The Parts and Service at Fletch North, later to become Jaguar and Rover-Triumph Parts and Accessories, was situated in a large open plan office which accommodated near to four hundred personnel. I think about 70% of the employees were women. I found it extremely noisy, as my desk was facing the main gangway that led to a small buffet and seating area. At 10.00am when the buffet opened, there was a constant stream of people walking past. After two weeks of this distraction I turned my desk to face the opposite direction. Adjoining our office but separated by a large partition wall, were the endless bins of spare parts. Tucked away in a small corner of this warehouse were Alf and Ralf. Their task was to strip and repair any engines, gearboxes, auto transmissions and anything else which had been supplied as reconditioned units, but had been proved to be faulty. Frank Crow was in charge of our section. Not exactly a fun character, Frank disallowed any talking between members of staff unless it was work-related. Any other form of communication that took place was met by a stern gaze from him. Luckily, Frank retired soon after I started, and a chap from Alvis was recruited to take his place.
I don't know what exactly Ron the new supervisor's position was at Alvis, but he certainly didn't make much of an impression at Triumph. At least he was an affable chap who left us alone to get on with the job. If I had a question regarding the servicing of a part, I would ask Ron. He would say, "what do you think you should do?". I would say, "this and that", he would then reply "well do that then". He had no interest in the job whatsoever, and spent the majority of his day walking up and down our office smoking one of his 'roll ups', batting aside any questions that someone would ask him. There was no way anyone could obtain any advice or information from him. Understandably, he did not last long, and was replaced by an in-house member of staff.
Alan P replaced a member of staff on our section who had recently retired. He was a very funny man who had worked a number of stints at Butlin's Holiday Camps as a comedian. He was in the habit of telling jokes continually; being a Liverpudlian with a strong dialect made his patter even funnier. At lunchtime, he would visit the local pub, down a few beers, return to the office refreshed and ready with another dose of humour. Having him on our section was fun, but on occasions concentration was almost impossible.
As I was continually improving my TR4a I was gradually making more contacts. Duncan was a manager in the computer room, he also owned a TR4a and we would get together at lunchtimes and swap our experiences about the cars. He was from the West Country, somewhere near Bristol, and would stay locally in Coventry and return home at the weekends. Being a manager he was fortunate enough to be able to purchase parts for his car, and mine, at cost price less 3% which was indeed very handy as the mark up on some parts was tremendous. There was always a staff discount for employees, but that entailed a visit to our local distributor, in our case, Henley's.
There seemed to be a fair degree of scrap parts at the factory, on the production line as well as in the parts warehouse. Derek was a foreman on the TR6 production line. We were good friends and occasionally went out for a drink together. I was after a new set of front brake discs for the car, and I asked Derek to look out for some. To my amazement he appeared in our office with the right hand side of a complete TR6 front suspension assembly, shortly followed by the left hand side assembly. I said "Derek, I only wanted a set of discs". He replied, "that's the way they arrive and this pair had some slight damage in transit, but the discs are fine". That's the way things were on the production line. If anything was slightly damaged, it was binned. Not worth the time and effort to employ someone to dis-assemble, repair, and re-assemble the part. I spent the next few lunchtimes with a set of spanners and sockets before getting at the discs. The rest of the parts were stored in one of the filing cabinets until the necessary paperwork could be raised, enabling me to remove them.
Bill Butcher would pass through our office from time to time, he would pause at our section sometimes to ask about some parts or technical information regarding his son-in-law's TR4a. I was always ready to help out someone who was involved with a TR. Eventually I got to meet his son-in-law, Bob, who worked for a bank and his daughter Lesley Anne. My wife worked for a bank and we both had TR4as, so we had a lot in common. Bob's wife was a nice looking girl but, what we didn't realise, was that she was a regular page three model for the Sun newspaper. This only became apparent when Bill trundled along first thing in the morning with the Sun newspaper, and showed us a picture of Lesley Anne on page three. He was quite up front about it, no pun intended, and was very proud of his daughter. My wife and I would meet up with Bob and Lesley Anne occasionally when she was not in London or some other City doing modelling work. She eventually gave up the page three modelling for a more lucrative assignment which entailed travelling to overseas locations.
In our first year of marriage, my wife and I rented rooms in a large Victorian detached house in Rugby. The owners and their daughter were very friendly towards us, allowing us to use the outdoor swimming pool and made us feel very much part of the family. His daughter wanted a new car and he asked me if I could obtain one for her. I said I would, and that I could use my staff discount. I found out that my discount for purchasing a Triumph car was in the region of 23%. Unfortunately she wanted a Vanden Plas Princess. I think production of this vehicle was nearing its end, but was still available on special order; also the discount would be in the region of 19.5%; that didn't worry them and I duly ordered the car. I paid for it and went through all of the formalities, picked it up from storage area and delivered it to her. They were really pleased at the time, but some three years later after we had moved into our own house and met up with them again, they were very disappointed with the car. It was a complete rust bucket. Whether or not the car body shell had been stored at the Cowley Plant for some time before finally being sprayed, and had accumulated a fair degree of rust on it, I don't know, but it was certainly a bad example of a Leyland car.
Everyone on the section that I worked with was a member of the ASTMS union; Association of Scientific, Technical and Managerial Staff and, as much as I didn't care for unions, I thought I had best join. As far as I can remember they weren't a militant bunch, exactly the opposite, as the senior members of the union aspired eventually to progress to management so it wasn't done to ruffle feathers, so to speak. No-one on our section relished being chosen as a union representative. There were always changes going on, different wage grade structures, the proposed introduction of computerisation, and so on. After returning from a meeting with management, the unfortunate union rep would be met with a barrage of questions from the members. More likely than not there were no definitive answers he/she could give. We all had to take a turn at this unenviable task, and eventually the duty was passed to me.
Everything seemed to be going well for a few months, until a problem arose with a member of staff on our section. The gentleman involved had worked for the company for over thirty years. A short time before, the company had been looking for volunteers for redundancy. Alan, we will call him, had expressed an interest and had been given an information package which detailed the terms and conditions of his severance. No time limit was given on his option to apply for the package, so after two months had elapsed, he decided to sign the document and passed it to the Personnel Department. A couple of weeks passed by, and Alan had heard nothing. I was summoned to a meeting with our senior rep, during which he stated that the company would no longer honour the agreement with Alan, as they now wished to instigate some enforced redundancy and, if they honoured the agreement they had offered to Alan, it would set a precedent. The new conditions of severance had changed, and were a long way removed from Alan's original package. He was not happy with the financial side of it, and the conditions of severance had now become compulsory. The senior rep agreed with the company's change of policy, and said that there was nothing we could do to change it. I was not happy with the situation, and would not agree.
To shorten the story somewhat; myself and two or three senior ASTMS reps and personnel management had a meeting scheduled at Hasely Manor. Hasely Manor is a Manor House in Warwickshire, where the business of the company could be discussed away from the factory. On the day in question, I was told by my senior reps to keep my mouth shut and go along with the new company policy. After all, they were certain that the original document that Alan had signed was now well and truly in the possession of the management. They were wrong on two counts; firstly, I was not inclined to keep my mouth shut, as I believed in fair play and not double-dealing by management-inspired ASTMS reps. Secondly, I had taken a copy of Alan's original agreement, the contents of which, according to Personnel, never existed. The meeting rumbled on for some time and all concerned agreed that it was a done deal. I was last to speak, said my piece, and then provided the 'table' with Alan's original document. There was silence whilst the senior personnel management read it. They had no idea that their junior team had tried to cover it up. In the end, Alan had the conditions of his original agreement upheld and left the company a happy man. I, on the other hand, was now 'persona non grata' with both union and management.
Within six months I decided to take a voluntary redundancy package, as I heard through the grapevine that before long the company would finally be closing down. Before I left, I was told by a friend of mine who worked in personnel, that the personnel manager stated that he would make sure that I would never be able gain employment with any other company. I didn't take the statement too seriously, as people often say things in the heat of the moment, especially in this case when it was proven that they entered into a conspiracy which didn't turn out as they expected.
I left the company, and very soon started to apply for jobs at various companies. I attended interviews and they all seemed to go well, but I was continually turned down. Again, I attended an interview at another motor company. I was there for almost the whole day, writing up a script on assembly/disassembly of a diesel engine. The manager was very enthusiastic about my work, and started discussing the terms and conditions of employment; he was a thoroughly decent sort of chap, and explained that he only lived a short distance away me and if ever I needed a lift to work, he would be only be to happy to oblige. As we parted, he stated that as far as he was concerned the job was mine.
Two weeks passed by and I had heard nothing from him. Then one evening there was a knock on my front door; it was the gentleman who had interviewed me. He was obviously very embarrassed and stood there not knowing what to say. The prelude to this conversation was that he had received such a bad reference from J R T, Jaguar and Rover-Triumph Spares and Accessories, that his company would not risk employing me. Apparently, my timekeeping was abysmal, I was a trade union activist and a trouble-maker, combined with a long list of other dreadful crimes that would make an African despot of the period look like Mother Theresa. The information I received from my friend in Personnel at the time was disappointingly correct.
Without going into too much detail, my plan of action to counter this mis-information was as follows: I spoke to my family solicitor who advised me to obtain as many character references from previous managers I had worked for at JRT and Triumph, without explaining the reason; be it sufficient that I needed these to help me get future employment. Everyone that I spoke to was more than happy to give me glowing references. I forwarded these on to my solicitor, who in turn wrote a letter detailing the events, not just of my unjust bad references, but of the situation that led up to them, to Michael Edwardes' secretary.
Michael Edwardes was the head of the British Leyland Group at the time. I also forwarded copies of my references along with my reasons for doing so, to the gentleman at the motor company who had promised me a job. It was too late now to be considered again for the position I had originally applied for, but at least he promised to bear witness to the bad testimony he had originally received from JRT, should he be required to. Just over a month had passed by when I had a call from my solicitor, followed by a letter. According to him, the letter he had from Michael Edwardes, and signed by him, was very short and sweet; naturally it would be, in case of any future litigation. The letter guaranteed that the situation had been resolved and that he was sorry for the problems that I experienced. Very soon afterwards, I applied for a position with a large multi-national company in Buckinghamshire. My application was successful, and within six months I re-located to my new employment in Buckinghamshire.
Sometime later I learned that the senior personnel officer, who had given me so many problems, had been dismissed from the company. Justice was done.
Reproduced via 'oldclassiccar'