Starting in 1956 I worked at the Banner Lane factory as an apprentice with the time divided between the training school and the manufacturing plant.
One of my first memories was being free to go to the canteen and order sausage and chips for lunch, it was like heaven after eating school meals consisting of lumpy lukewarm potatoes and semolina.
One of my first jobs in the factory was driving the tractors off a raised track into a spray booth for their final coat of paint. The shop steward objected saying that because of the fumes it was no job for an apprentice, there followed an argument between the steward and a supervisor and while this was going on the tractors continued to the end of the track. A switch should have been thrown to halt the track but failed to operate and at least three tractors fell off the end finishing up in a pile with a substantial amount of damage. I was horrified but declared blameless.
During a strike myself and a few other apprentices arranged handicap races around the factory using forklift trucks, tractors and anything else we could find with wheels. It didn't take long until we were caught and given the most menial jobs management could find, such as checking hundreds of nuts and separating the ones with fine threads from the ones with course threads. I suspect they had been deliberately mixed up.
The Ferguson tractor was the brainchild of Harry Ferguson who, besides designing the tractor and responsible for other innovations, he also built and flew his own plane, becoming the first Irishman to do so.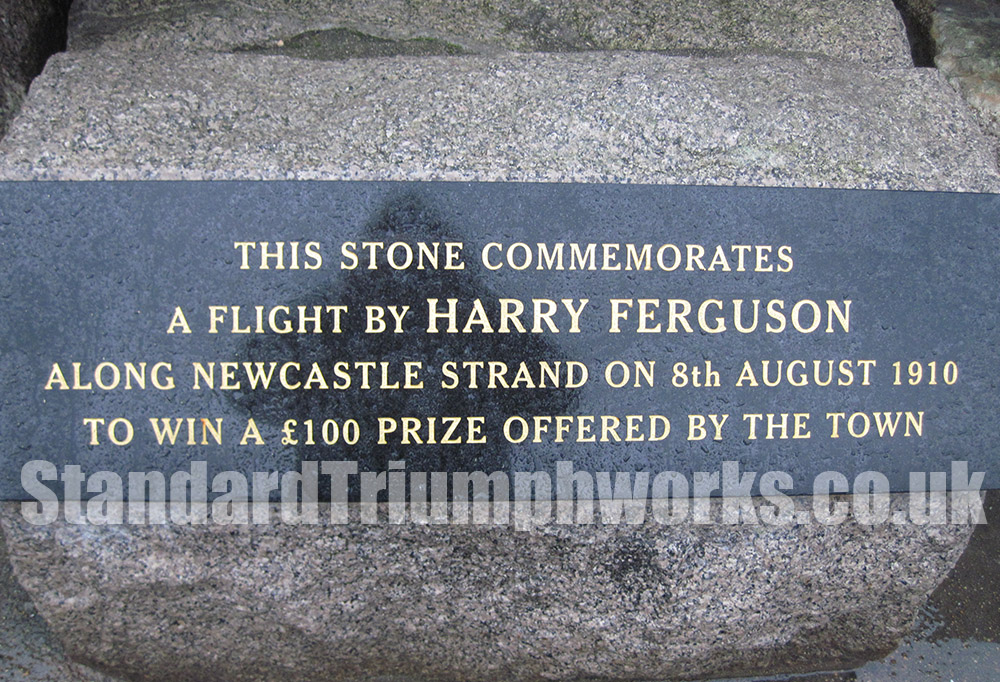 The record breaking event took place during 1910 along the shores of Dundrum bay, Northern Ireland, with the plane travelling 3 miles at a height of between 50-100ft.
I now live in Dundrum and when in nearby Newcastle I regularly pass the stone which commemorates the event.
I often see 'Wee Grey Fergies'(as they are known in these parts) at agricultural and vintage farm equipment shows with the owners obviously very proud of them. When I see one I can't help thinking that it's not impossible that I worked on it.
John Whittall
Thanks John – we are always looking for submissions to publish on this site – if you can help, please drop us an email to iwas@standardtriumphworks.co.uk – Thank you