Albert Gascoigne a technical clerk in engine assembly at Canley, retired after 31 years' service at Coventry. Albert was well known years ago as an English international scrum-half. He is well remembered by Coventry rugby enthusiasts for his skilful play for Coventry R.F.C. He also played for Warwickshire and thrilled followers of the game for his displays in the England side.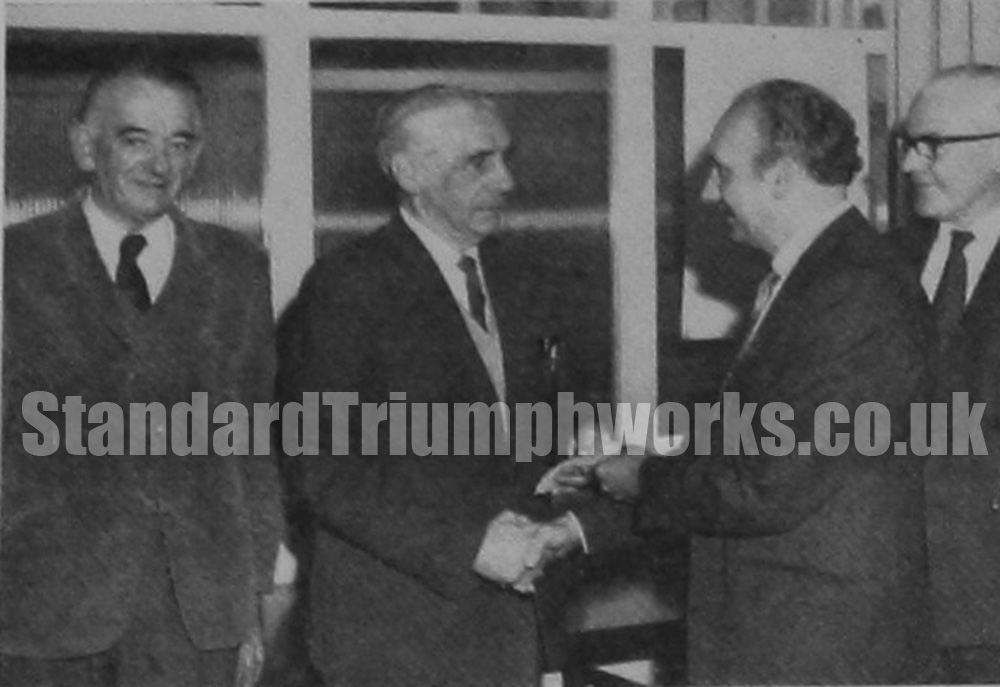 After joining Standard Triumph he subsequently coached the Coventry works rugby team when Mr G. H. Turnbull, Group Managing Director, Austin-Morris, played for the works and later for Coventry R.F.C.

Albert started with Standard Triumph in 1941 on the staff of the estimating section for the Mosquito and Beaufighter aeroplanes. He later transferred to assembly on the track under Frank Nott. In 1956 he transferred to progress in C.K.D. under Mr G. Key. He moved to engine assembly four years ago prior to retirement. 
On behalf of Albert's many friends Mr A. G. Bottrill, Area Manager, Engine Manufacturer, presented him with a sum of money and thanked him for his service. Albert is a "Coventry Kid" and he and his wife intend to remain at 1 Martyr's Close, Cheylesmore, Coventry, near their friends. 
ARCHIVE: February, 1973
Update. Each Rugby Union England capped player has a unique number from their first appearance. John Bentley, a half back, is Number 1. John won his first cap in 1871. Albert Gascoigne isn't on the list. How can this be?
…of course we were looking at the wrong code. Albert won his England caps for Rugby League.
Sadly Albert didn't have too long to enjoy his retirement as he passed away the following year in January aged 67.
UPDATE
Far right Harry Woodfield, Foreman engine assembly at the time.
Submitted by David Mileham