Representatives from various factory sections attended the retirement presentation to Sister Alice Kearton, Sister-in-Charge of Coventry Surgeries.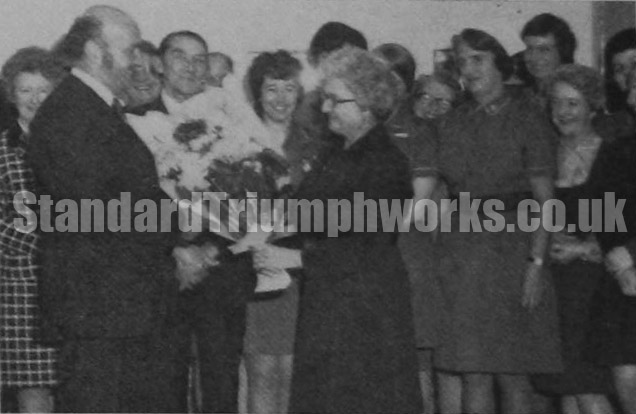 Sister Kearton spent nearly nine years from 1941 with the Standard Triumph at Canley, then left for about ten years to raise a family. Later, she came back to help out for a short period, but remained for 13 years. On behalf of her colleagues, and many friends, M. R. R. Rowles. Director of Industrial Relations and Personnel presented her with a gold wristlet watch,  a 400 day clock, coffee maker, glassware and leatherware.
She was thanked for her work by representatives from the St. John Ambulance Brigade, Fire Brigade, Security staff, management and employees.
Sister Kearton has earned her leisure and will follow the progress of her two sons, who are at the Royal College of Music.
ARCHIVE: January, 1973