(Little Bill) Bill Wooldridge (68), and his wife, left for a six months' holiday in Australia last month after both had retired after long service.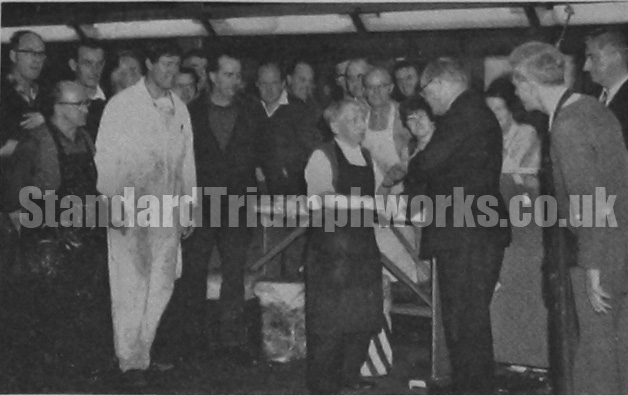 Bill retired from Final Finish, Canley, after nearly 40 years with our Company. Mrs. Violet Wooldridge had retired a month earlier after 32 years' service in Maintenance, Fletch South.

AT OSBORNE ROAD
Bill started at Osborne Road works in 1926, but left in 1928. He became a body painter at Canley in 1930. When war broke out in 1939, Bill moved to Fletch South on aero engines. Later he worked on aircraft spraying at Banner Lane. After the war, he was in Final Finish at Banner Lane, and eventually moved to Final Finish at Canley.

IN RETIREMENT
Mr. L. F. Taylor presented Bill with a retirement gift of money from friends and workmates in the assembly division. Bill said that he had enjoyed every year here and had always had good foremen and good workmates.

AUSTRALIAN HOLIDAY
Mr. and Mrs. Wooldridge had not seen their son for nearly 20 years and had planned their Australian visit for a long time. Just before Bill retired, however, his son Terence (an-ex-Bablake schoolboy) arrived at their home 67, Westcotes, Coventry, whilst visiting England on a round-the-world business trip for his company ! Whilst in Coventry he toured the Standard Triumph factory.

VOYAGE BY SEA 
Fortunately, Terence was flying back to his house in Sydney to prepare for his
parents' stay with him, while Mr and Mrs Wooldridge were looking forward to their voyage by sea from Southampton.

LEADING TENNIS PLAYER
Mr and Mrs Wooldridge's daughter is a leading tennis player in the Standard-Triumph club. She is Mrs T. Vines, who used to work in the Standard Triumph Purchase Office. 
ARCHIVE: December, 1968