When Sidney Laxon retired from Standard Costs Office, Canley, he left behind a record which was unique. He was the only member of Standard Triumph's office staff to have achieved 50 years of service.
Sid Laxon started in the Wages Department. at Cash's Lane in 1918, when he was 14 years old. He worked under the late Mr P. Palmer, and then the late Mr G. Hardwick. In 1924 he was transferred to Canley and worked in the Wages Department for 21 years. He then spent 21 years in Costs Office at Canley, firstly under Mr. R. Hayes and then under Mr. F. Carey, both of whom are deceased.
Sid moved to Banner Lane Costs Office on Tractors in 1948, under Mr. F. J. Leaver, who is now Chief Cost Accountant of Standard Triumph. In 1952 Sid was at Fletch South, costing on the Rolls-Royce turbine engines, then served another four years at Banner Lane on engineering change costing. After a spell at Fletch South starting in 1959, he moved to Canley in 1961. Mr. F. J. Leaver had been Mr. Laxon's senior for the past 20 years.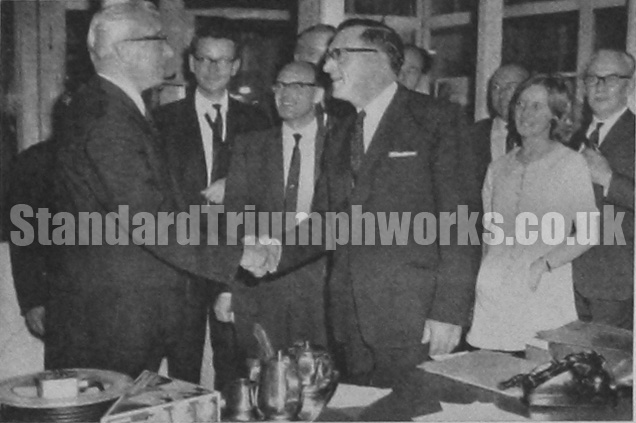 DIRECTOR'S PRESENTATION
On the occasion of Mr. Laxon's 50 years' service, Mr. W. H. Boardman, one of our Directors, presented Savings Vouchers on behalf of the Company, and congratulated him on his excellent record.
RETIREMENT PRESENTS
Mr. F. J. Leaver, Chief Cost Accountant, presented retirement presents on behalf of Sid's friends and colleagues. The main gifts were a sum of money, a Black & Decker drill kit with attachments, and a stainless steel tea service.
ARCHIVE, December, 1968