I started an Apprenticeship as a Motor Mechanic with Standard Triumph on 2nd October 1967, My clock number was 8481.
Unlike most apprentices back at the time, I did not complete my first year at the Apprentice Training School on Torrington Avenue, Tile Hill, albeit that I did attend some training courses there later on in my apprenticeship. The first year of my apprenticeship training was carried out in The London Depot Service Division on Dukes Road, Western Avenue, London.
The Apprentice Supervisor was Eddie Bishop, assisted by Bob Patterson.
In charge of the London Depot at the time, was a Scot named Jock Brown, he was assisted  by Richard (Dick) Carter, Assistant Service Manager, who I think previously had worked at Allesley Service Division.
During my time going through the workshop I worked with Sid Tovee , Ernie Scrivener, Ted Feakes (Chargehand) Stan Buckingham, Bill Lyons, and Jack Pond. The only other apprentice with me at the time was a guy called Dave Hasleton.
After 12 months I was transferred to Coventry, where I started in The Technical Display Unit Fletch South. From here I was transferred next door to Gearbox Assembly, Fletch South.  From here I was transferred to Axle Assembly in Radford. Then to Engine Assembly at Canley.
I was then sent out to Shirley's Garage at Meriden to learn about MOT testing. As well as having a Coaching Business, they were Standard Triumph Agents.
From here, I was transferred to Allesley Service Division. From here I went into Allesley Crash Shop.
I was then transferred into the offices (Service Technical Department).
My brother Mike Smith also was a Nominated Trainee at Standard Triumph, you already have his name recorded, also a photograph of him being presented with a gift on his wedding being presented to him by Bill Wills at Allesley Service Division.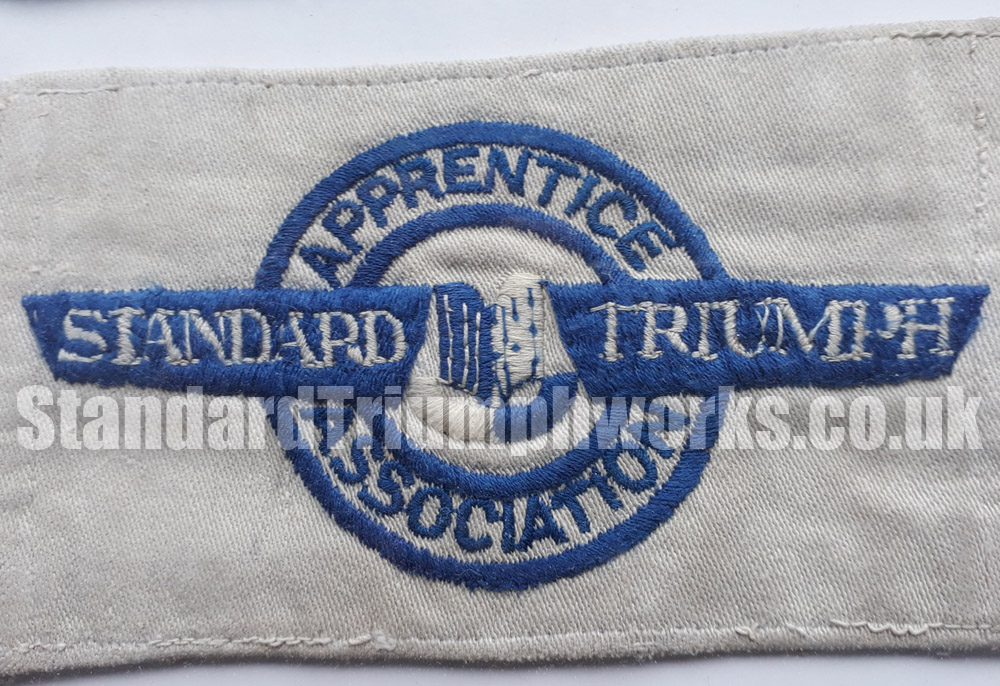 I have The Standard Triumph Apprentice Association Badge, which was stitched to my last Dust Coat (Cow Gown) before I left The Company.
I finished my Apprenticeship. In December 1970, and returned back to Cornwall, where my father had a Standard Triumph franchise.
Mike my brother continued to work for the company until the mid 70's.