When D day arrived, we all assembled on the car park at Allesley, truck loaded, tools, cars, lined up for loading, waiting for the car transporter to arrive. Ken Richardson had heard of this chap Ron, who did car delivery. He had built this closed four car transporter using a Commer TS3 (two stroke diesel) bus. Ken had not seen it, but had booked it on hearsay to transport the cars to Le Mans.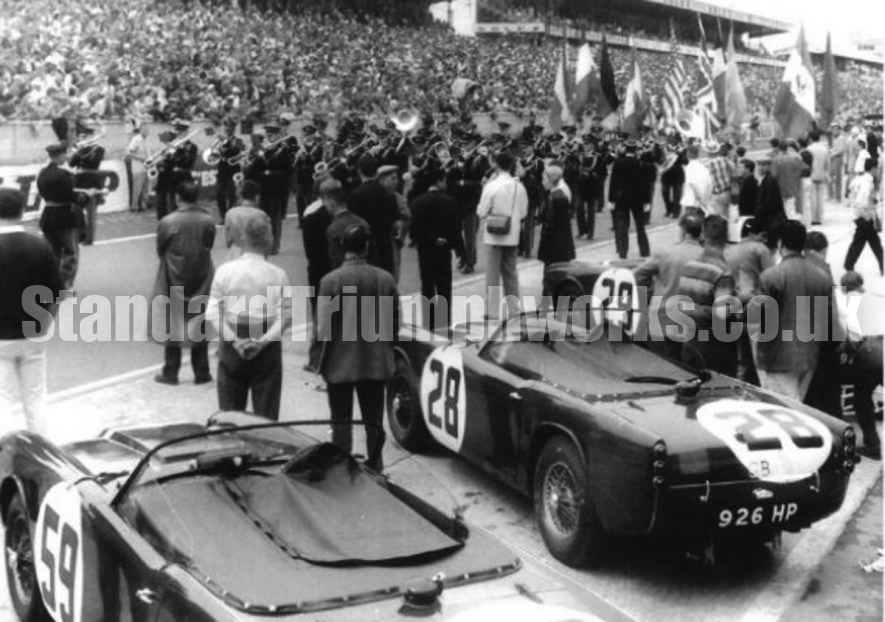 Gazed in awe
An hour late, Ron arrived with his pride and joy and we all stood and gazed at it in awe. The body was literally held together with pop-rivets and odd nuts and bolts. Ken went bananas, into orbit, and announced that he was not putting his cars into that ****** thing. He stormed off into his office, spitting venom. A few minutes later, when he had cooled down, he returned and we set about loading the cars on the transporter. To begin with we had to hand crank the upper deck down and stuff two cars on the upper deck, hand crank it up again and then put the other two cars underneath. It was all a bit Heath Robinson, but it worked.
Having loaded the cars up, we put all our personal kit, tools etc. in the Vanguard Estate cars, one of which in turn towed a caravan crewed by a chef from the Executive canteen at Fletch North Experimental, a Scottish guy who gave us wonderful food trackside, crab salad etc. (We could not afford food like that on our wages. We were paid for ten hours a day plus £1.50 expenses. Most days we worked anything up to 16 hours a day).
To Dover and France
Then we were off down the A45 to Dover. On reaching St Albans, we discovered we had lost Ron and the transporter and cars, so we doubled back and found that he had run out of diesel. He had no money, so we had to get him going again.
When we arrived at Calais on the ferry, the French Customs ushered us all into a hall where they tore us apart. We had a rough list of parts, but no proper manifest, but after an hour or two we managed to bluff our way through and we were on our way after paying a bit of tax.
Arrival at Le Mans
On our arrival we stayed in a village near Le Mans called Le Chartre, 20-odd miles south east of Le Mans. Lovely hotel, the Hotel-de-France, which had been used by various racing teams, like Aston Martin, for years. That year, the Yanks were with us, Briggs Cunningham and his team plus wife, four Chevy Corvettes, and a prototype E-type with fuel injection.
Then it was off to the circuit for practice and scrutineering. Due to some bad accidents at Le Mans, leading up to 1960, various new regulations were in force regarding windscreen height, exterior projections etc. When we submitted our cars for scrutineering we were given the bad news; all our cars had failed to pass due to the rear tyres projecting past the width of the car body.
Up all night
Consequently, we were up all night bending aluminium sheets with our knees and hands, and pop riveting them to the rear wings to increase the width of the body. This modification has been described in Triumph books as being stone-guards on Le Mans cars.
The cars were re-checked, passed, and we were all set. During practice we did a lot of wheel changes, having to fit wet tyres for a couple of laps to scrub them in, with a pit stop time of around 28 seconds. I still have the mallet I used at Le Mans, many years ago. It weighs about 4lbs (two kilos). It was the only thing to move the knock-on spinners, as when hot they were tight. On one occasion, Bob Jones was on wheel changing; he took a swing at a wheel spinner, missed it, and let go of the mallet which flew through the air, missing a trackside marshal by inches. After this mishap we fitted leather thongs which went over the wrist, just in case.
Dave Gleed