Life as a Triumph Motors Apprentice in the early '70's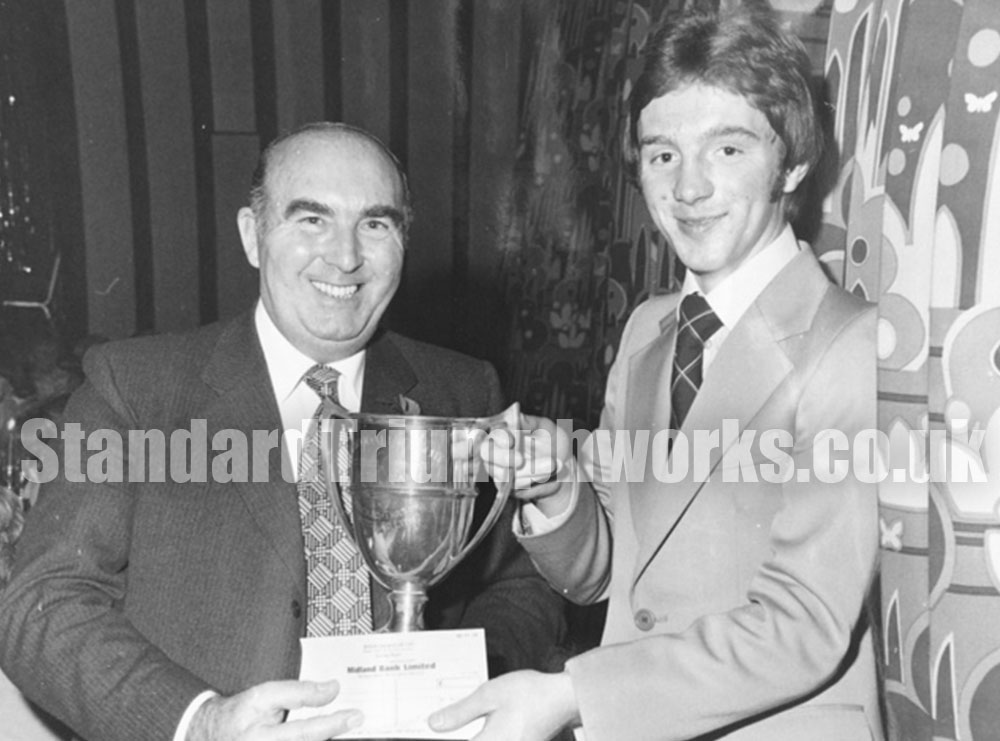 Fred Young and Alan McNutt (Photo from 11th November, 1976)
Torrington Avenue – Tile Hill
August '73 until July '74
First year (off the job) in the Training Centre at Torrington Avenue. I recall there was about 40 of us:
JWP's – Junior Works Operatives – destined to work "on the track" in Canley.
Apprentices – some automotive, plus other trades such as plant maintenance.
Graduates – with careers linked to university education.
I started off as a JWP and then during year 1 was offered an Apprenticeship as an Experimental Motor Vehicle Fitter in Fletch North.
In the Training Centre it was a combination of theory upstairs in classrooms and developing basic engineering skills in the workshop downstairs. We also attended City and Guilds Automotive Engineering day release and night school at Tile Hill College.
Training Centre Instructors
With Cliff Johnson we learned how to use a lathe and one project was to make a mechanical jack. With Geoff Coleman we worked on shaping and milling machines. One project was to make a basic press tool. With Brian Ives we worked with sheet metal and made for example a toolbox complete with tray which we had spray painted afterwards. Jack Selby was responsible for bench work and fabrication. One project was to make a G-clamp which also involved learning how to weld.
Memorable events.
September break – 1 week holiday not long after starting!
Poole and Dorset Adventure Centre- outward bound in March '74
Oil Crisis 3 day week in '74 – for 2 days a week I did admin in HR Department – Ivy Cottage – Canley
Track and Fletch North visits with Bob Pattison
FIRST YEAR TRAINING CERTIFICATE – ITB – 1974
Triumph Motors Junior Apprentice of the Year Award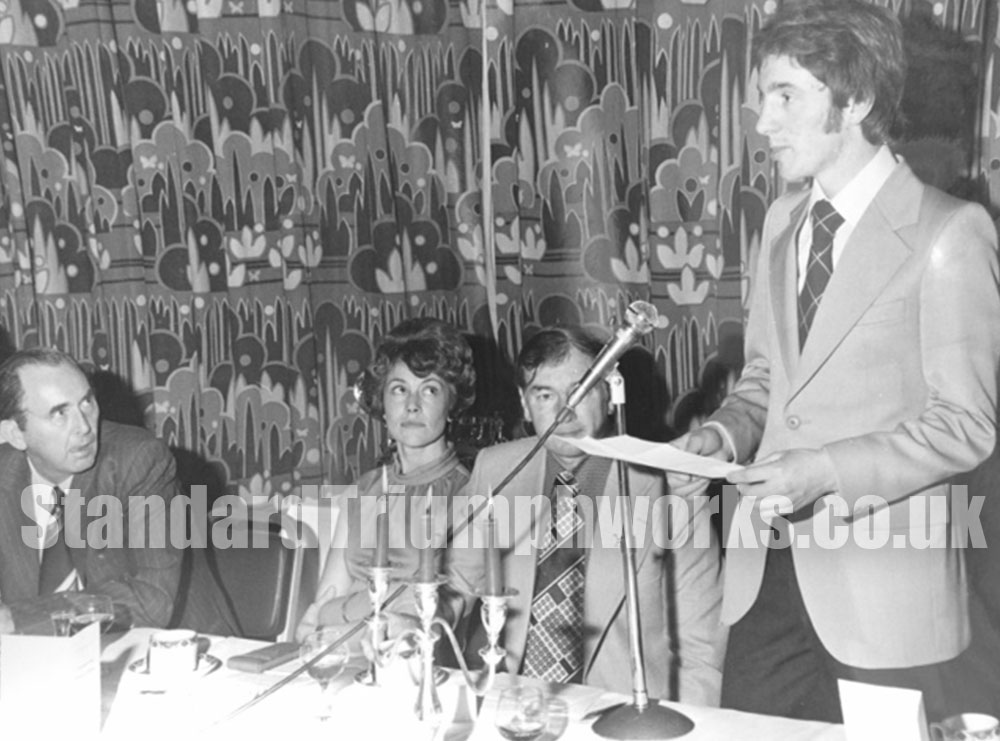 L to R: Peter Lilly, unknown lady (poss Mrs Lilly? – ED), Trevor Hudgell, Alan McNutt. (Photo from 11th November, 1976)
From Summer 1974 until February 1977., Fletch North
Detail Fitting Section
Making prototype components for example carburettor brackets and pedal boxes from engineering drawings.
Prototype Assembly – mechanical
Building prototype cars for test and development
Methods and Techniques
Designing and building prototype component test rigs
Engine Section
Assembly and testing of prototype engines
Emissions
Working with the assembly and testing of fuel supply systems
Transmissions – Radford
Assembly of prototype manual gearboxes and differential units
Allesley
ROVER TRIUMPH SERVICE TRAINING DEPARTMENT
Attending courses designed for Dealership Technicians
Memorable Events
"Everything Fletch North" and all of the people I met and worked with. Made many great friends
CERTIFICATE OF ENGINEERING CRAFTMANSHIP – ITB – 1977
Triumph Motors Senior Apprentice of the Year Award: