PRESENTATION TO STANDARD APPRENTICES Sir John Black Awards.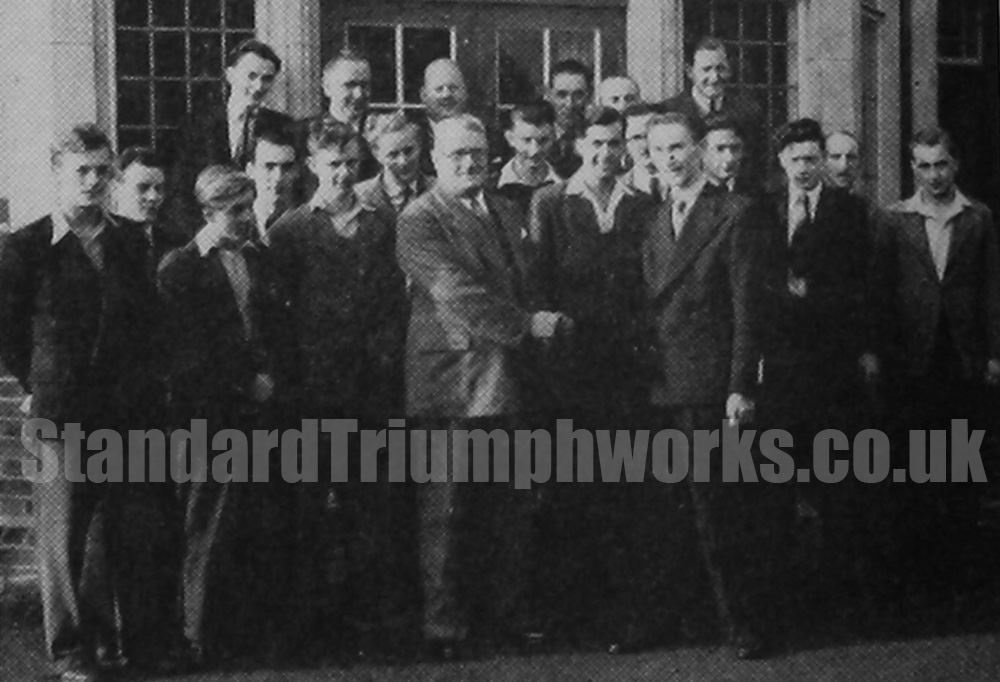 SUCCESSFUL apprentices of The Standard Motor Co. Ltd. were recently presented with the awards they had gained by their efforts in the past year.
The pleasant ceremony reflected Sir John Black's interest in the welfare and progress of Standard employees and the encouragement offered to apprentices of the Company to take full advantage of the training and facilities. The Sir John Black and other awards were presented to the fortunate apprentices who qualified for them by Mr. H. S. Weale, Production Director.
Those present in the Pavilion at Canley for the occasion included Mr. F. E. Higham, Personnel Manager ; Mr. W. Gray, Apprentice Supervisor ; Mr. W. Rubley, Production Superintendent, Assembly Division, Canley ; Mr. V. Hervey, Welfare Department ; Mr. J. Cappleman, Foreman, Tinsmiths ; Mr. W. Warman (Chairman Shop Stewards Committee), and Mr. F. Richardson, Instructor to the apprentices in the sheet metal working trade.
GOOD PROSPECTS.
Presenting the Sir John Black awards (in the form of cheques given annually) to Apprentices P. J. Baxter and A. B. Warren as the Best Apprentice of the year and the Best Junior Apprentice respectively, Mr. Weale congratulated the winners on Sir John's behalf and said a notable achievement had been made in both cases.
He recommended that they continued to pursue their studies, adding that although studying could be irksome it was often amply rewarded in later years. In the Standard organisation there would always be openings and good prospects for those who worked hard and showed promise. Referring to the sectioned model of the Triumph Mayflower built almost entirely by Standard apprentices, which was such a great success at the Festival of Britain and the Motor Show, Mr. Weale praised the work of those connected with it. In answer to a query by Mr. Weale, the apprentices said they were completely satisfied with the training they were receiving and the facilities offered.
Mr. Weale paid tribute to employees of the Company, upon whom the main responsibility of the apprentices' workshop training rested. Mr. Weale then presented the special prizes, in the form of tool vouchers, to the best sheet metal working apprentices. Prize winners were Apprentices R. Campion (First Senior Apprentice), R. Roberts (Second Senior Apprentice), R. Rowe (First Junior Apprentice) and D. Weatherall (Second Junior Apprentice). A special award was given to Apprentice W. Davies as the most improved apprentice of the year.
It is interesting to note that the awards given annually to the sheet metal worker apprentices by the Company are added to by voluntary subscriptions from employees in the section concerned. Our photograph, taken shortly after the presentation ceremony, shows all those who took part.  Mr. Weale is seen congratulating Apprentice P. J. Baxter. Immediately behind Mr. Weale is Mr. F. E. Higham.
ARCHIVE: November, 1951