Mrs Asia Lopuszanska, a clerk for several years in Postal, Canley, became a full-time housewife last month. She has a growing family to look after.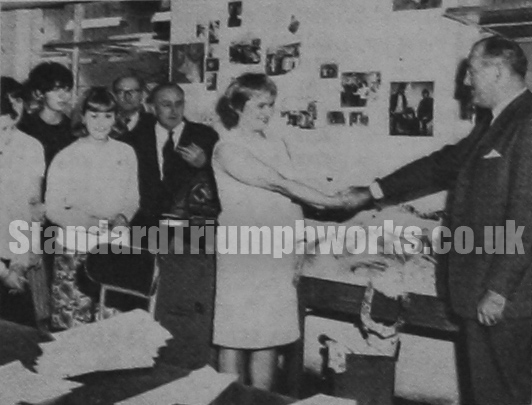 Asia had many disturbing experiences as a child herself. She was born in Poland before the German invasion, and then Russia marched into part of Poland. She and her relations were moved to Russia when she was two years old. After the Treaty of Warsaw, they left Russia, and were in Persia for three years. Later Asia was in the Lebanon for two years, before leaving Port Said to sail to England.
PRESENTS FROM FRIENDS
Friends and colleagues provided Asia with a coffee set, Pyrex dishes, an Eastern European dressed doll, and a beautiful bouquet. Mr. W. M. Hartley, Administration Manager, made the presentation and thanked Mrs. Lopuszanska for her good work.
October, 1966