Fred was the chief experimental development test driver following in the footsteps of Roy Smith. Fred left Triumph to work for the Jensen motor company.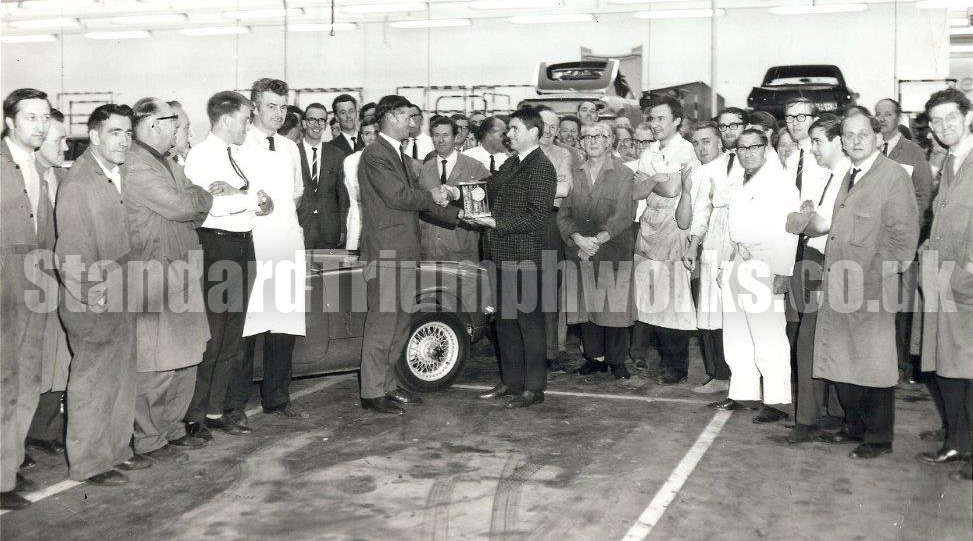 In the picture from left to right are the following personnel ,
Brian Eadon
Joe ?
Arthur Coulson
Dave Cook
Stan Hilliyard
Mike Brooks
Gordon Birtwhistle
Tony Lee (making presentation)
Eddie Bell
Malcolm Whittaker
Graham Stanley
Fred Nicklin
Fred Aubertin
Unknown (with glasses)
Vic Walsh
John Carris
Chris Wilkinson
Tony Bishop (SU supremo)
Martin Cox
Unknown
Unknown
There are others in the back rows which are unknown or are not fully
visible.
On the right hand ramp Triumph Stag X763 the black first prototype can be
seen, this vehicle was used initially for the 1000 mile pave test at Mira.
On the next ramp is X777 the second Stag to be built.