Two photos featuring Dennis Pettipher, sent in by son Dave. 
"I came across these couple of photos which would have been taken in the Drawing office at Canley, my father (Dennis Pettipher) is in both photos.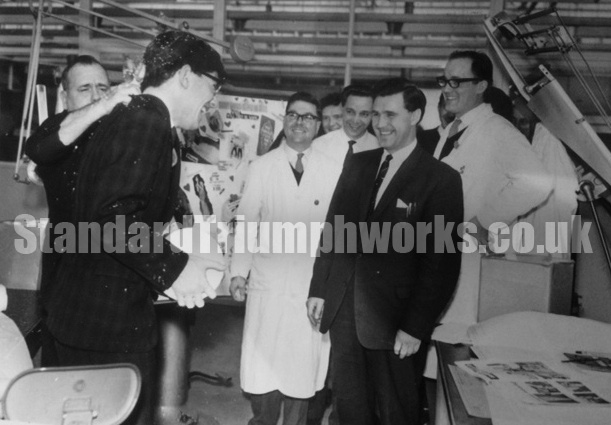 In photo one (above) he is the guy with the white coat and glasses in the centre and photo two (below) he is behind the guy thats being presented to, also in the photo is a guy called Brian Sidoli, he is the one with the beard behind my father, they used to car share as they both lived in Leamington Spa."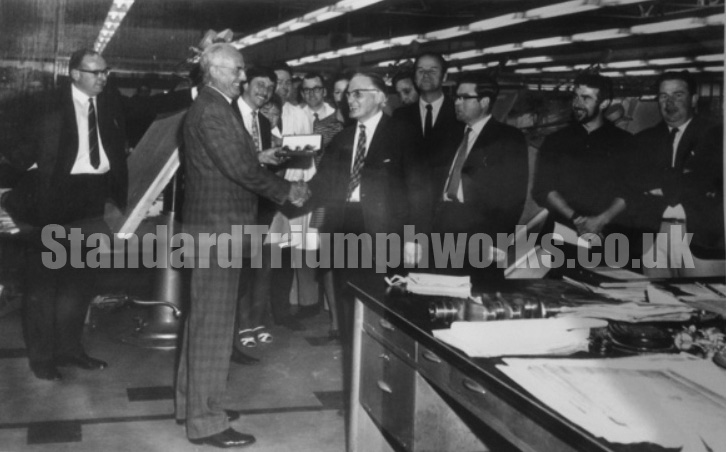 If you can help identify any others in the photos, please get in touch.
UPDATE:
The man in the suit in the first photo is Norman Kendal.
The second photo shows Mr Parkinson, head of the drawing office, giving Bill Pritchard his retirement gift. This must have been in 1969. I was an apprentice draughtsman on the Chassis Section and he was my boss and was quite strict.
The apprentices were paid weekly on a Friday morning. At lunchtime we would go across the Fletchampstead Highway to the Phoenix for a liquid lunch after which I would sit and look at the drawing on my board whilst sucking strong mints. Bill would hover around me and I would try not to breath on him. However, I later found him to be an extremely nice man. He ran the wine club and the magazine club and during the war he designed aircraft up in Preston.
The person in glasses directly above the gift being presented, is Barry who had emigrated to Australia but only stayed a couple of years. When asked why he did not stay he would just say "Well the country was lovely but.."
Submitted by Martin Hook
Update 2
With reference to the upper photo which has Norman Kendal…the two heads between Denis Pettipher and Norman Kendal are Tony Joy and Brian Hillyer.
In the lower photo it's Bill Yarwood being presented by Jim Parkinson. He was the chief 'checker' for the chassis D.O. His daughter lived in Australia and upon his retirement he emigrated over there.
Other people I recognise far left I think is Chris Chiles then just to the right of Jim Parkinson I think is Nick Maltby… just above his left shoulder is Peggy, (Jim P's secretary) who married Eddie Kilmurray (who worked in Electrical design for Ted Wood)…Barry in spectacles is Barry Marlow… just to his left I think is Debbie (nee Jackson) Darragh.
Submitted by Bleddyn Jenkins