A rare colour factory photo with very little information – late though with TR6's and Dolomites/1300's.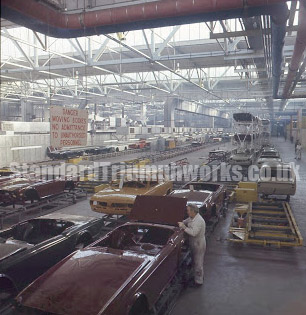 Taken in prior to main assembly halls – were these cars just after painting, or being inspected upon arrival (already painted) from a supplier?
Are the cars right/middle of photo painting in grey primer ready for final gloss?
Can you help? We'd love to hear from you.
UPDATE:  "I am not at all sure about this photo. I think that it is Liverpool 1 and not Canley as this is where I understand that TR6 and Dolomite 1300/1500 bodies were built. Part of my reasoning is that TR6 and Stag were put down the same Rocket Range line. Dolomites would have been on a totally different line and nowhere near the TR6/Stag line. There appears to be part of a paint spray line in the background (the high level ducting). Liverpool 1 had such facilities, I don't think that Canley did by the early/mid seventies – but please correct me if I'm wrong.  If this is Liverpool 1 – it is the only picture that I know of which shows the inside of Liverpool 1." Peter Robinson