Another fabulous photograph – with the new Assembly Hall in the distance.
The Assembly Hall (The Rocket Range) is still being built here with the cladding on the left side of the building yet to be fitted.
The foreground shows export TR's with their wooden boards to protect them during shipping and snow! Can we date this photo to winter 1960 – was there early snow in the winter of 1960/61? Was the new Assembly Hall finished from this photo (it came on-line very early January 1961) so with the cladding yet to be finished – and we assume not watertight – was this photo actually from the winter of 1959/60? More research required!
Thoughts: We have had a really close look at the cars to try and date it. In the middle distance are a number of Triumph Heralds – saloons and coupés; but we cannot see any Triumph Herald convertibles. If this photo was the winter of 1960/61 surely convertibles would be visible? The Assembly Hall has a long way to be completed, without being watertight there couldn't have been machinery or electrics and there would be so much left to do with the new tracks being operational only weeks away IF this photo was late 1960.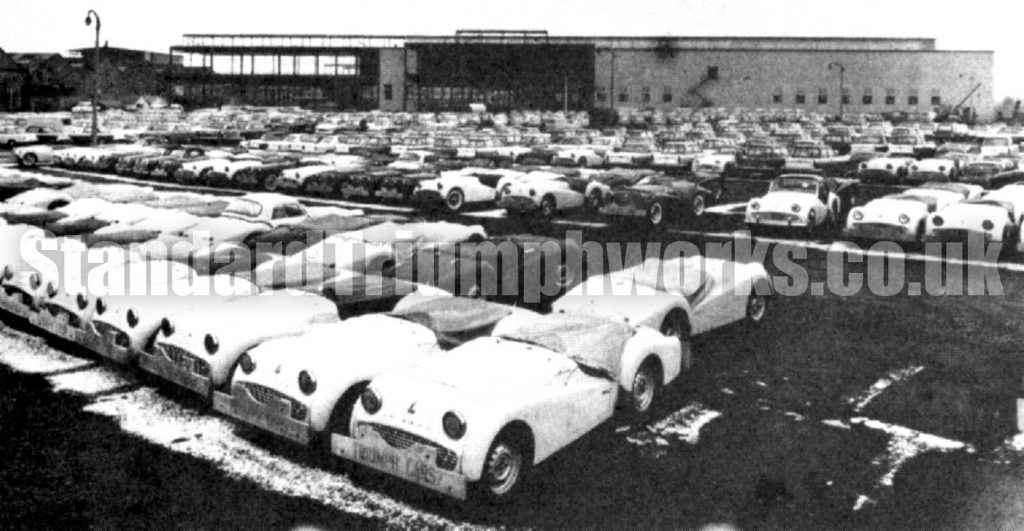 Thanks to Rugby Web Design