Jack Kearton, a jigmaker in 12A Shop, Canley, came to Coventry from South Wales in the 1920s. He found work as a machinist and then worked on testing Dolomites at the old Triumph works for eight years. He did not join Standard Triumph, however, until during the last war.
He started under foreman Arthur Malkin on the F9/40 assembly section in No. 5 Shop. Later. he went on to make aircraft jigs in the same shop.
IN 12A SHOP
In 1946, he started on the Renown car jigs and later moved to 12A Shop to make Vanguard jigs and eventually the TR jigs. He was proud of having being able to use his craftsman skill on jigmaking through most of his years at Standard Triumph.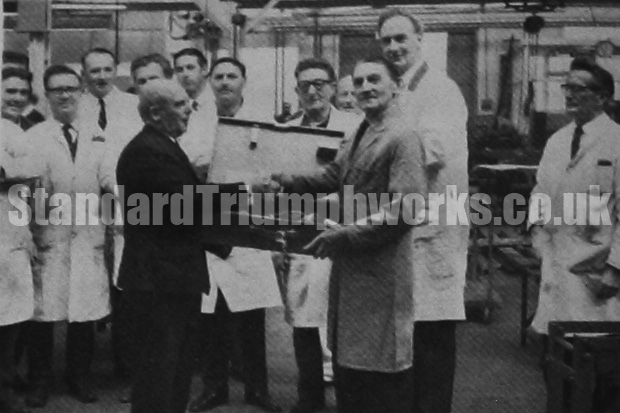 WORKSHOP'S GIFT
Mr. A. C. A. Johnson, Toolroom executive, presented an electric drill kit and tool chest, from Jack's friends and colleagues, and thanked him for his work. Mr and Mrs Kearton live at 49 Ashington Grove, Whitley, Coventry, and have two sons. Jack will be busy on handyman jobs, gardening and with his Ensign car.
26 Years Service
Archive December, 1969