Of the 53 years that the Forward Radiator Company of Bordesley Green Road, Birmingham, was in existence, the last decade was undoubtedly the most dramatic in the company's long history.
After a threatened near closure in 1963, Triumph management "know-how" was injected into Forward Radiators and so revitalised the company that today it enjoys a stable position in industry. The Forward Radiator Co. came into being in February 1919. As the name suggests, production was mainly confined to radiators for motor vehicles. Their small factory was in Bristol Street, Birmingham. Three years later, Forward Radiators moved from their original premises to Macdonald Street, nearby. This move to larger premises was the first of several in the Company's history. They were satisfying a need in the motor industry and began to expand gradually.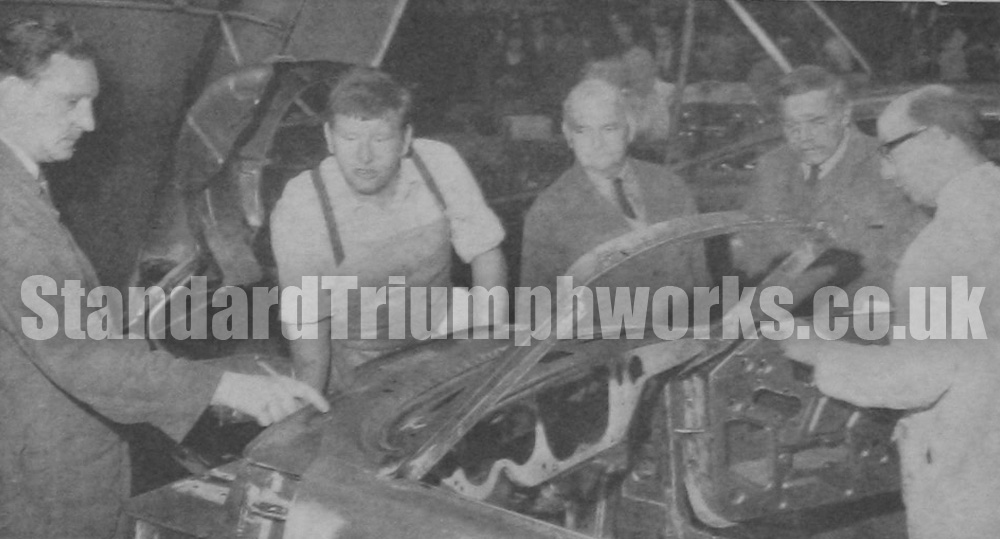 MEN AT WORK: (L to r.) Track Foreman Albert Burke (32 years' service), Trevor Wakeman, (of Central Committee, B.ham Sheetmetal Workers), Foreman Alf Jackson (27 years' service), Roly Payton (Convenor, B'ham Sheet-metal Workers Society), and Senior Foreman Eddie Roberts (13 years' service).
EXPANSION MOVES
In 1925 Mr. E. W. Horley joined the company as Director, four of the five founder Directors having sold their shares. Additional space was taken and a major production item was making complete sets of panels for the 14 h.p. Hillman. General repair work was gradually giving way to supplying components for the motor and motor cycle trades. A major customer was Alvis Cars Ltd., and in about 1930 Forward Radiators were involved in supplying Items for Daimler and Lanchester bodies.
ON AIRCRAFT WORK
In 1934 Mr. Horley became sole Director of Forward Radiators and about a year later further expansion took place in order to cope with orders from the aircraft industry. By 1939 Forward Radiators had become well established in this field, supplying fuel tanks, oil tanks, and engine cowlings for various manufacturers.
COVENTRY CLIMAX WORK
During the Second World War a considerable amount of work was carried out for Coventry Climax, in addition to work for the aircraft industry. Forward Radiators reverted to the manufacture of parts for the motor industry in 1946 and moved to premises in Kings Norton.
MAKING TR PANELS
In the 1950s, with factories at New Canal Street and Bordesley Green Road, Birmingham, the company began to produce body sections for the TR sports Car. Production of TR body sections eventually reached 650 a week, and the company was also involved in the production of the Standard 6 cwt van and pick-up model. Another major customer was Rover which, together with Triumph. is now a member of the Special Car Division of British Leyland.
MULLINERS IN CONTROL
In 1958 Mainers Ltd., acquired a controlling interest in Forward Radiators, and premises at Cherrywood Road, Bordesley Green, were allocated to the company. A press shop was established with presses of up to 1,050 tons being installed.
TRIUMPH TAKE OVER
Shortly afterwards. Standard-Triumph acquired Messrs. Mulliners and Forward Radiators. Both works began to supply rear-end assemblies for the Herald range of cars. Mr Horley retired from the Forward Radiators management in October 1962 and Mr. D E. Warren took over as manager.
MANAGEMENT SKILL
All had not been well with Forward Radiators and in 1963 it seemed almost Inevitable that the company would be closed. The task of transforming Forward Radiators from a pig's ear to a silk purse was in the hands of Mr. Warren and his assistant, Mr. E. R. Yeates. Mr Warren had joined Standard-Triumph in 1931 and was in charge of Planning and Maintenance Departments at Coventry, prior to this appointment.
In 1968 be left Forward Radiators to become Director and General Manager of Standard-Triumph (Liverpool) Ltd. Mr. Yeates in turn became the Director and General Manager of Forward Radiators following Mr Warren's Liverpool appointment. Premises in Bordesley Green Road were extensively refurbished during 1963 so as to accommodate production of both Triumph Spitfire and Herald rear-end assemblies at the rate of 2,000 a week. The Bordesley Green Road factory also became the registered head office of the company. A major planning exercise to concentrate all production in the Cherrywood Road and Bordesley Green areas was instigated, and this resulted in the closing of both the New Canal Street and Kings Norton plants.
One of the many tasks which both Mr. Warren and Mr Yeates set themselves was to improve Labour relations at Forward Radiators. They never under-estimated the importance of this and considered it to be a vital factor in putting the company back on its feet. In recent times, Mr. D. R. Pearson has become the General Works Manager at Bordesley Green. The former Director, Mr. E. R. Yeates moved to our expanding Liverpool plants in 1970.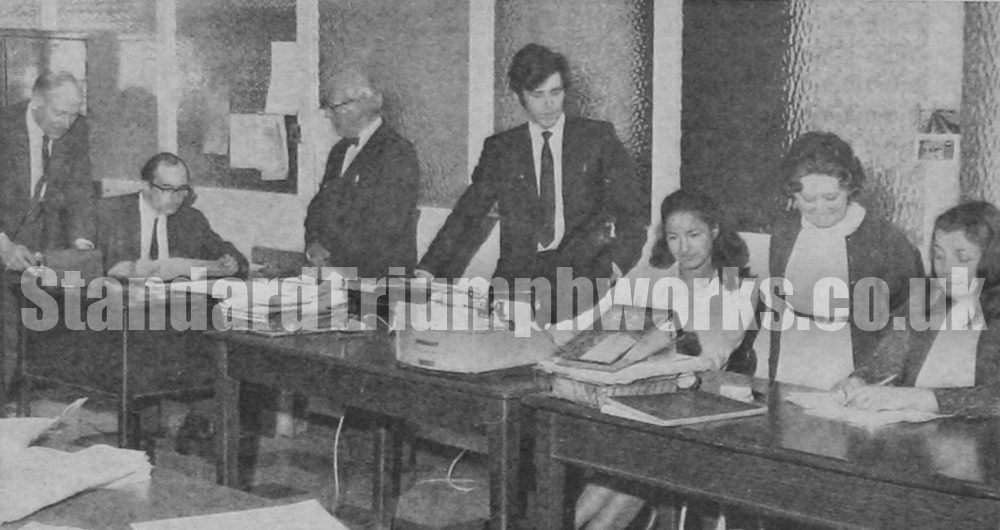 Costs & Accounts Dept. Ron Sutherland (standing centre) Costs and Accounts Supervisor
Additional names added (see below)
L to R: Harold Dunkley, Michael Newcombe, John Maiden, Ron Sutherland.
LOOKING AHEAD
Looking at Forward Radiators in the 1970s it is hard to believe that the company was threatened with closure, in the 1960s. The company's trading remits for the last few years have been at satisfactory. Triumph Spitfire and GT6 bodies are being manufactured at the rate of many hundreds a week. Production of petrol tanks is now in the region of 3,000 a week and about 95% of all the tanks required by Triumph are manufactured by the company, together with a large volume of spare parts. A modern paint plant has been installed for the painting of all petrol tanks and spares. Plans are always in the pipe line for the acquisition of further floor space if production demands it.
ARCHIVE: November 1972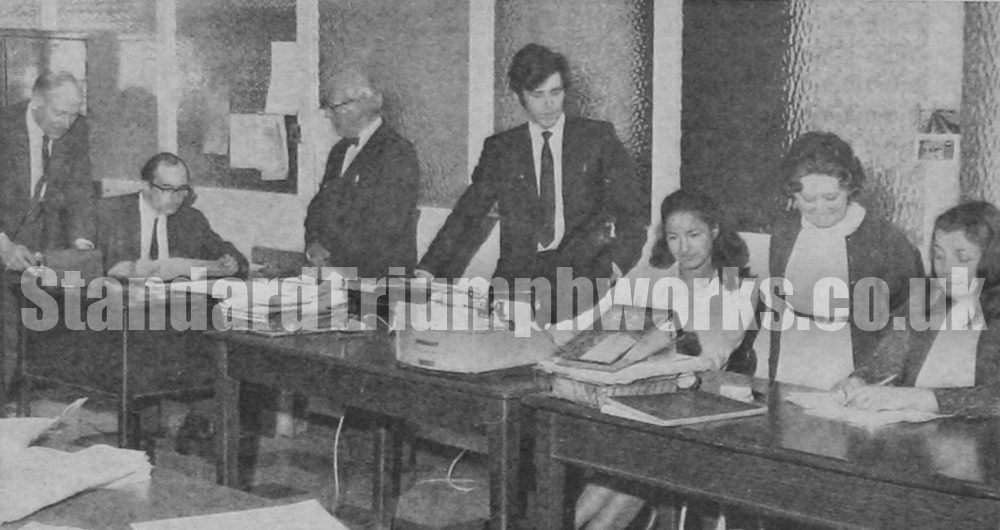 UPDATE: In the photograph I am second from the left sitting down at desk with black glasses then aged 25, to the left standing up behind me looking over me is Harold Dunkley who took over my old job as cost clerk in 1971, my job then was sales invoice clerk. To the front of me is John Maiden purchase invoice clerk who retired in 1973 aged 65. The 3 women are first was a typist , the woman standing up was the mother of the daughter sitting down mother was a wages clerk. Mr Diggers office was between us and wages office, when he left as works accountant in 1972 his job was taken over by a Mr Redfern in another office so his office was demolished to make an open plan office which included wages and accounts as one office.
I worked there from April 1969 to March 1973 as a cost clerk wage £18 pw in 1969. Wage £25 in 1973, the wages supervisor was a John Holden aged around mid 40s. We had 4 women putting up wages for factory staff on a Thursday all in cash!, doors were locked and security guards placed outside in  corridors until wage packets locked in safe.
Michael John Newcombe.