This pub was named after the Triumph Herald motor car, which was first built in 1959 in the Standard factory that stood on the other side of the railway line from the pub.

The Herald opened in April 1964. The pub had a strange circular lounge and an ordinary bar. When the factory was working this was a very busy pub, when the factory went so did the pub's trade. The pub's long slow decline mirrored that of the car industry locally and the closure of the level crossing in 2004 only hastened the process. The Herald closed in 2010 and was demolished in July 2011 to make way for a care home to be built on the site.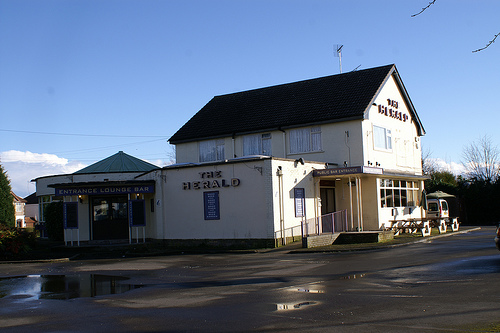 "The pub was opened soon after the launch of the Triumph Herald car but initially did not have a sign. A sign was added ten years later but by then the Herald was no longer a current model and no doubt the brewery wanted a sign readily associated with its name. Hence the first sign showed a herald – a person who would announce great news by sounding a trumpet. More recently the sign was changed to show the car after which the pub was named."
Alex Robinson of Canley Road
"The Herald did have the image of a pint mug painted on the wall facing the Canley Crossing. There was also a slogan promoting Brew XI. The pint mug image was painted over in the 70s. The wall with the pint mug also featured in an illustration on boxes of matches which the Herald sold."
Mike Beaumont of Lime Tree Ave
The pub has now been demolished with the TSSC (Triumph Sports Six Club) obtaining a number of artifacts, including the sign.