Horace Kendrick (65) a fitter in the chassis section, New Assembly Hall, retired after 47 years' service at Coventry.

Horace is well remembered as a stalwart of the works soccer team in the mid 20's and early 30's when they won many Midland trophies. He was a goal-keeper. He won his first medal for the works soccer team in 1926 and went on to win several more.  He had trials for Coventry City and Queens Park Rangers football clubs, but preferred to settle down with Standard Triumph  in a steady job.

He first started at Coventry in 1922 working on the SLO4 but left after 12 months. Horace returned a few years later to work in the Middle-frame Shop and then moved to No. 21 Shop. During the 1939-45 War he worked as a leading hand on the Beaufighter. He moved to the Paint Shop to prepare for car production and later moved back to No. 21 Shop to work on the Vanguard. In 1960 came his move to the New Assembly Hall.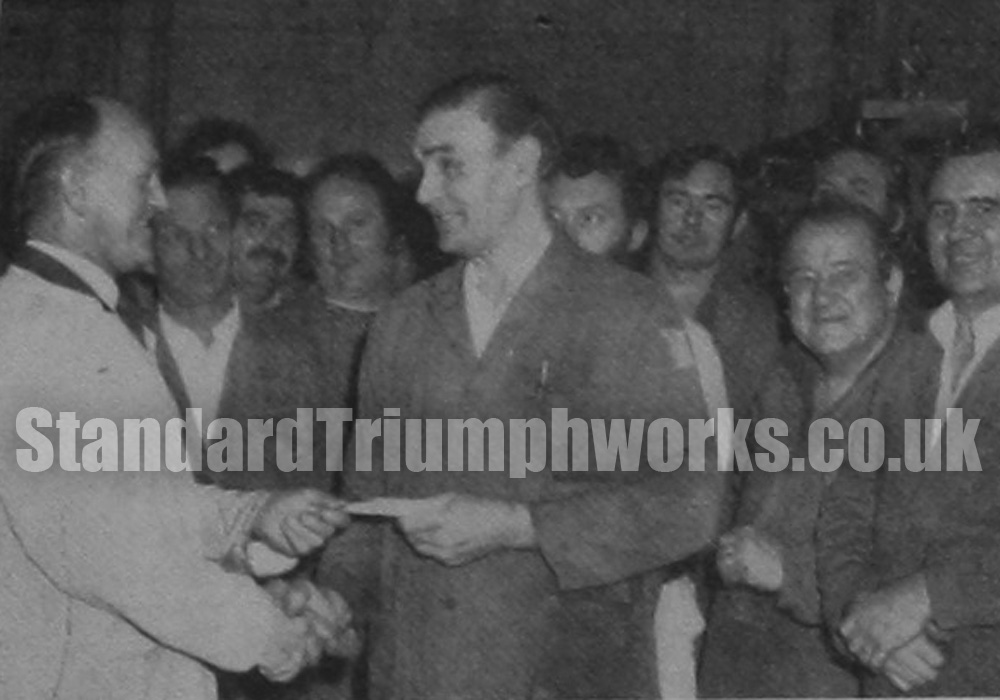 On behalf of Horace's workmates, Arthur Harding, foreman, presented a sum of money and thanked him for his work.

Mr and Mrs Kendrick live at 73 Trentham Road, Stoke, Coventry. They have a son and a daughter and there is one grandchild.
ARCHIVE: February, 1973