Jack Taylor worked for Standard Triumph at Canley as a Quality Control Engineer. He had originally been employed at an Air Ministry inspectorate between 1936 and 1947, becoming involved with the Standard Motor Company because of their contract to build Mosquito aircraft during the war.
1,066 of these "wooden wonders" were made at Canley.  Jack then joined Standard in 1948 and was involved with the introduction of the Herald in 1959. The photograph below shows him with colleagues in front of the first production car.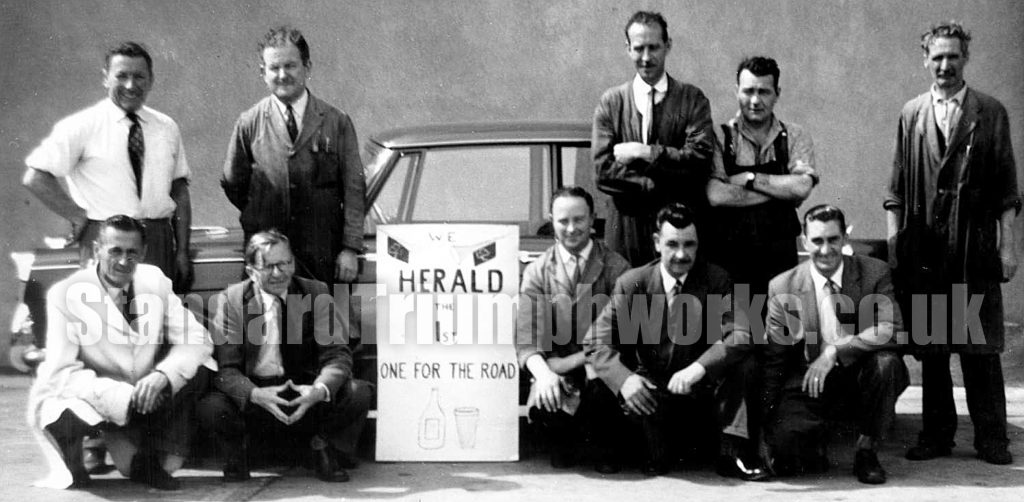 Subsequently Jack worked on "Ajax" the codename for the 1300 front wheel drive saloon and his papers include drawings of a slave hinge for the boot lid which was used to send bodies through the paint shop. There is also a folder labelled Ajax Paint Process issued by the planning department at Flethamstead North showing the floor plan at Tile Hill and listing the equipment and consumables required. A note dated 26 April 1968 states that "at production's request, the first five bodies will be passed over to chassis line with snags found by inspection unrectified. Those affecting road test will be rectified after the body is dropped to low level". Copies of this note signed by Jack were sent to Messrs. Henry, Littlemore, Cail and Chee. There are also notes about "inspection shirts" and drawings of a "steering column stillage".
In 1961 Jack with his family was sent to India by the Company to work as Chief Inspector for Standard Motor Products India on Herald production in that country where the car was produced from parts in 4-door form and was known as the Standard Gazel.
*  The very first prototype Triumph Herald was actually the coupé and the first production models followed suit also being the coupé spec. The first saloons followed shortly after and we can assume that this particular car is G1 . This car was Signal Red (and it certainly looks it on a black and white photo). G1 was built on 18th March, 1959 and was first registered on 20th March as XHP249.
(Source: www.triumph-herald.com)
The gentleman – fourth from left on the front row looks remarkably familiar. Is this the same gentleman that can be seen in the very last Herald!?