A fantastic photo depicting the very last Triumph Herald off the production line. Dated May 21st, 1971, it's quite a well known photo. What isn't known are the names of the people shown in the photographs. Thanks to this website we now have a match for the gentleman in the drivers seat – we'll be revealing all soon!
From its initial launch, the Triumph Herald ran from 1959 through to 1971 selling over half a million cars throughout the world. The Heralds chassis construction enabled different body styles to be easily assembled – saloon, coupe, convertible and even a van – and lead to the development of the Triumph Vitesse, Spitfire and GT6.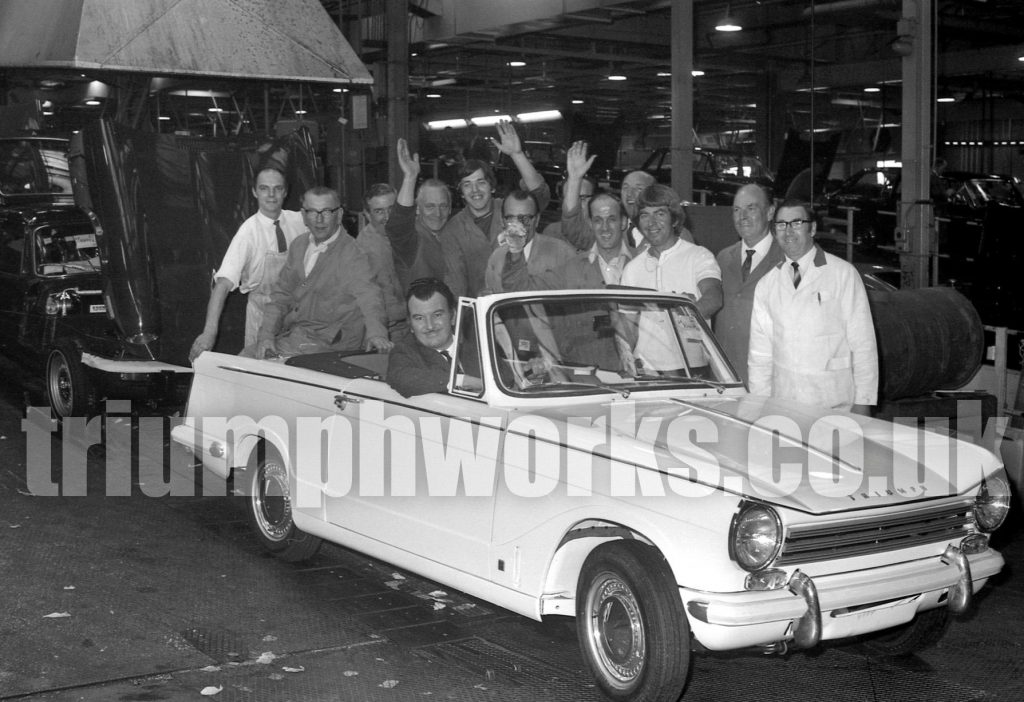 Famed for its tight turning circle, amazing access to the engine bay and fantastic all-round visibility the Herald was design by Italian stylist Giovanni Michelotti. Standard Triumph could not get a manufacturer to provide a new monocoque  body, so the cars were assembled in pieces, much like a traditional pre-war car. This method allowed the cars to be shipped out and assembled in different countries. Australia, New Zealand, Ireland, Belgium, South Africa and even Sri Lanka all had manufacturing plants.
The original car was available with a 948cc engine and featured a different front end to this photo, this version was the 13/60 and saw a redesigned bonnet. The Triumph Herald outlived the introduction of the Triumph 1300 Saloon, the car designed to replace it and was still selling reasonably well in 1971.
For more details on the Triumph Herald please see here:
http://www.triumph-herald.com