Joseph Brodie-Brown (65), a Superintendent in Overseas Manufacturing at Coventry, has retired after 44 years' service which covered work in various departments.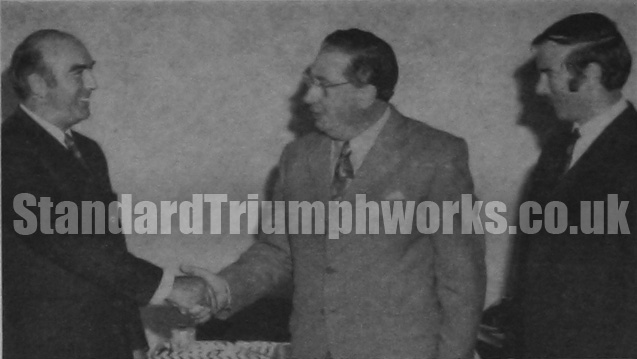 Mr Brodie-Browne started in Experimental Shop in 1926 after being apprenticed at Armstrong Siddeley and remembers that the Managing Director at that time was Mr Budge. In the years up to the war he worked in various departments, including several years with Albert Jones in Trim and Finish.
WAR-TIME WORK
In 1939 he moved to coachbuilding on military vehicles, and played his part in the factory defence services. After the war he was on the staff of the Inspection Departmentand worked in various sections. He became our Liasion Engineer at Fisher and Ludlow and other factories. Later, he moved back to inspection on Herald production.Afterwards, he became a foreman inspector with C.K.D. He became responsible for the inspection of 14,000 vehicles stored in depots in the Midlands and after this became Superintendent in Overseas Manufacturing.
Mr Brodie-Browne received retirement gifts of a collection of cut glass and a table lighter, presented by Mr F J Young, Works Manager, on behalf of Coventry personnel.
Mrs and Mrs Brodie-Browne live at St. Andrews Road, Lillington, Leamington Spa. They have two sons, one at Durham University and one at London Polytechnic.
Mr Brodie-Browne is a caravan enthusiast and is undertaking an extensive tour, towing his caravan with a Triumph 2000.
(Article: November, 1972)