When Coventry City met Leicester City in an FA Cuptie match, interest in the game was naturally high among Standard employees.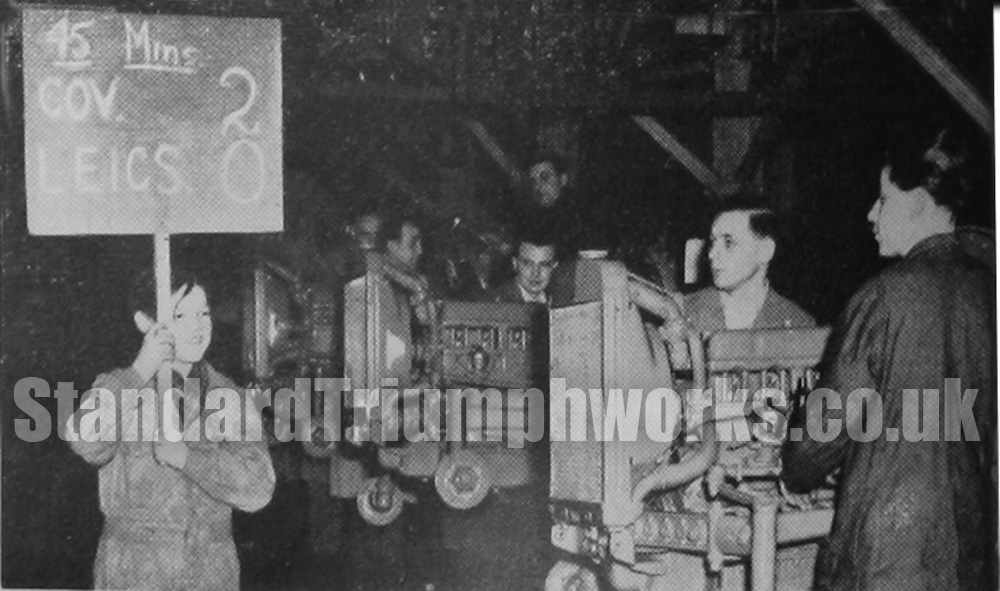 A novel way of ensuring that every-one was kept up to date with the progress of the match was adopted, as our photo-graph shows. A board on which the development and score of the match was indicated was carried round the various sections. The final result of the match was Coventry 4-Leicester 1.
ARCHIVE: February, 1952
UPDATE: the match was played on 14th January, 1952, which means we can date this photo very accurately. Date – and even time!
The match was a replay of the 3rd round of the FA Cup. The first fixture just two days earlier, 12th January, at Leicester ended 1-1.
Coventry City Starting lineup:
Goalkeeper: Peter Taylor
Full back: Jim Harrison
Centre half: George Mason
Centre half: Martin McDonnell
Wing half: Les Cook
Wing half: Noel Simpson
Outside Left: Norman Lockhart
Centre forward: Ted Roberts
Winger: Gordon Nutt
Inside forward: Brynley Allen
Inside forward: Ken Chisholm
Goals: Chisholm, Lockhart (2), Roberts
Leicester Goal: Dryburgh