"Dynamic, dedicated, enthusiastic – a slave driver boss who instils complete loyalty from all colleagues, employers and employees – this is the way Jock Brown is regarded in Western Avenue Service Depot, London. After being with the Company for many years he apologises for his conversation which is monopolised by Triumph. In his own words he sleeps, eats and drinks Triumph". These are the words of a reporter who interviewed Mr A. G. Brown, Triumph's London Depot Manager, a few years ago. We make no apology for repeating them on the occasion of "Jock's" retirement.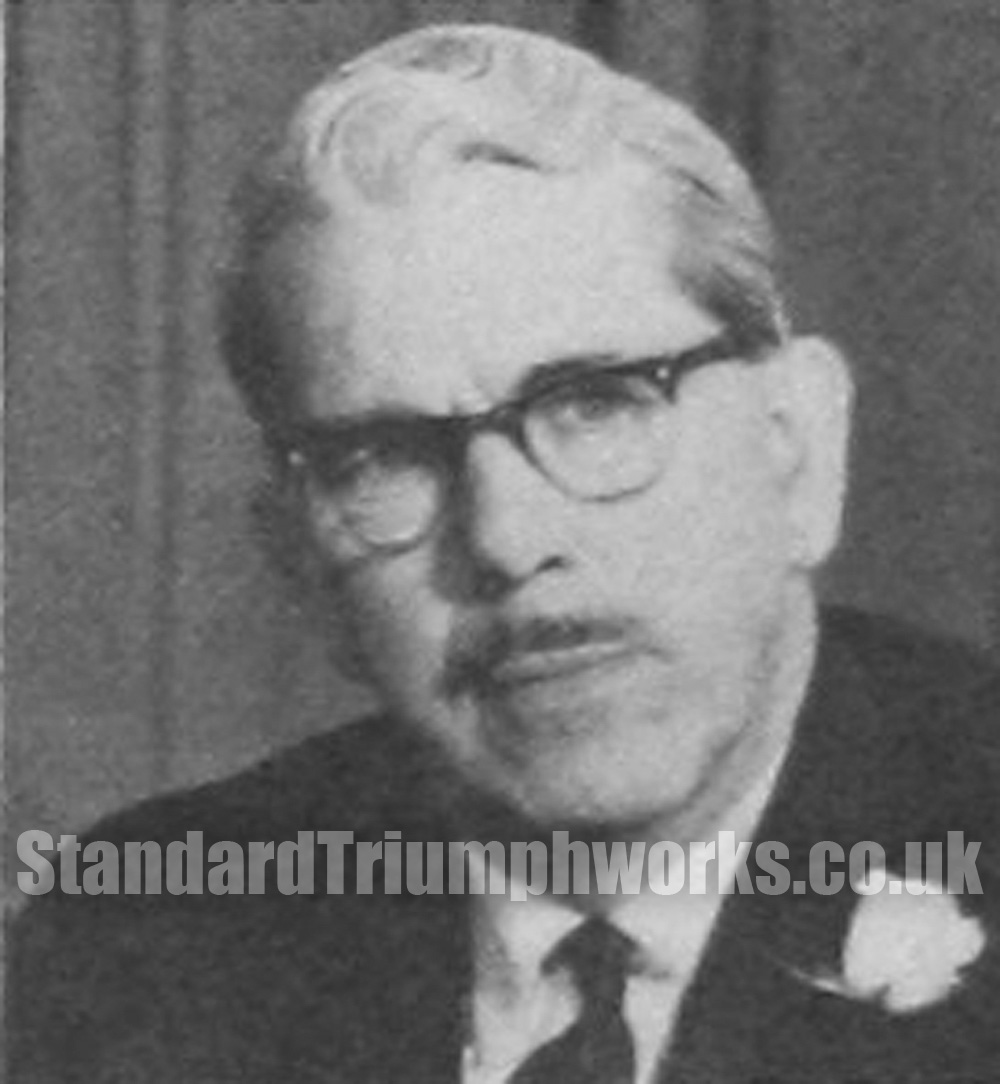 HOST OF GIFTS
There was a tremendous array of gifts from departments at Coventry, and from London Depot. Traders and customers also showed their appreciation. From the Directors and Management there was a heated dinner wagon, presented by Mr W. H Davis, Managing Director.
Western Avenue employees presented a bowls outfit, Grundig radio, and set of cut glassware. Inspection at Coventry presented a set of silver goblets, and Service at Coventry presented a camera. Photos can be seen here.
From area dealers and traders there was a set of sea fishing tackle, and individual customers presented such items at gold cigarette lighter, onyx inlaid cigar cutter etc.
Additionally, fourteen ex-apprentices and trainees booked a London hotel for the night and held a party for "Jock". Their present was a set of cut glass decanters inscribed "from the men he trained from boys".
RECORD OF SERVICE
Mr. Brown joined Standard Motor Company at its Park Royal Depot in the early thirties, having previously been with the Riley Motor Company in Coventry. He returned to Coventry in September 1936 when the Company opened a new Service Depot.
By September 1951 Mr Brown became Chief Inspector for the Company with responsibility for the complete car assembly, including Machine Shop and Tractor Engine Build. He held this position until 1956 when he returned to the Service Department at Allesley as Service Manager. (More HERE)
1960, he was appointed London Service Manager, responsible for the development of the Service Department at Western Avenue. In 1963 his responsibility was increased to cover the London Sales, operation, including control of the showrooms in Berkeley Square.
In 1970/71, as a result of a Corporate decision, the Triumph Sales and Service operation was transferred to Henlys. Since that time the unit under Mr. Brown's control has been developed into a specialist car division, responsible to the Corporation in respect of Export Home Delivery work.
A Scot, Mr. Brown was an enthusiastic sportsman and took an active part in both the playing and secretarial sides of Coventry works rugby and cricket clubs for many years. It is understood that on retirement, Mr. Brown will live on the Sussex coast.
ARCHIVE April, 1973
Pt2 HERE