Popular Les Ball retired from Standard Triumph earlier this year, after 42 years' service at Coventry.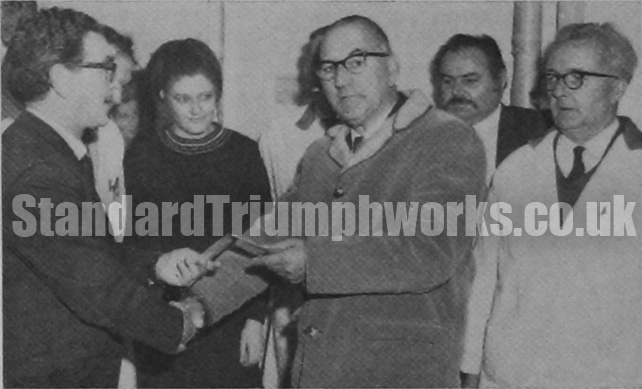 Les started with the Company, in the Press Shop, Canley, and after only a few weeks was made a chargehand. He remained chargehand for over 18 years until he was made foreman in 1950. During his service he did a couple of years of permanent nights, and spent six months in the Machine Shop as night foreman. He eventually moved to Prefabrications Area, Canley, from where he  retired early through illness. 
FACTORY PRESENTATION
On behalf of his friends and colleagues Mr. J. Carroll, Press Shop and Fabrications Executive, presented a sum of money and a bouquet for Mrs. Ball. Mr and Mrs Ball live at 6 Myton Farm, Myton Road, Warwick, and they have one son. In his retirement Les hopes to improve his health, and will continue his hobby of caravanning.
ARCHIVE:  January, 1973