I joined the Final Finish at Canley, as a Trainee Vehicle Electrician, in 1966, working with Phil Robinson, Mack McKay, and John Ward.
We were only part of the electrical team distributed around the site, giving support to other areas and rectifying faulty vehicles. Some of the other members were : Albert Williams, Eric Woods, Dave Rose, Denis Latchford, Pete Chapman, Eddy Hutchinson, John Stringer, Dave Trivet and Ron King, sorry to those I have failed to mention.
Alongside us in the Final Finish (also called the Hospital, as it was where finished vehicles, with faults, were rectified before being sent to the dealerships), was our Foreman, Don Macintosh, our Trim man was an old wood butcher called Harry Jones and some of the Tinsmiths were, Jim Trevellian, Phil Green, Phil Archer (I have forgotten more than I have remembered and to those I have forgotten, I apologise)
Between 21 and 23 Shop was the Sales Conversion where another member of the electrical team worked, Tom Street.
My Father (Frank Hales) was working in 21 Shop (2000 build) during the 60s so I travelled into work with him and Ivor Kay, who also worked in 21 Shop.
Does anyone else remember there being at least 3 bars on site, bars serving alcohol, one directly under the gearbox shop, guys could have a couple of pints at lunchtime then back to their lathes turning hot metal in the afternoon, health and safety nightmare.
I remember some guys tapping "empty" barrels just to check how much was left in them, and clearly remember when one was found to contain sufficient alcohol for a number of free pints to be enjoyed, not that I ever indulged.
What about the Christmas Parties held in 21 Shop. Men would spend the weeks before Christmas building various animated figures loosely based around the Christmas theme, giant cardboard Reindeer with animated appendages which squirted water at anyone passing by, 20 foot cardboard trees with squirrels running up and down their trunks, apart from many Christmas scenes artistically painted by various guys who worked on the tracks.
It would all come together on the last working day before Christmas when the tracks would stop and a stage built for entertaining performances from a number of various workers; all props being made mainly from cardboard and various vehicle components, wiper motors, washer motors, tubes and jets etc.
Some time around 1977, I moved up to the Experimental dept at Fletch North, working with Jack Hines, Bill Taylor, Fred Dewster, Ron King, Bill Gangaram, Mark Hood and Phil Robinson our Foremen were Tim Taylor and Harold Flanagan.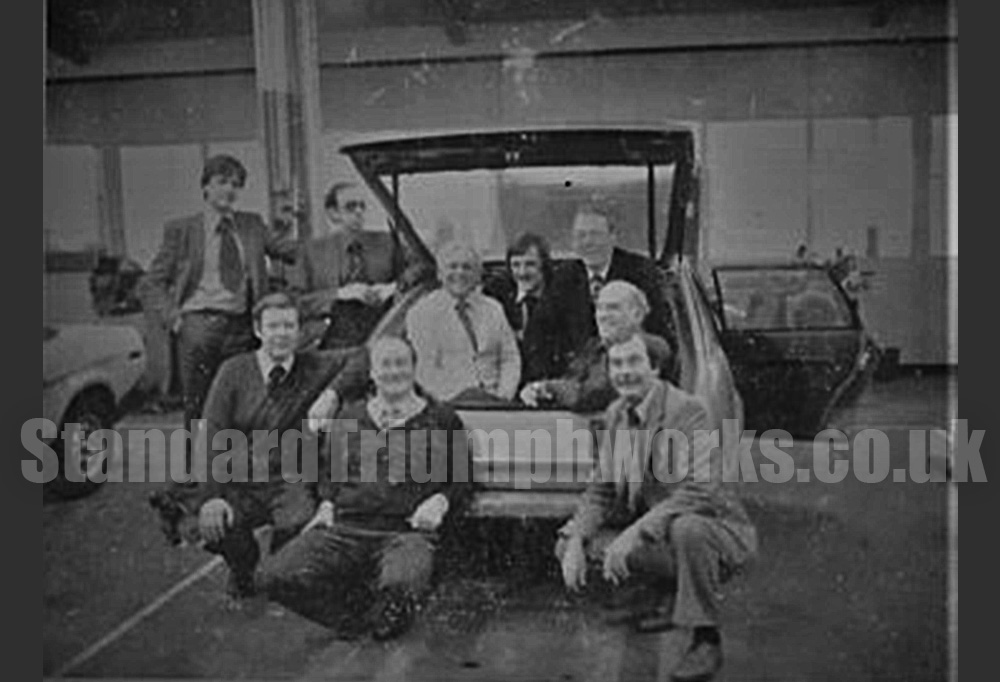 This was taken in March 1980 at Allseley, not specifically Canley, but it was strongly aligned with Canley and most of these guys had worked at Canley.
L-R :- Back row first – John Fletcher, Mike Nutt
L-R :-Iinside the SD1: Jack Stanley, Mike Hales, Vaughn Satchwell, Allan Howkins
L-R :- Front Row: Stewart Hodges, Don Cooper, Frank Maspero
Then in Aug 1980 another move to Allesley working in Methods and Techniques, with: Mike Nutt, Jack Stanley, John Fletcher, Don Cooper, Vaughn Satchwell, Alan Howkins, Stewart Hodges and Frank Maspero.
Unfortunately Allesley closed in 1980 and in April I moved to Drayton Road in Birmingham, working for Rover in their experimental dept.