I have just placed some details on the Directory of my father, Alan Dunthorne,  who worked for 37 years from 1960 to 1997.

My Dad worked from 1960 to 1997 at Final Finish, Canley then Press Cars at Gaydon.  He was also a Shop Steward. He thoroughly enjoyed his job and the people he worked with. He passed away in May 2016 after a long battle with Parkinsons.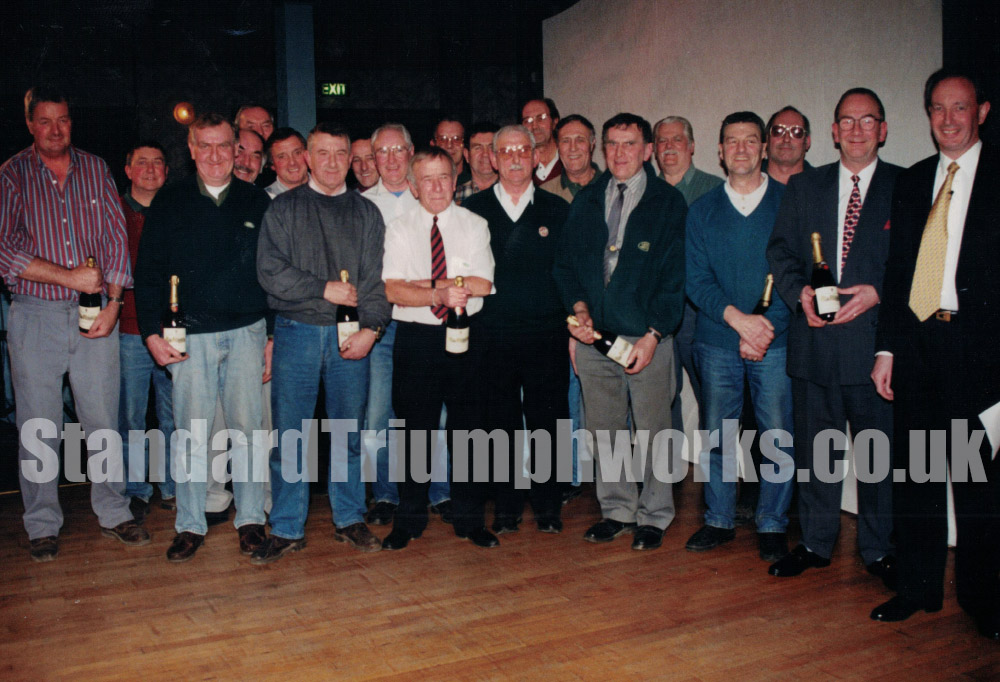 Press Cars 1 August 1993. This is a photo at the completion of work carried out in France. On the far left is my father, Alan Dunthorne ( the tall one), second from the right is Michael Parry Brooks. In  gratitude of their work they were presented with bottles of Champagne.
I do not know the identities of the other team members but I am sure people will write in. (Below are closeups with the same photo, lightened slightly and split into two. ED)
UPDATE: Alan Dunthorne, Noel Holdback, Trevor Frost, Bill Harley, Terry Hale, Roy Smith, Tony Blasdale, Bob Mottram, Andy Leitch, Peter Cox, Ron Deebank, (the four guys standing behind Ron Deebank with black v neck sweater are unknown), Roger Neal, Ron coates, Terry Poulton, Mike Brooks and Rod Ramsay.
(Martin Cox)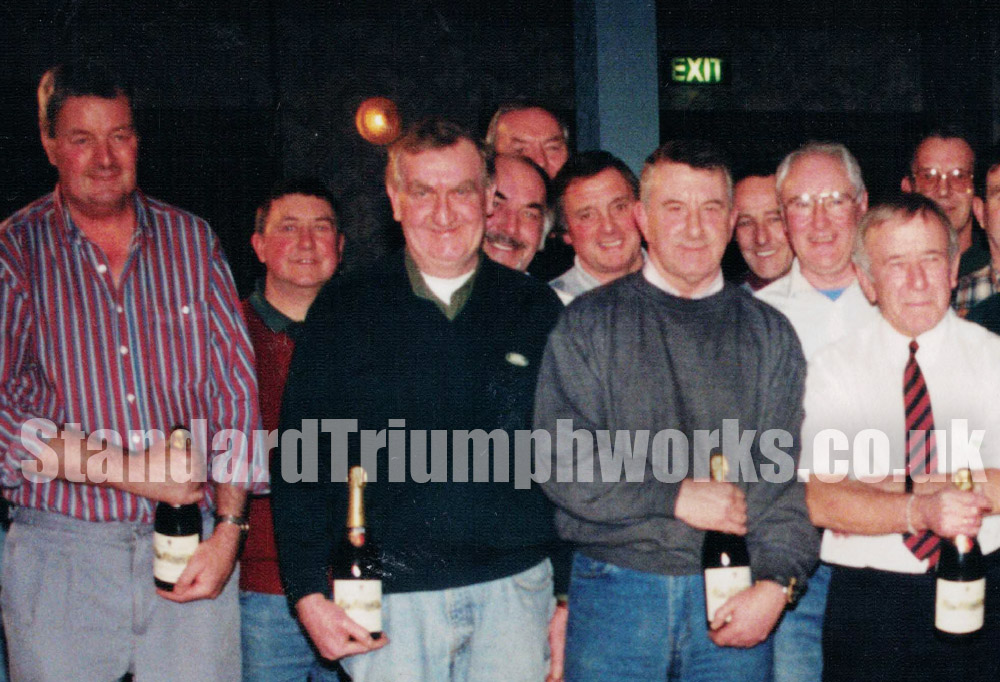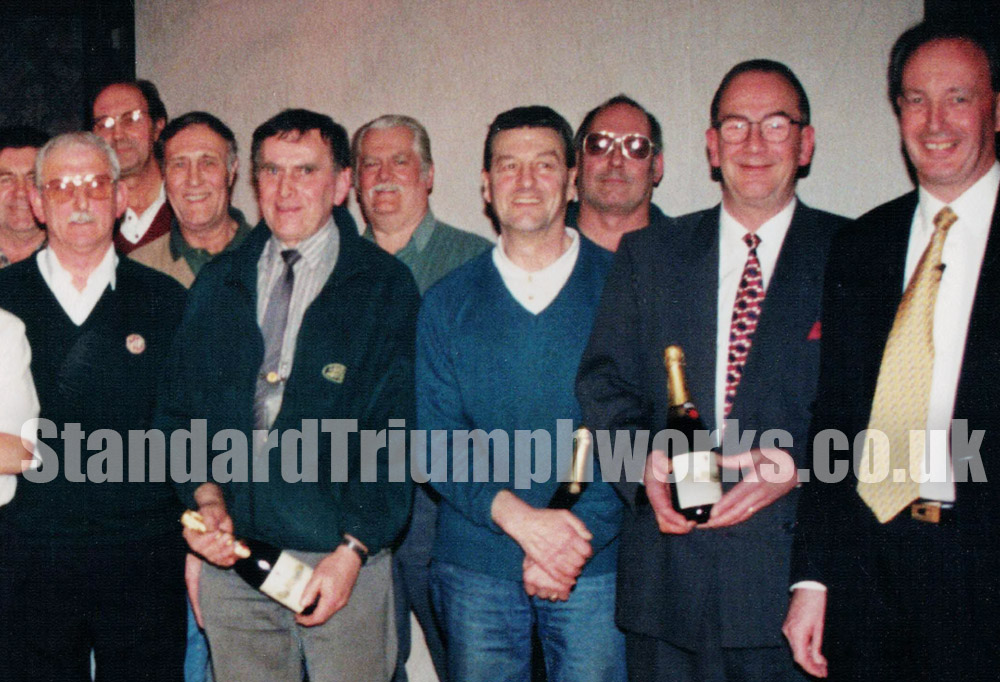 ***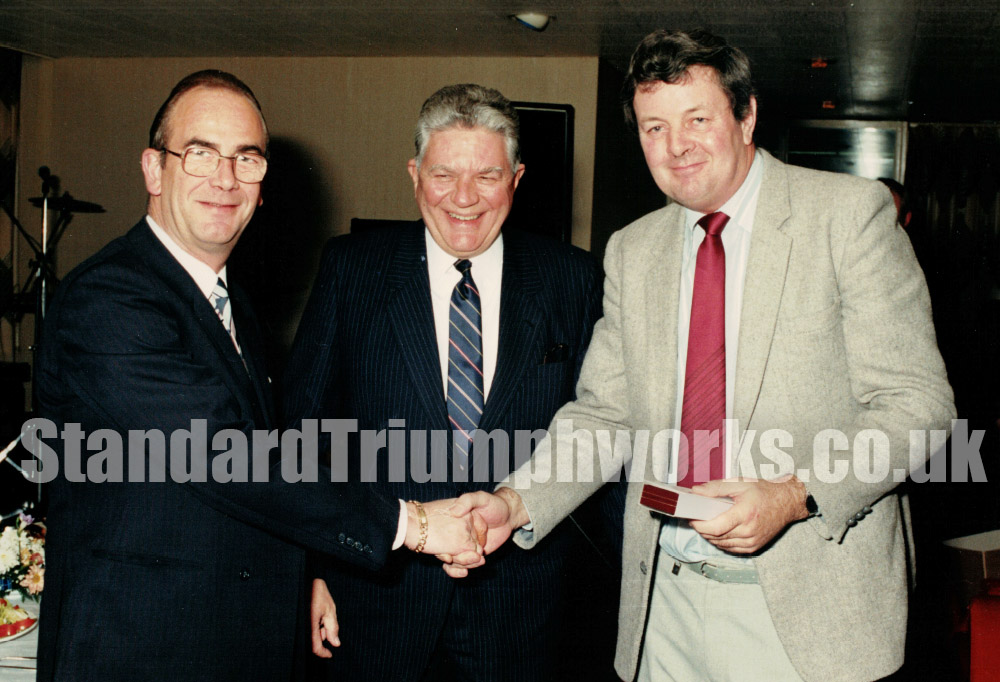 25 years service.
I do not know whether you consider this photo helpful. This is my father, Alan Dunthorne (right), being presented with a gift for 25 years service by his boss Michael Parry Brooks ( left). I do not know the identity of the person in the middle.
UPDATE:
 The man in the middle is Joe Farnham, the Engineering Director for Rover Triumph from America. (Martin Cox)
I have further photos I can send.
Roger Dunthorne
(Yes please, Roger – ED)