R. H. PITT, Chief Fire Officer of The Standard Motor Co. Ltd., retired from the Company on 1st December, 1948, after nearly forty years service.
Mr Pitt first joined the Company in 1911 and in 1919 became Drill Instructor to the Fire Brigade and also Foreman of the Car Despatch Section.
In 1928 he was made Chief Fire Officer. He was appointed full time Fire Officer in 1936, and formed the fire brigades at No. 1 and No. 2 factories. The Standard Fire Brigade have been very successful in numerous open fire brigade competitions, a feature in which Mr Pitt was greatly interested.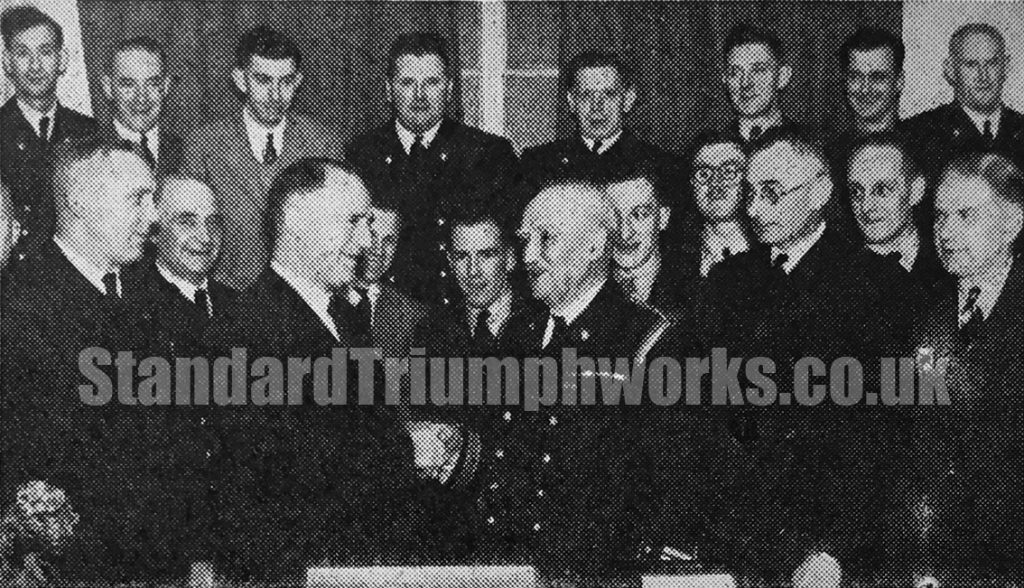 Our photograph shows Mr P. Cleydon (Welfare Manager) making a presentation to Mr  Pitt on the occasion of his retirement, at which members of all the Standard Fire Brigades were present. The presentation consisted of a wireless set and a cheque from the Canley Brigade, and a complete smoker's outfit from the Banner Lane Brigade.
Mr Pitt is now Vice-President of the National Fire Brigade (Midland District), and a life member of the Coventry and District Associated Fire Brigades. We wish Mr. Pitt many happy years of retirement.