Here we will add details of those named on the Standard Motors Roll of Honour. If you can help with details, a photo or any information we'd love to hear from you.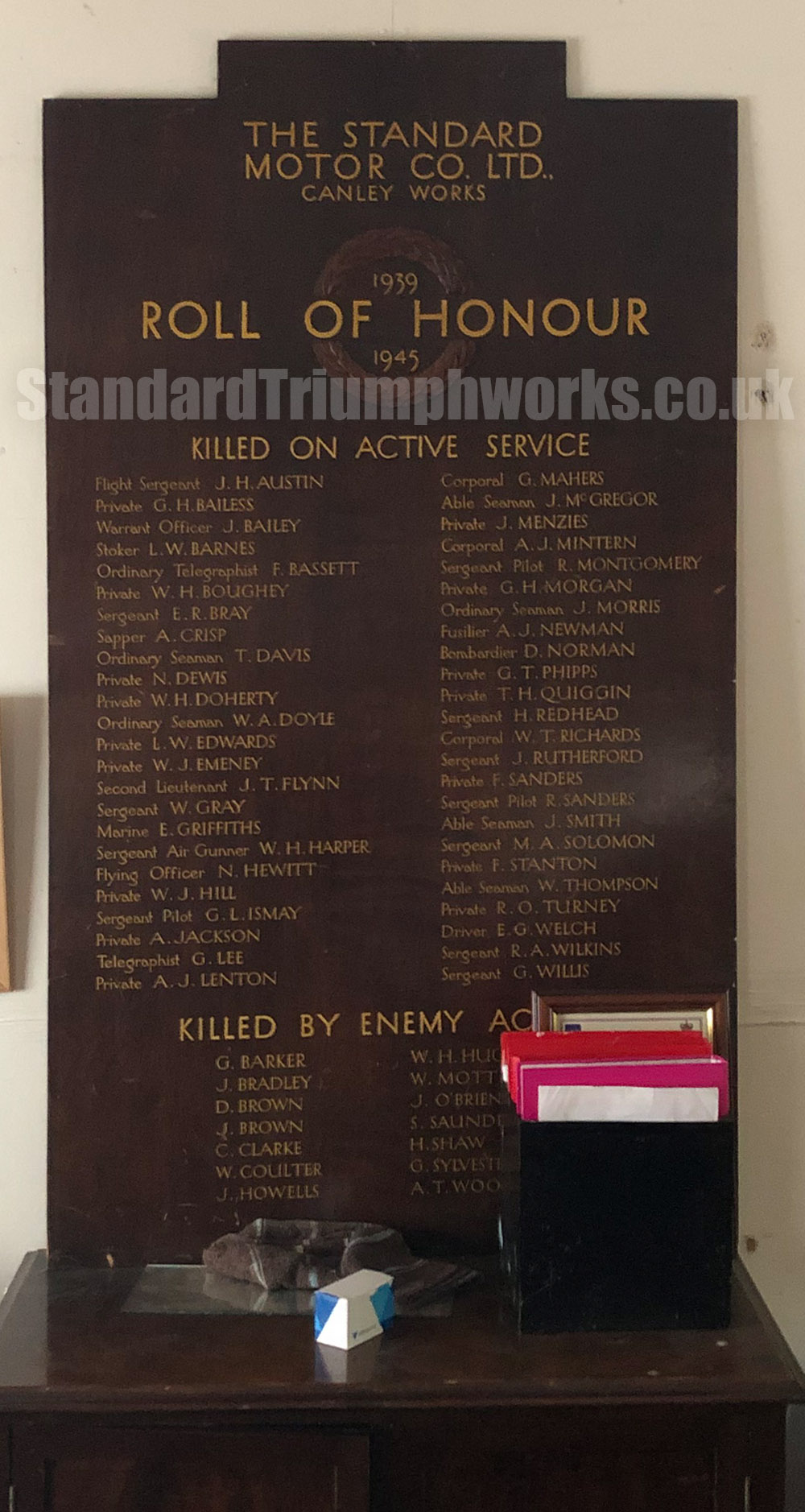 Name on Roll
Name of Roll in BOLD, have forenames names confirmed
Supplementary info in italics
(KILLED ON ACTIVE SERVICE)
Flight Sergeant J. H. AUSTIN

Private G. H. BAILESS
George Harry Bailess  4105715 Private 1945  King's Shropshire Light Infantry
Warrant Officer J. BAILEY
Stoker L.W. BARNES
Ordinary Telegraphist F. BASSETT 
Telegraphist Fred Bassett (19), the Royal Navy, is missing and must be presumed killed. Attended Ash Green School was formerly employed by Standard Motor Co., Ltd. D/JX 424238. 15 June 1944 Age 19.

Private W. H. BOUGHEY
William Henry Wilcox Boughey. Killed in action. Aged 26, he joined the Royal Warwickshire Regt. Territorials upon the out break of war, served in France, and was in the evacuation at Dunkirk. BEF Forces.
Private 5110298. 15 April 1944 Age 26 KOHIMA WAR CEMETERY Essex Regiment
Sergeant E. R. BRAY
Sapper A. CRISP
1909894 ALBERT LESLIE 30 November 1943 Age 24 DELY IBRAHIM WAR CEMETERY
Ordinary Seaman T. DAVIS
Private N. DEWIS
Private 5953834 NORMAN 18 July 1944 Age 28 AREZZO WAR CEMETERY
Private W.H. DOHERTY
Ordinary Seaman W. A. DOYLE
P/JX 580679 WILLIAM ARTHUR 18 February 1944 Age 17 PORTSMOUTH NAVAL MEMORIAL
Private L. W. EDWARDS
Private W. J. EMENEY
William John  Emeney  5114443 Private 1944  King's Shropshire Light Infantry
Second Lieutenant J. T. FLYNN
Sergeant W. GRAY
Marine E. GRIFFITHS
Sergeant Air Gunner W. H. HARPER
1352813 WILLIAM HARRY 17 September 1944 Age 32 PADUA WAR CEMETERY
Flying Officer N. HEWITT
Flying Officer 156111 NORMAN FREDERICK 25 June 1945 Age 27 HENLOW (ST. MARY) CHURCHYARD
Private W. J. HILL
Sergeant Pilot G. L.  ISMAY
Geoffrey Lucien Ismay  745438 Sergeant (Pilot) 1940  Royal Air Force Volunteer Reserve. Aged 24, a bomber pilot, who was previously reported missing is now reported killed in action over enemy country in October. He is-the only son of Mrs. Ismay, late of 16, Meriden Street, Coventry. Born 2 Aug 1916 in Foleshill District, … He was buried on 1 Oct 1940 in War Cemetery, Reichswald Fores, Germany.
Private A. JACKSON
Telegraphist G. LEE
Private A. J. LENTON
Albert John  Lenton  5109454 Private 1940  Royal Warwickshire Regiment
Corporal G. MAHERS
George Edward  Mahers  5107195. 1940  Royal Warwickshire Regiment
Private J. MENZIES
Corporal A.J. MINTERN
Alfred John Mintern was born on 16 Feb 1913 in Measteg, Bridgend, Glamorgan, Wales. Alfred worked in the Service Dept. Standard Motor Co. prior to WW2. Lance Corporal Alf Mintern, Service Number 7902740, served with the 2nd Dragoon Guards (Queen's Bays) and was killed in action in 26th October, 1942.  He was 29. He is buried at EL ALAMEIN WAR CEMETERY, with 6,480 other casualties.
Sergeant Pilot R. MONTGOMERY
Private G. H . MORGAN
Ordinary Seaman J. MORRIS
Fusilier A . J. NEWMAN
Bombardier D. NORMAN
Private T. H. QUIGGAN
Thomas Harry Quiggen  14588596 Driver 1945  Royal Corps Of Signals
Sergeant H. REDHEAD
REDHEAD Serjeant 4448898 HAROLD 17 July 1943 Age 35 CATANIA WAR CEMETERY, SICILY III. A. 16. View record Durham Light Infantry United Kingdom
Corporal W. T. RICHARDS
Sergeant J. RUTHERFORD
Sergeant Pilot R. SANDERS
Raymond Louis Sanders, R.A.F., V.R., aged 24, killed in action. Sergt. Pilot Sanders attended John Gulson School and Coventry Technical College. He was formerly employed by the Standard Motor Co., Ltd Coventry.
Flight Sergeant 1576004. 11 December 1943 MORDEN CEMETERY. Royal Air Force Volunteer Reserve
Sergeant M. A. SOLOMON
Maurice Abraham  Solomon  1867019 Sergeant 1945  Raf Melbourne
Private F. STANTON
Private Frederick Stanton, Suffolk Regiment,  killed in action, Stanton attended Wheatley Street School, and was employed by the Standard Motor Co. Ltd. before joining the Forces
Able Seaman W. THOMPSON
Private R.O. TURNEY
REGINALD OWEN 07 May 1945 Age 23 BECKLINGEN WAR CEMETERY
Driver E.G. WELCH
ERNEST GEORGE 06 May 1944 Age 23 RANGOON MEMORIAL
Sergeant R.A. WILKINS
Sergeant G. WILLIS
(KILLED BY ENEMY ACTION) Air Raids
G. BARKER
GEORGE 16 September 1944 Age 35
J. BRADLEY
D. BROWN
DENNIS 14 November 1940 Age 19
J. BROWN
C. CLARKE
W. COULTER
Age 38. Sweetest memories dear Billy, who died in the Air Raid April 8. 1941.—Always in the thoughts of his wife Doris, and missed by many friends. 
J. HOWELLS
JACK HOWELLS 19 April 1941 Age 23
W.H. HUGHES
WILLIAM HENRY 09 April 1941 Age 38
W. MOTT
WILLIAM 21 October 1940 Age 56
J. O'BRIEN
JOHN DESMOND 09 April 1941 Age 42
S. SAUNDERS
H. SHAW
G. SYLVESTER
George Sylvester 08 April 1941 Age 64
A.T. WOOD
ADDITIONAL NAMES WE HAVE IDENTIFIED NOT ON THE ROLL OF HONOUR
Henry Hollis Employed by the Standard Motor Co., Ltd.
Sergeant 1866571 killed 22 June 1944 Age 19 UDEN WAR CEMETERY. Royal Air Force Volunteer Reserve
Henry Roy Knatt (25), Royal Warwickshire Regiment, killed in action.
30 July 1944 Age 25 FONTENAY-LE-PESNEL WAR CEMETERY, TESSEL : Private 5126628
Guardsman Thomas Tyrrell, who lived at 79, Meadway. Stoke Heath, Coventry, for number of years, was employed by the Standard Motor Co., Ltd.
13 August 1944 Age 22 BAYEUX WAR CEMETERY. Irish Guards
***
(ED note Roll Call names not added to database yet, with exception of those previously archived via clippings)