Certificates were presented to Triumph employees who had successfully passed the first combined British Leyland Rover/ Triumph and Jaguar Certificate In Storekeeping and Stock Control.
The course, devised by Rover Training Department in consultation with Hall Green Technical College, was held over a 36 week period, when participants spent one half day each week studying subjects entitled Storekeeping and Stock Control, and Nature of Management.
Following the undoubted success of this initial venture, a 72 week Advanced Course for holders of "Certificates in Storekeeping" has now been launched, with 13 people from the Rover/Triumph and Jaguar factories attending.
During the 72 weeks course, members will have to study, "in depth", subjects ranging from Stores Management and Inventory Control to Economic and Financial Aspects, up to the diploma standard of the Institute of Purchasing and Supply.
Rover training officer, Ted Walden, speaking said "I feel that these courses are something special. The one for the Certificate in Storekeeping and Stock Control was the first in the motor industry, and two Triumph employees gained it. Another Triumph employee gained a distinction in the Nature of Manage-ment subject. "The special Advanced Course, which is now under way, is the first of its type in the country, and will no doubt be the forerunner of further courses to come out of British Leyland, whose emphasis on training is, I believe, second to none".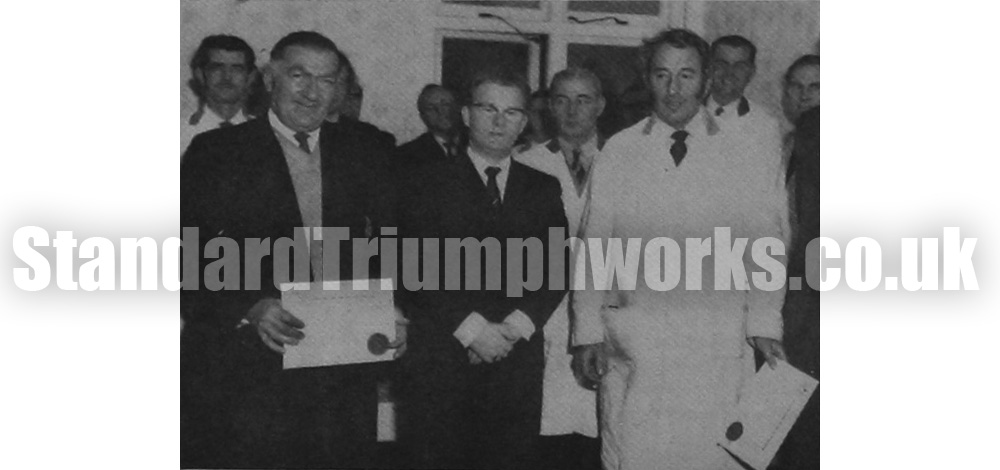 George Evans (left) of General Stores, and William Swain (right) of Gearbox Stores, Coventry, studied for certificates In Storekeeping and Stock Control. John Crosby of Engine Stores (not in picture) won distinction in his subject. Mr. J. F. Brown (centre), Head of Production and Material Control, congratulated them.
ARCHIVE: February, 1973