Though beaten by 11 pts to nil, Standard RFC were far from disgraced in their ambitious fixture with Lyon Olympique Universitaire, at Tile Hill last night.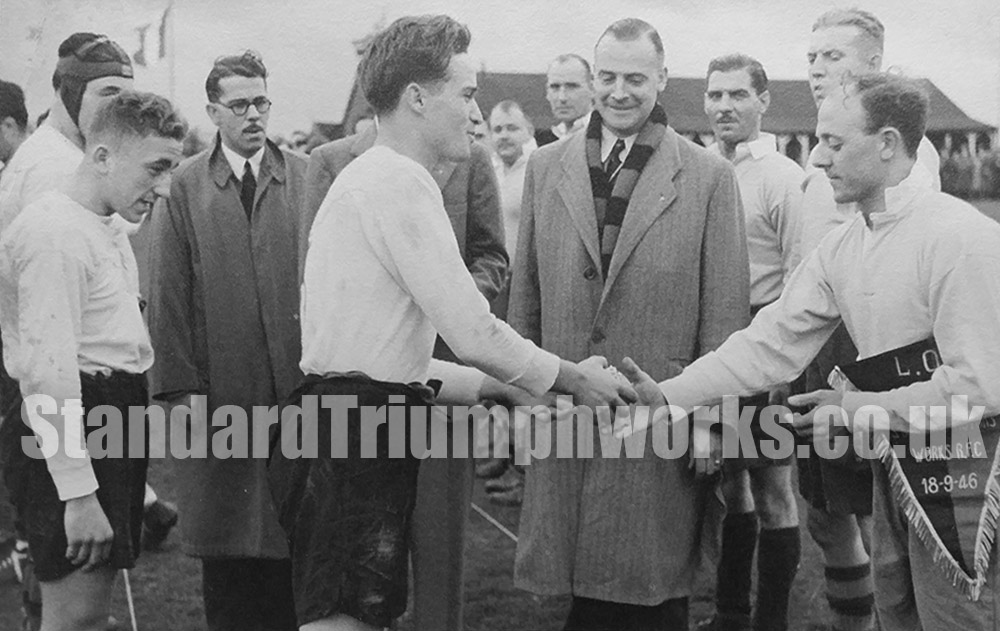 Deplorable weather conditions —a strong cross wind and intermittent rain—robbed the game of spectacle, and it gradually developed into a grim forward struggle, largely played out between the two "25's." This suited Standard for they were excellently served by their pack, which more than held its own in the set scrums and proved as thrustful as the French in the loose.
The backs had few chances to shine, both pairs of halves, wisely in the circumstances, deciding that a ball in the hand was worth two in the air,  but on the few occasions the play did open out, it was the Frenchmen who provided the concerted movements.
TRY DISALLOWED
The first thrill came when the Standard crossed the French line for an apparent try, which was, however, disallowed after the referee had consulted the home touch judge. Standard continued doggedly, and it was not until five minutes before half-time that the first score, came when J. Casanova started a delightful movement in his own half for Brazes to send Lecuyer over in the corner. Casanova failed with the kick.
With the weather advantage later, Standard held their own, territorially, but from a scrum infringernent, Brazes increased the French lead with a penalty goal. A little later the same player sold a couple of dummies to start another French three quarter movement and Lecuyer once more got over for a try which Chignieur converted.
Teams:
Standard: J. Williams, L. Evans, D. Stevens, R. Jenkins, R. Robinson, W. Jones, G. Millard, I. Ellis, J. Carter, F. Troop, C. Mussen, E. Prior, B. Prothero, A. Gale, and G. Turnbull.
Team photo from 1948
Lyons: M. Meunier, B. Chignier, A. Lecuyer, J. Casanova, A. Brun, N. Brazes, B. Bretagnolle, A. Docremont, J. Pelletin, A. Casanova, C. Ferlay, A. Roux, E. Mas, R. Mariani, and L. Caron.
ARCHIVE: 18th September, 1946