A remarkable photo from 1929, labelled and 'Erectors and Fitters, with their foreman W (Bill) Clarke.
Thirty years later many of these men were still working at the factory, so we are able to add a number of names to these faces.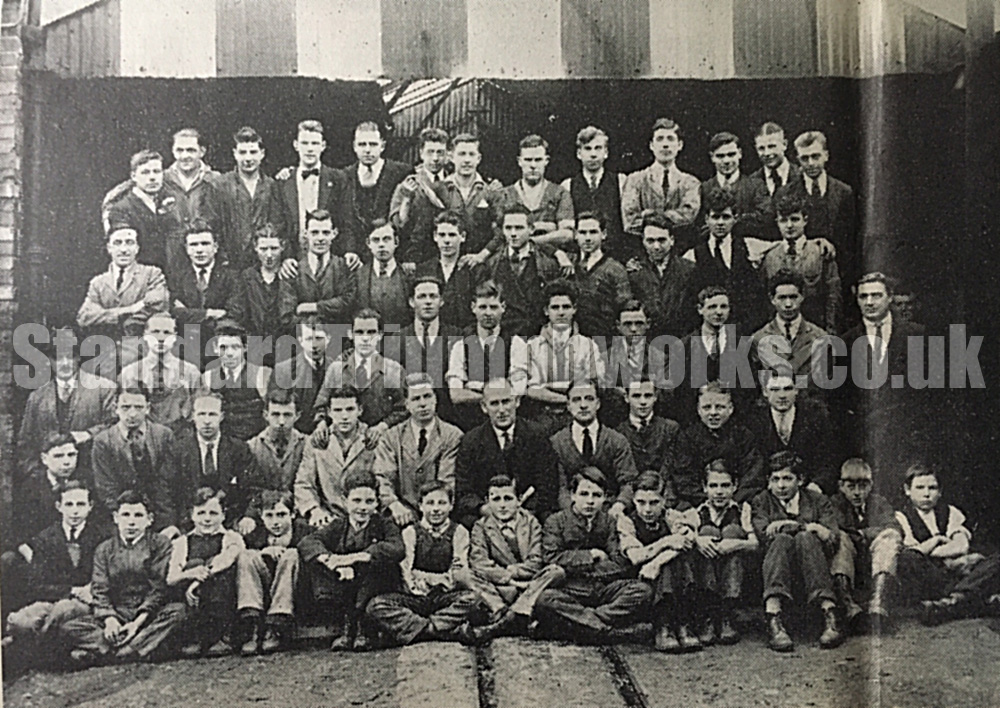 BACK ROW: (left to right) : Jack Edgington, Arthur Jeffcoatt* (chargehand, Engine Assembly), Bill Simpson, Jack Shufflebottom, Alf Turner, George Bull, Jack Draper, George James, Ron Parry, Ted Thompson, Fred Harris, Ralph Weston, ? .
2ND ROW: (I to r.) : George Jeffries, ?, Frank Snape, Allan Fairweather, Fred Hemmings, Harold Oldfield, Ted Noble,  ?, "Janto" Lewis, Harold Morgan, Frank Swallow.
3RD ROW: (I. to r.) : Bill Davies, Charles Ward (Superintendent, C.K.D.), Bill Law, George Ballard, Bill Oldfield, Pat Heath,  ?, Joe Antcliffe (chargehand, Engine Assembly), L. Lewis, Bill Bird, Charlie Gough, ?, Tommy Gardner.
4TH ROW: (I. to r.) :  ?, J. Draper, Tommy Purchase, Wal Day, "Sec" Morris, G. Lenton (Deputy Superintendent, Machine Shop), Bill Clarke, Alf Bird,  ?, "Sos" Warmington, J. Roberts.
FRONT ROW: (I. to r.) :  ?, H. Pearson, Bill O'Toole, Alf Batson, C. Darlow,  ?, ?, Frank Poole, Mathews, Roberts,?,?,?
*Update: Arthur 'Paddy' Jeffcoatt (this being the correct spelling).
The family were very close with mine, Paddy playing tennis with my father.
REF HERE 1952: Civil Defence Unit
Submitted by Cliff Jones