I started my employment with Triumph Motor Company Limited on Monday 20th August 1973 at Tile Hill Training Centre, Torrington Avenue, Coventry.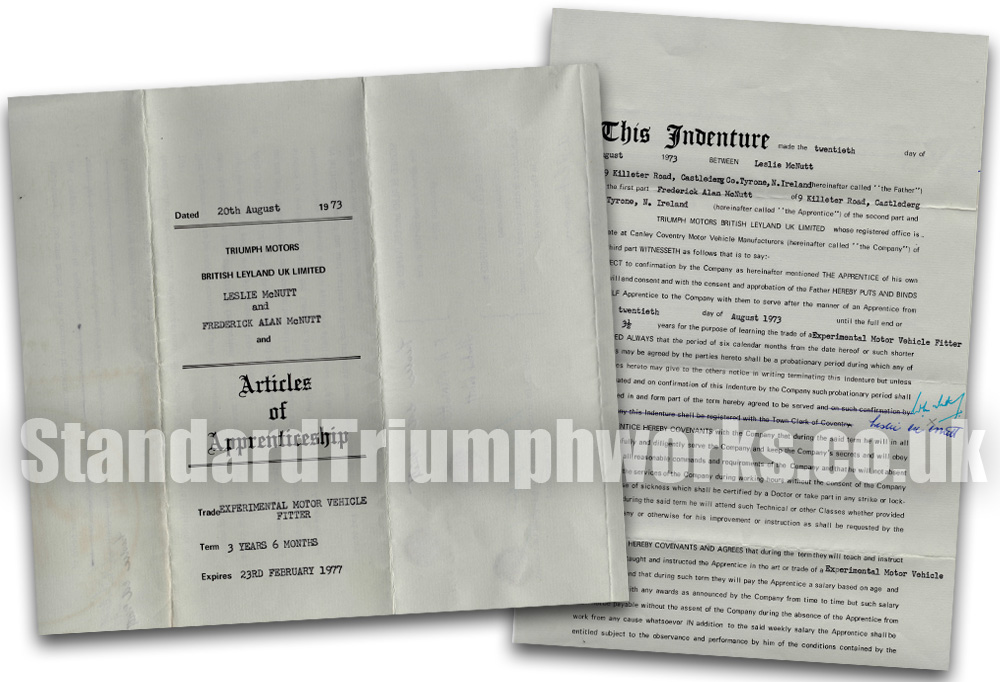 My employment in various jobs with Triumph, Rover Triumph and then British Leyland would continue until January 1980. The few months leading up to August '73 were a bit of a whirlwind to be honest. A native of Castlederg, Co Tyrone, Northern Ireland I was in 5th form at Omagh Academy and not planning to go forward with 6th form and University.
Cars and engineering were in my veins and with the help of a local careers office I had written to some companies in England with a view to finding a sponsored automobile engineering course. By good fortune a letter to BSA in Birmingham was passed to Triumph Motors in Coventry and they got in touch.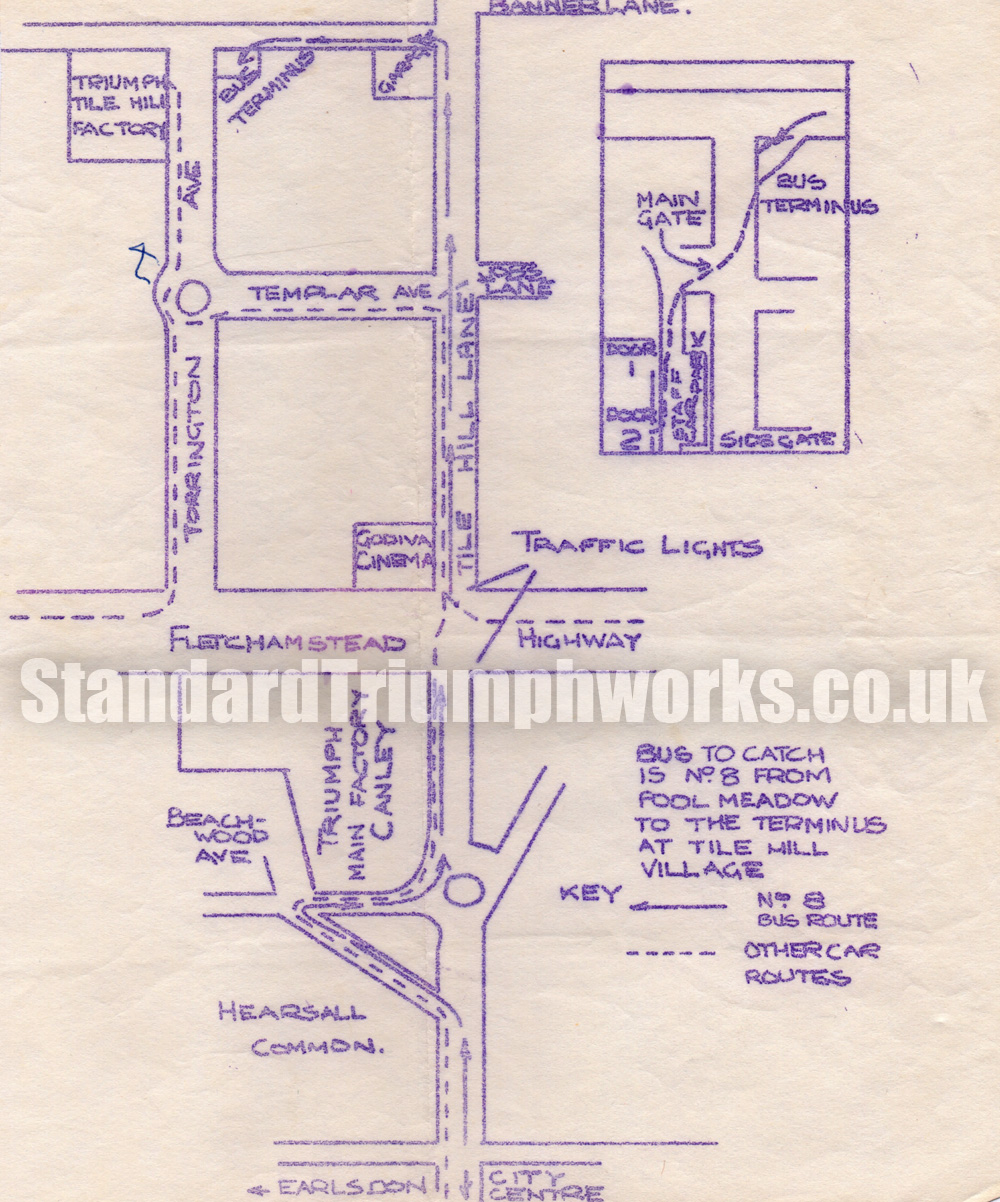 I was invited to come to Coventry for an Apprenticeship interview in July '73 and distinctly remember meeting Paul Green – Training Officer
Unfortunately at that stage there were no Apprenticeship vacancies left for the following year and instead I was subsequently offered a job as a Junior Works Trainee (JWP). This began with one year "off the job" training at Torrington Avenue and a City&Guilds Automotive Engineering course at Tile Hill College.
On the afternoon of Saturday 18th August my parents, two sisters and twin brother came to Aldergrove Airport, Belfast to drop me off and say goodbye. It was quite an emotional time but little did I know that I would be back for a weeks holiday in the following month due to the factory shut down in September.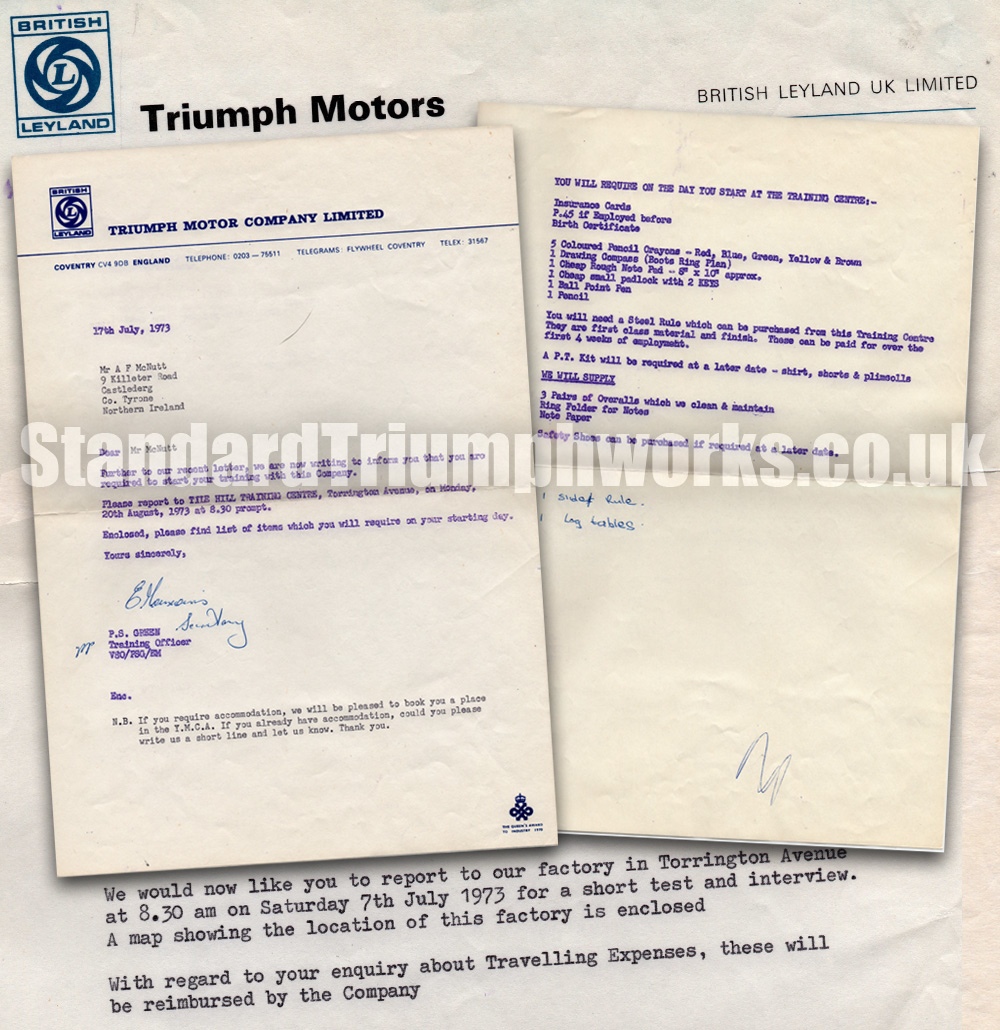 It was quite common at that time for some young people to leave home in Co Tyrone for University Education but not at 16 years old.
I had no family in Coventry and would spend the first year living in the YMCA, Warwick Row, near to Coventry station.
Training Officers
Paul Green
He was probably the manager of the Training Centre. I was interviewed by Mr Green and he was my "go to" person when I needed advice.
Barry Dagger
Was responsible for Apprentices throughout their training, particularly after year 1.
Bob Pattison
Had responsibility for JWP's (Junior Works Operatives) when they moved out of year one, particularly to Canley
Instructors
Cliff Johnson – Turning
Geoff Coleman – Milling (Outside of work Geoff was Manager of Nuneaton Borough Football Club. He also liked a cigar.)
Brian Ives – Developing skills with hand tools
Jack Selby – As well as responsibility for a workshop section Jack was a keen runner and tried to keep us fit on the roads around Tile Hill. In the summer we also competed with Apprentices from other companies at sports facilities in The Butts.
I joined Triumph as a Junior Works Operative (JWP) destined to work eventually on Engine Production in Canley.  During year 1, I was offered an Apprenticeship as an Experimental Vehicle Fitter in Fletch North to start in the summer of 1974.
Life was interesting in 1973. A JWP earned £11.50 per week, the YMCA cost £8.50, bus to work and lunch £2.50 leaving 50 pence disposable. A pint of M&B Brew 11 was circa 10 pence.