Albert Jones retired from The Standard Motor Company Ltd after 32 years service.
He was foreman in charge of the Car Trimming Department before the war and during the war Superintendent of the Mosquito Wing Assembly.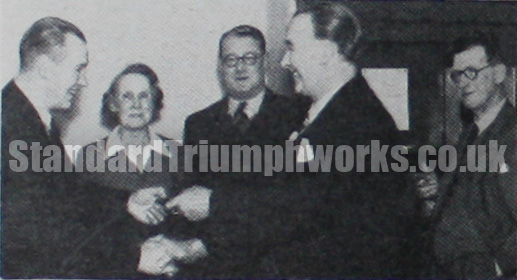 The Trimming Department at Canley presented Mr. Jones with a gold wrist watch which he is seen receiving from Mr. George Sturland (Chargehand Trimming Department). Also in the photograph are Mr. H. S. Weale (Works Manager—Assembly Division), Mrs. A. Jones and Mr. J. Hutt (Foreman—The Sawmill).
The Foremen at Canley presented Mr. Jones with a Silver Cigarette Case suitably engraved. Mr. W. Rubley is seen making the presentation.
ARCHIVE: May, 1948