Jim Holbrook (65), Coventry's Transport Executive, has retired after 46 years of valuable service to the Company.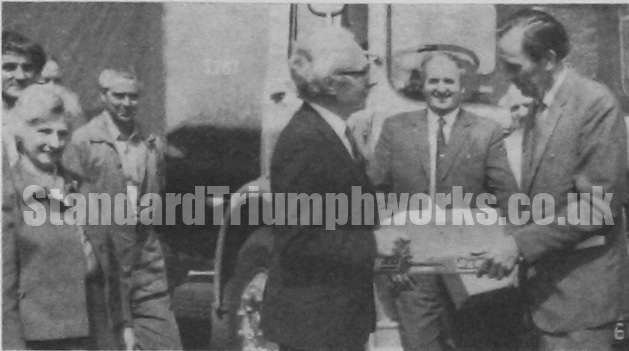 He finished an apprenticeship in Birmingham in 1928 and joined our Repair Shop. After two years he moved to the staff and became Repairs Receptionist.
He moved with the Service Department from Coventry to Park Royal in London in 1934, and was classed as Technical Service and Guarantee Correspondent.
In 1936 the Service Department was back in Coventry in new premises now known as Fletch. North.
By 1937 he was moved to be resident Service Engineer based at Westgate Motor House, Gloucester, covering their territory for spares and services.
When the 1939-45 War broke out he was back at Coventry, and in 1940 he moved to Park Royal Depot as a civilian instructor training R.A.O.C. recruits.
By 1941 he was back again at Coventry, checking and road testing American lorries for the Army. Other war work was training girls on Beaufighter fuselage assembly.
Later he joined Rootes, Manchester, to gain experience of commercial vehicle repair work, but 15 months later took over our Transport Department as Superintendent. In 1953 he became Transport Executive.
COVENTRY PRESENTATIONS
Mr Holbrook received retirement gifts from the works and management. On behalf of the Transport personnel, Mr P. D. Lilly presented a set of motor engineering tools. A presentation was also made on behalf of the management by Mr M. W. J. Sanders, Director and General Manager.Mr and Mrs Holbrook live at 48 Woodland Avenue, Earlsdon, Coventry. They have recently purchased a narrowboat which is moored on the Grand Union Canal at Stockton, and on which they will spend a lot of their leisure. Their elder son, an ex-apprentice, is now with G.K.N., and their younger son is a solicitor in Coventry.
(Article: November 1972)
I remember Jim Holbrook had an immaculate white Triumph Roadster which was always parked inside the Transport Dept. at Canley.
Submitted by David Mileham