This photo shows the visit of the then Crown Prince Hirohito's visit to the Standard Motor Works in around the early to mid 1920's*.
The smartly uniformed chap saluting (1) the Crown Prince (2) was none other than my grandad Arthur Frost (1900 – 1969) who was the companies Commissionaire. Sir John Black can also been seen in this photograph (3).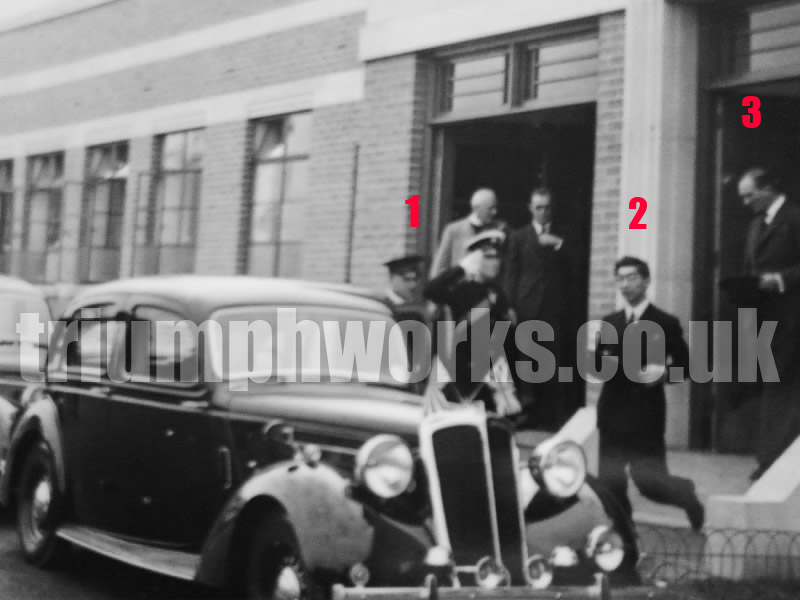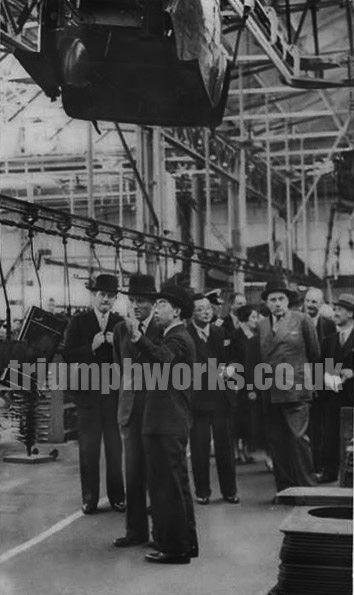 * In 1921, Hirohito took a six-month tour of Western Europe, including the United Kingdom, France, Italy, the Netherlands, and Belgium.
Update:
"Hirohito's" visit to Canley. You've put a date of this taking place in the early to mid 1920's. Hopefully, the date is a typo at your end because the car in the photo is a giveaway being either a Standard Flying Twenty or V8. As I'm sure you know, the 'Flying' range of cars first made an appearance in about 1935/36. Dad had a Flying Twenty that was one of the first made in 1936. I think the one in the picture is a slightly later model because it has pressed steel wheels and these weren't available until some time after the initial launch. I've tried a quickie search on Google to find out who this guy was but as the car is clearly of late 1930's build, I'm wondering if the Japanese visitor is the Emperor's son? After all, the Emperor himself wasn't in the bloom of youth at the end of WW2. Maybe Coventry Evening Telegraph archives have more info?
John Macartney