Bert Godwin – Toolmaker, Massey Ferguson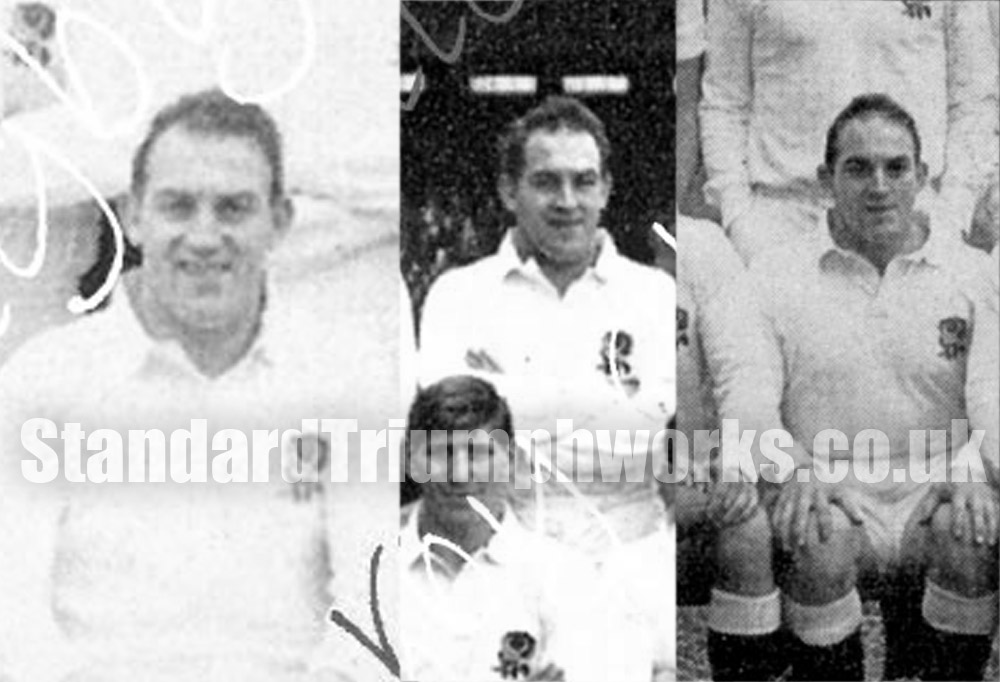 Bert Godwin (L), part of the English team that toured New Zealand and Australia in 1963 and (Middle) against Scotland, 1963 (R) v New Zealand, 1964
England International as H.O. Godwin.
Ref Jan 20th, 2006
Bert Godwin, the former Coventry, England and Lions hooker, has died less than a month after celebrating his 70th birthday in Devon, where he ran a small hotel for a number of years. The funeral was in Torquay on Tuesday.
Godwin was part of the much-feared Coventry front row which destroyed club packs around England in the late 1950s and early 1960s, Phil Judd and Mike McLean being his brothers in arms.
Godwin won 11 caps between 1958 and 1967 and was summoned as a replacement for the 1962 Lions tour to South Africa, after England rival Sam Hodgson broke a leg in the opening game. In those distant amateur days, Godwin had originally been forced to declare himself unavailable because he was a toolmaker at Massey Ferguson in Coventry and could not afford to take time off work.
***
Mr Godwin was part of the feared front row with Phil Judd and Mike McLean and also played for the British Lions, touring Australia and New Zealand.
Ex-Coventry and Warwickshire team-mate George Cole, of Cannon Drive, Ash Green, Exhall, said Mr Godwin was a "super bloke and a very good ball- playing hooker".
Mr Cole, who is still Warwickshire's record points scorer, recalled Mr Godwin being called up for the British Lions on a tour of South Africa.
He said: "The England international record books have him down as H.O. Godwin but the O was a made-up initial.
"When Bert was first selected for England every other player in the team had at least two initials, so the Coventry lads suggested he tell them his second initial was O.
"It was only later that Bert realised it spelled out HOG – but it was too late by then, the match programme had been printed and he had to stick by the initials."
Mr Godwin was born in Blaenavon, Wales, moving to Crosbie Road, Chapelfields, Coventry, when he was a boy. He was evacuated to Wales during the Second World War but moved back to Coventry, living in Allesley Old Road, and was a foreman at Massey Ferguson until 1977.
UPDATE: Phil Judd and Mike McLean being his brothers in arms.
Mike Mclean was also a  Standard Motor Co employee.
Started at Banner Lane in the 1950's and worked in the Demonstration
Dept. then transferred to Fletch South Demonstration Dept. in the late
50's working under Bert Johnson. Left SMC in 1961.
I worked alongside him in both locations. Colin Waugh