Malcolm Whittaker has sent this photo, taken in the Engineering Development Department. It was Brian Anderson's leaving do, circa 1978*.
Updated photo: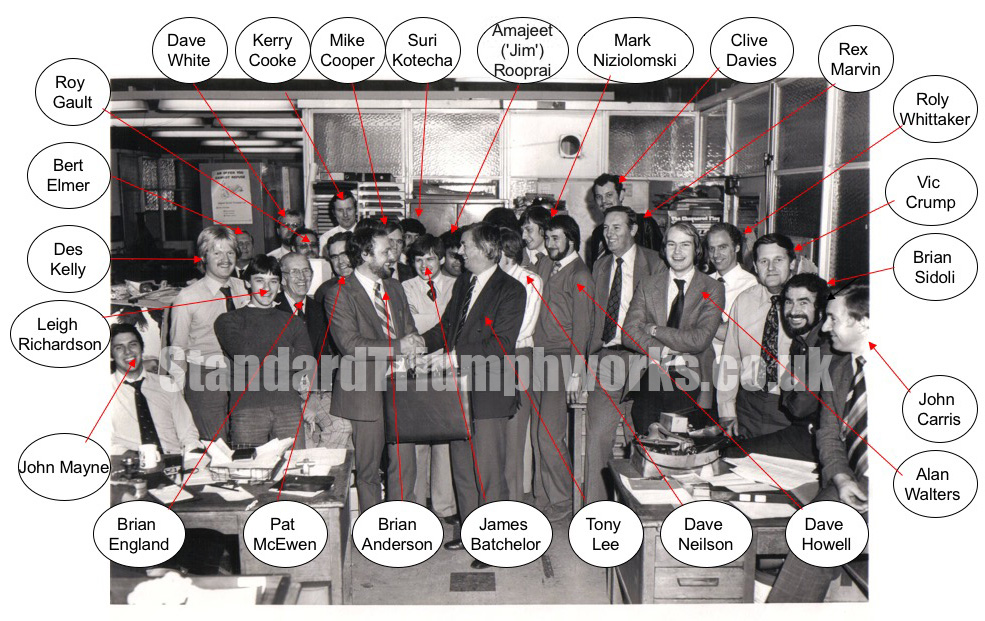 Thanks to Dave Howell, for confirming all the names. They have now been updated below too and can be seen in BOLD.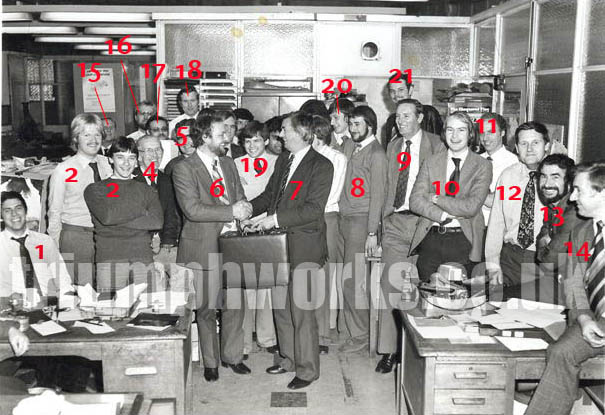 We've added some numbers to the photo and Malcolm has been able to name several of them. If you can you help with any other names, please let us know.
1 John Mayne
2 (Light Top) Des Kelly
2 (Dark Top) Lee Richardson
5 Pat McEwen
6 Brian Anderson
On the left of Tony Lee, just aligned with his nose, you can see half a face this is Ricky Cheema
7 Tony Lee
8 Dave Howell
9 Rex Marvin
10 Alan Walters
11 Roland Whittaker
12 Vic Crump
13 Brian Sidoli
14 John Carris
15 Bert Elmer
16 Dave White
17 Roy Gault
18 Kerry Cooke
19 James Batchelor*
Between #6 and #19 a small section of Mike Cooper's face can just be seen along side Brian Andersons nose
Above #19 at the back and just slightly to the left is Suri Kotecha
20 Mark Niziolomski
21 Clive DaviesNot numbered:
Dave Neilson
Amajeet (Jim) Roopraj
Suri Kotecha
Mike Cooper
UPDATE: I found out about your site from a friend who was looking to see who he could recognise because his father JOHN SMITH worked in Fletch North Chassis design under Mike Bunker in the 50's and 60's.  I also worked there starting in about 1966 for Mike Bunker as an apprentice.  I actually found a picture of me that my brother had identified.  I worked in Chassis Design until I got moved to Longbridge to take over the Brakes Design area for the new joint venture project with Honda. Roland Whittaker
Roland has added names to some of the faces in the photograph which we have put in italics ED
* UPDATE 2: I have just come across this amazing site.  I was part of 'The Triumph' for only a short time, joining in 1979 after graduating from University, but the following years based within engineering at Canley were formative to my career and hold many happy memories.
I came across a photo (above ED) I can advise that the photo must have been taken in 1980 (as I said, I joined in 1979 and I recall Brian moving on to Land Rover shortly thereafter).  At #19 I have been identified as my namesake John Batchelor, whereas in reality it is me – James Batchelor – in the picture.  I also think that Luigi Sidoli was known as Brian Sidoli throughout this period