An early photo of a convertible Vitesse, lovely and all however we are more interested in the back of the photo.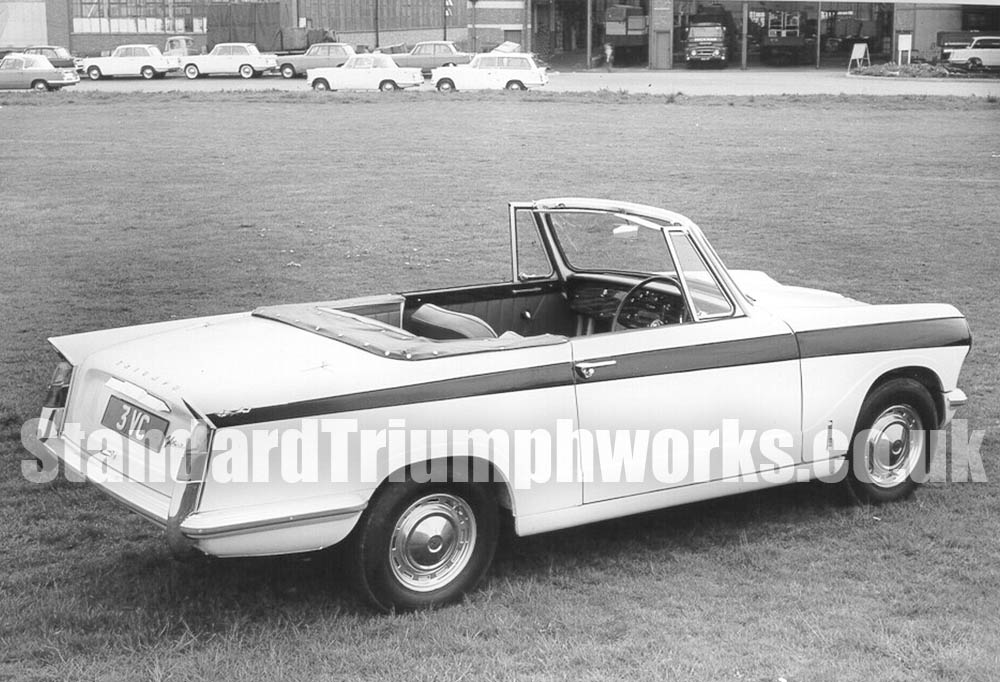 The photo shows the Fire Station towards the rear (See more of the Fire Station HERE) with a number of brand new Triumph Heralds lined up on the left.  The split is really interesting with the cars almost mirroring the production run: Most are Saloons, with a couple of Convertibles and the least number of Estates. One saloon has white-wall tyres and is destined for export.
A body of a Triumph Herald is parked on the right.
The map, seen in the Fire Station article – clearly shows the position of the photographer for this (Vitesse) photo – yet they would be in a building! So the buildings in the plan must be newer than this Vitesse photo – and you thought the New Assembly Hall was the last of the new buildings on the site at Canley! (So did we!)
The new buildings formed the new Machine Shop, Engine Assembly and Engine Stores and were a bigger footprint than the New Assembly Hall!
The car registration dates from 17th April 1962 as is a Coventry registered car by the Standard Triumph Co.
(Site map)
UPDATE: This picture was taken on the field between the Directors Block and Fletch South. What looks like the fire station is the spares despatch bay. The building on the left with the windows is the toolroom which ran along the back of Fletch South. David Mileham