I was a JRT sponsored student from 1980~1984 and spent time in several departments at Canley – Prototype Build, NVH and Trim and Hardware Design – before joining the Aerodynamic Department full-time in the autumn of 1984.
I moved to the Chassis Department at Longbridge in 1985 but returned to Canley in 1990, working in the Brakes Development team. We were amongst the last few people in Building 50 when it was cleared before being demolished as part of the site clearance.
We moved into the old NVH area in Building 40 Basement. I moved back to Longbridge in 1992. I have many happy memories of the site and the people, especially Building 50.
Memory 1:
As mentioned in my personal info, I was working in Brakes Development in Building 50 in 1990/1 and we were one of the last couple of teams there when most had moved out, in some cases emptying the contents of filing cabinets onto the floor and taking just the cabinets!
We realised that there may be some interesting stuff around the building and organised a collection with the British Motor Industry Heritage Trust. We asked all remaining teams to look through their storerooms and cupboards and bring anything interesting to the workshop. There ended up being a large van-full, with some interesting engine parts coming out of Engine Development.
We decided to have a look around the unoccupied parts of the building, much of which we'd not been to before. We went into the Surgery, which was located on the Tile Hill Lane side of the building, and found a staircase up to a corridor with a locked door at one end. On the basis that the wrecking ball was due shortly, we forcibly opened the door to find a small room with no windows containing  wooden shelving on which were stacks of Triumph adverts from the  mid- to late- 60s which would have been sent out to magazines, newspapers etc. When put together the pile was knee-high and about 99% of them went off to the BMITH… 😉
Here are a couple of them flanking a Girling advert of a Mimosa Dolomite Sprint, one of which I'm currently restoring (with help).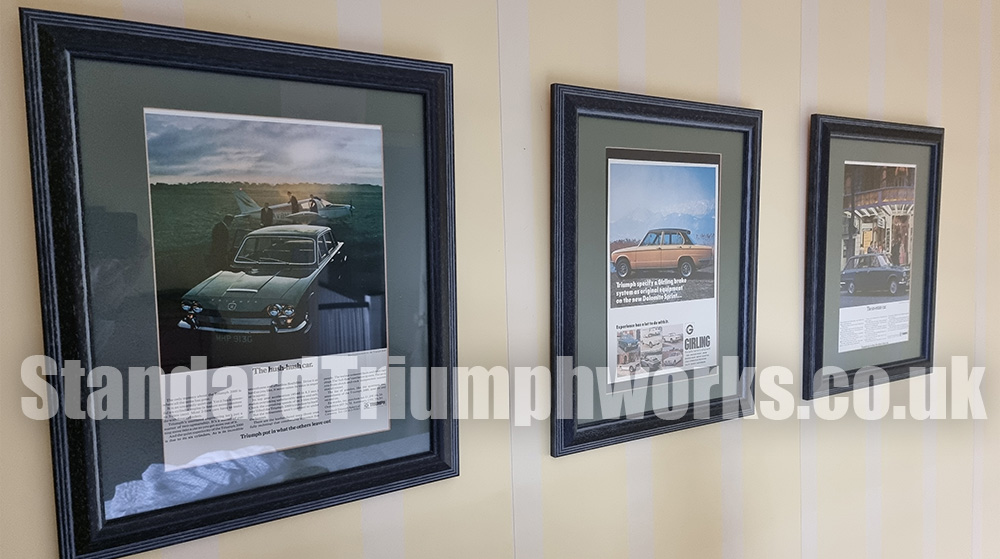 Memory 2
I did a student placement with Engine Prototype Build in the summer of 1983, with Ken Tomlinson, I was given the task of finding what prototype parts still existed from the 'O 4valve' project that had previously been postponed. This involved gaining entry into the Canley Prototype Stores, not easy and not particularly welcoming to be honest, and then working down a long parts list to check at the last known stock locations. To my surprise, nearly everything was still there! This allowed the project the restart – it became known as the 'M-series' and was launched in the Rover 800 in 1986.
More to follow…