In the Charleston, Black-Bottom and Tea-For-Two days of the nineteen-twenties you ran the risk, if you walked around Bourne, in Lincolnshire, of being carved up by a lithe schoolboy of thirteen using the village streets as a T.T. course for his 2 1/4 h.p. round-tank B.S.A. motorcycle. You would not have run much risk of being mown down by his subsequent mount, a 350 c.c. A.J.S., as he crashed this within three weeks.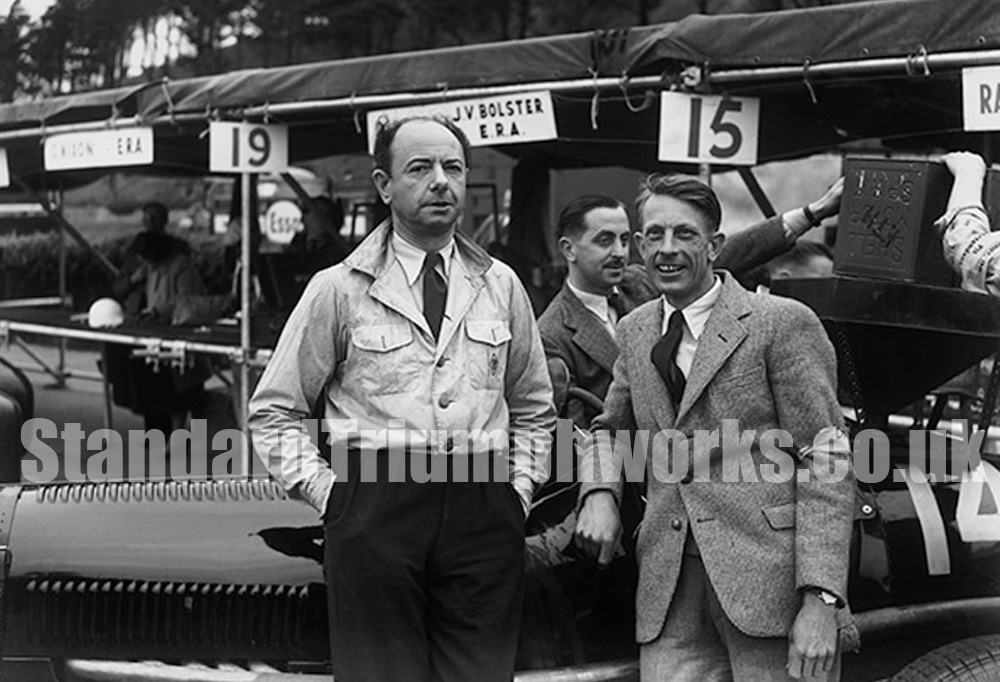 There were other people driving fast around quiet Lincolnshire B-class roads, notably Amherst Villers with a huge Phantom-II Rolls-Royce, having on the running-board a supercharger driven from an Austin Seven engine; again there was Raymond Mays, ace Bugatti driver and Shelsley Walsh hill-climb champion, whose name was to become internationally synonymous with Bourne; and there was Humphrey Cook, a devotee of fast cars in the Grand Prix tradition, to whom Britain owes an enormous debt, and Peter Berthon, then a budding young designer of very swift machinery.

The schoolboy on the motorcycle was Bourne-born Ken Richardson: and these five—Humphrey Cook, Raymond Mays, Peter Berthon, Amherst Villiers and Ken Richardson – were to become inextricably linked in world-famed motor-racing. For some, their first joint venture was English Racing Automobiles, a private venture financed chiefly by Humphrey Cook.

Practically the entire success was achieved with the E.R.A. car, a 1 1/2-litre racing gem developed with experience from the supercharged Riley. In its first form it was a six cylinder car with an unusual camshaft arrangement, and a Jamieson blower sucking through an S.U. carburettor, and drive through a Wilson epicyclic four-speed box. As Sammy Davis commented: 'Probably this was the first time in history in which a completely private team managed to exist successfully.'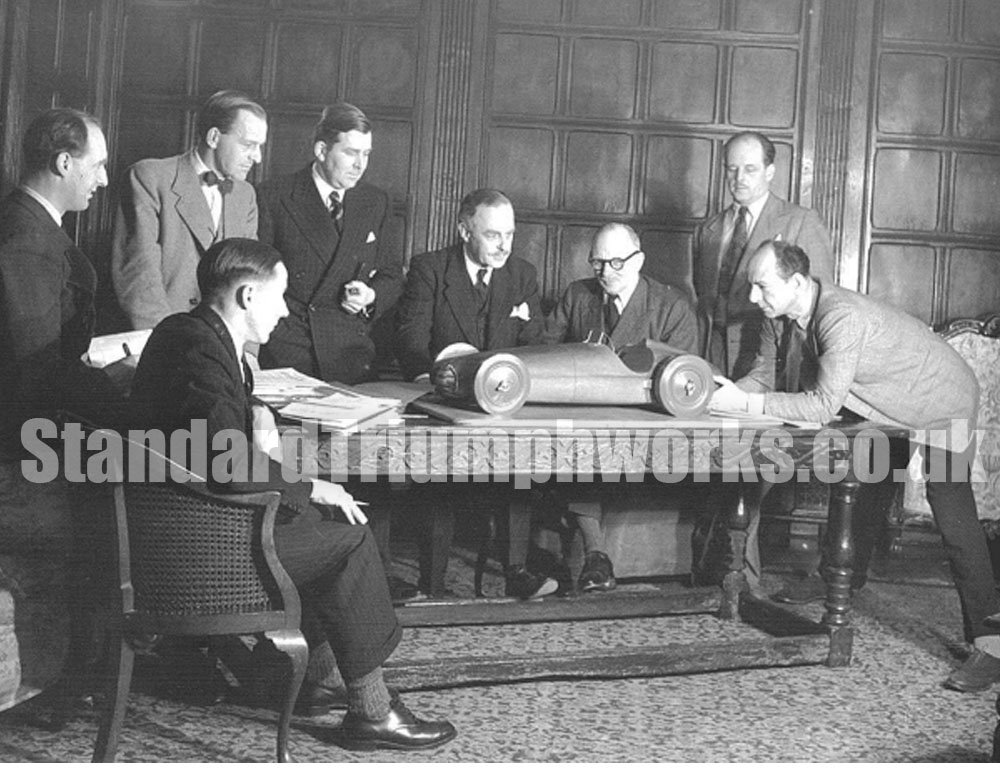 R>L: Mays leaning, behind him Peter Berthon. Beside Peter, publicist Walter Hill, to his left Bob Henderson Tate from the Ministry of Supply. Standing, still going R>L are members of the 'British Motor Racing Research Trust' Bernard Scott and Denis Flather of Lucas, Alfred Owen far left. Seated in front of the table is administrator and later company secretary of BRM James Sandercombe. The meeting is in the study at Eastgate House, Mays family home in 1948.

How Ken Richardson came to join this successful team, and eventually found himself racing the B.R.M. at Monza, helping to create the TR2, head of the Standard-Triumph Competition Department, rallying in the Alpine, the R.A.C. and the Liege-Rome-Liege, racing in the Mille Miglia with Gatsonides, and at Le Mans, is to my mind one of the joyous adventures of motor sport since the war, but punctuated as these stories often are with hours of frustration and heart-breaking disappointment.

Born 1911, Bourne is Ken Richardson's home-town. He was apprenticed to a general engineering works, then (partly thanks to the B.S.A. and the A.J.S.) graduated to the motor trade, and when only twenty was appointed manager of a garage in Norfolk. His very first car had been an Austin Seven chummy which from the age of about sixteen he drove pretty well everywhere in Britain. Within a couple of years the garage trade palled, and when the E.R.A. team heard of him, telephoned him and offered a very junior job with the racing team, he accepted immediately and quit the garage next morning!

On the high-seated, small-wheeled, cart-sprung E.R.A., soon to be proved capable of 135 m.p.h., Ken learned track racing, spurred on by Peter Berthon and by Raymond Mays himself, to whom he became first driver after a fairly successful attack on a minor event at Brooklands in 1935. The war closed Brooklands for ever, and Ken joined the Rover Co. at the outbreak of hostilities as Superintendent of Aircraft Development Tests.

After the Coventry bombing, this Top Secret unit moved north to Barnoldswick, Yorkshire, where in conjunction with Rolls-Royce Ken had his first experience of jets. He was concerned in such projects as the F940 twin-engined aircraft subsequently developed by the Allies, and the smaller F28, virtually a flying test-bed. And in prototype tests of the first airborne jet Ken helped to test the Wellington bomber in the tail of which a gas-turbine engine was fitted experimentally, and first flown from a freezing Yorkshire research airfield.

This secret chore concluded, in 1946 Ken went back to the Raymond Mays camp, where plans were now being laid for the B.R.M. project, as a sequel to the E.R.A.

Mays' high ambition was to build a British Grand Prix racing car to enhance Britain's international prestige, just as Mercedes-Benz and Auto-Union had done before the war for Germany. Peter Berthon was entrusted with the task of design, and initial finance came from Alfred Owen, chairman of the Owen Organization, and Oliver Lucas of Joseph Lucas Ltd.

Subsequently the British Motor Racing Research Trust was formed to assist in finance, Donald McCullough (the well-known broadcaster and first chairman of the Brains Trust) was its chairman, and research and construction went ahead with a team comprising Ken Richardson and others, mostly in the enlarged E.R.A. workshops alongside Mays' own house at Bourne.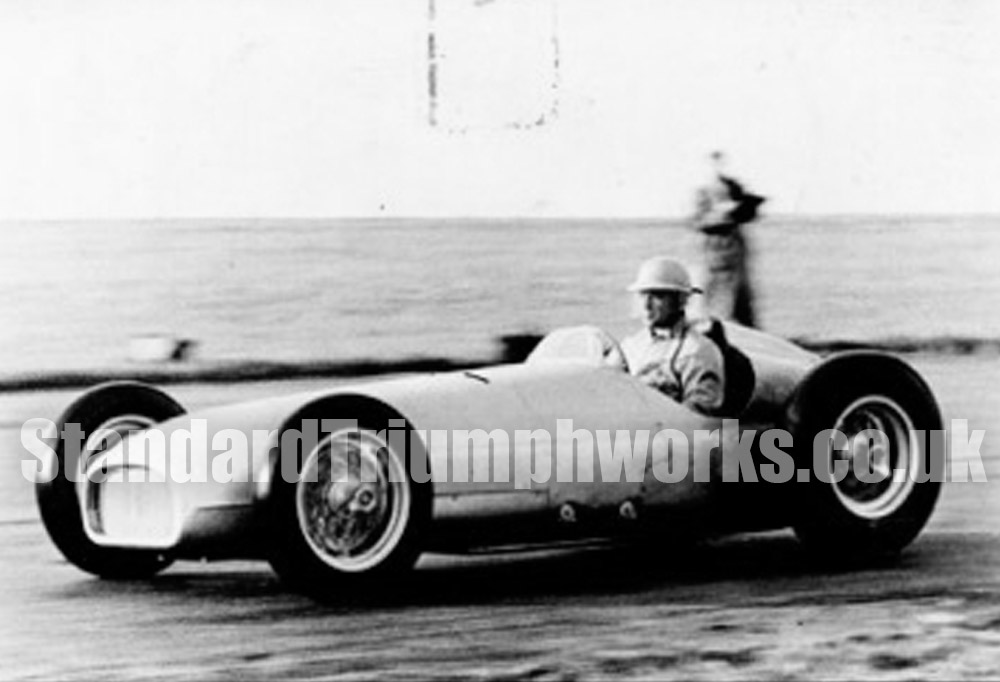 "I helped to build the first sixteen-cylinder B.R.M.," Ken said, "and I drove it for literally thousands of miles on Donnington and Folkingham while the chassis was being developed. There were racing victories, and disasters. The B.R.M.'s first public appearance was at Silverstone in 1950, with Raymond Sommer at the wheel. But it cannot be said he drove it in that event, for right on the starting line both drive-shafts fractured. The world Press jeered, and spoke of Britain's racing car sitting down before it started."

Later in 1950, however, the Richmond Trophy at Goodwood was won by Reg Parnell in the pouring rain, and Ken Richardson could share in the joy, for he had helped to modify and prepare the car. And at Monza Ken himself made the same time as Ascari, covering the circuit in 1 min. 47.8 sec., an average of 127.8 mph.

Unluckily, 1951 proved a sorry year for B.R.M., and there was talk of the whole project failing. Subsequently, of course, the B.R.M. Association was formed, under its honorary organizer Walter Hill. Bernard Scott of Lucas, Alfred Owen and others gave renewed support, and the project was crowned with success in June 1959 when the bearded Swedish driver Joakim Bonnier drove a B.R.M. to victory in the 195-mile Dutch Grand Prix.

The Duke of Kent, Prince Bernhard of the Netherlands and many other V.I.P.'s watched the B.R.M. wipe out years of failure and endless stage and TV jokes as it swept into the lead past Ferrari, Cooper and Lotus teams.

Unhappily, having stuck to B.R.M. through all the thin years, Ken was not to enjoy this triumph. By 1959 he was deeply engaged in racing and rallying TR's, and in planning for a Le Mans victory for Triumph. This sudden change came – just as the E.R.A. job had done twenty years before – as the result of an unexpected telephone call.

"I had known Ted Grinham, (then Technical and Engineering Director of Triumph, for many years) and I was surprised and gratified when he called me and said Standard Triumph were planning a sports car, that a prototype was to be exhibited at the 1952 Earls Court Show, and that Sir John Black backed Ted's idea I should try it out."

Part 2 to follow…
If you have any further details, memories or comments regarding Ken Richardson, please get in touch. Thank you.

Written by Kenneth Ullyett, 1962