Details and research of those written on the Standard Motors Roll of Honour.
Alfred, John Mintern worked in the Service Dept. Standard Motor Co. prior to WW2.
Lance Corporal Alf Mintern, Service Number 7902740, served with the 2nd Dragoon Guards (Queen's Bays) and was killed in action in 26th October, 1942.  He was 29. He is buried at EL ALAMEIN WAR CEMETERY, with 6,480 other casualties.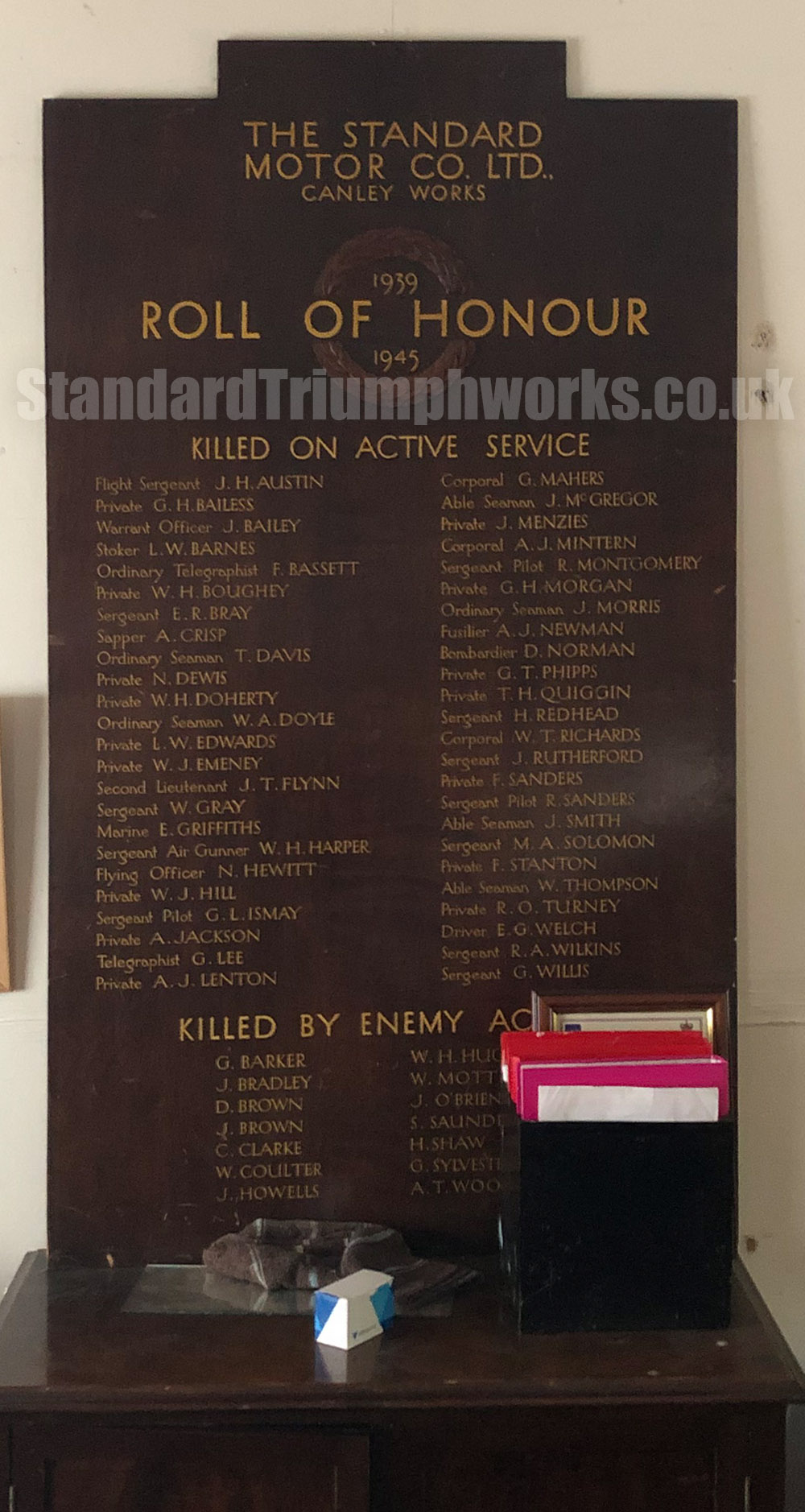 The photo is a closeup of the Roll of Honour wooden board taken in the 1960's. It is clearly marked as Standard Motor Co Roll of Honour and is split possibly into First/Great and Second World War but what happened to this memorial and can we rediscover the names that were written on it?
The Standard Motor Co Roll of Honour. What happened to it? Does anybody know? Does it still exist? Please share this post to see if we can find it – or a really good photo – so we can remember Alf Mintern and his pre-war work colleagues who paid the ultimate sacrifice during the second world war.
Thank you.
UPDATE. BOARD FOUND and picture replaced.

***
Archive REF. Alfred John Mintern was born on 16 Feb 1913 in Measteg, Bridgend, Glamorgan, Wales
UPDATE: Additions
Corporal F. Lowe of 14, Melville Road. Coventry. Enlisted in the Sherwood Foresters, shown as Sherwood Rangers Yeomanry. Served in the Lancers and was a Reservist: formerly employed by Standard Co. —Killed (buried at Bray Dunes – Nr Dunkirk ED) 29th May 1940
Telegraphist Fred Bassett (19), the Royal Navy, is missing and must be presumed killed. attended Ash Green School was formerly employed by Standard Motor Co., Ltd. D/JX 424238. 15 June 1944 Age 19.
William Henry Wilcox Boughey. Killed in action. Aged 26, he joined the Royal Warwickshire Regt. Territorials upon the out break of war, served in France, and was in the evacuation at Dunkirk. BEF Forces.
Private 5110298. 15 April 1944 Age 26 KOHIMA WAR CEMETERY Essex Regiment
Henry Hollis Employed by the Standard Motor Co., Ltd.
Sergeant 1866571 killed 22 June 1944 Age 19 UDEN WAR CEMETERY. Royal Air Force Volunteer Reserve
Henry Roy Knatt (25), Royal Warwickshire Regiment, killed in action.
30 July 1944 Age 25 FONTENAY-LE-PESNEL WAR CEMETERY, TESSEL : Private 5126628
Private Frederick Stanton, Suffolk Regiment,  killed in action, Stanton attended Wheatley Street School, and was employed by the Standard Motor Co. Ltd. before joining the Forces
Guardsman Thomas Tyrrell, who lived at 79, Meadway. Stoke Heath, Coventry, for number of years, was employed by the Standard Motor Co., Ltd.
13 August 1944 Age 22 BAYEUX WAR CEMETERY. Irish Guards
Raymond Louis Sanders, R.A.F., V.R., aged 24, killed in action. Sergt. Pilot Sanders attended John Gulson School and Coventry Technical College. He was formerly employed by the Standard Motor Co., Ltd Coventry.
Flight Sergeant 1576004. 11 December 1943 MORDEN CEMETERY. Royal Air Force Volunteer Reserve
(Sydney) Harry Shaw (Aged 47)
At the time of his death, Sydney was employed as a Fireman at a factory in Ansty, near Coventry, which assembled mosquito aircraft for the war effort. Having survived World War 1 with a shrapnel injury to his ankle, during World War 2 Sydney was injured whilst working at Ansty and was taken to hospital at Walsgrave and was killed during the Coventry Blitz when the Coventry & Warwickshire Hospital was bombed on 9th April 1941.
"Bombed at Walsgrave. He worked at Ansty and they were putting a propeller on an aeroplane. They got a big, like, well say spanner, I don't know what you'd call it, and the man, the otherside to me husband, let his hand go, let his end go and it hit him in the eye. So,he came into Walsgrave Hospital. Now, when the nurse came to see me, as he were in there, came from Ansty. She said I feel guilty, she said because your husband was best in Coventry. If we'd have got a car then, he'd have said he wanted to go to another hospital, they'd have taken him to Rugby. On the night that I were there, the last night, I said I'll try and get you out of here, get you transferred. I went for the matron but she were in the operating theatre and she couldn't come, so I said well I'll see you next…. I'll see you next then. Ah I did. They were killed thatnightnurses, doctors, patients as well." Elizabeth Shaw (Wife)