At 12 noon on 16 April 2000, a monument to Standard Triumph was unveiled on Herald Avenue, on the site of the old Canley factory in the outskirts of Coventry, just behind the Standard Triumph Recreation Club – the last remaining original building of the factory complex.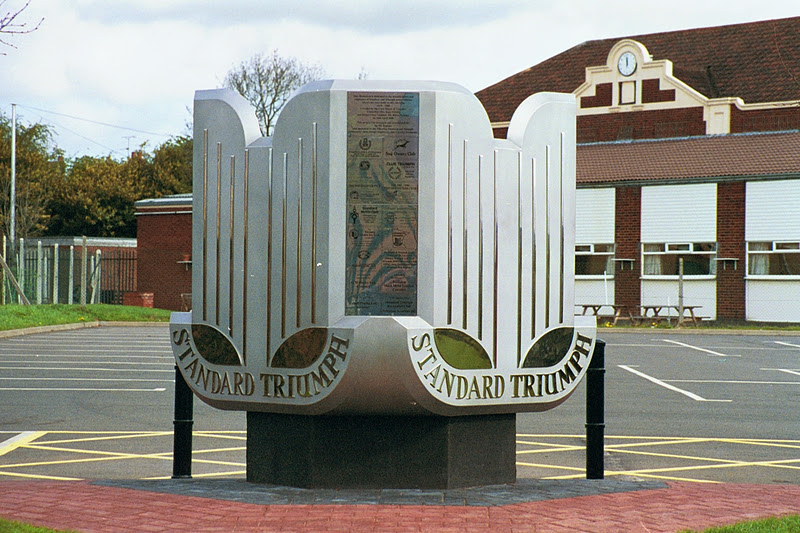 The unveiling was performed jointly by the Right Worshipful the Lord Mayor of the City of Coventry, Cllr Mrs Joan Wright, and Harry Webster CBE. Cllr Wright was herself a past employee at Canley and Harry Webster was their chief engineer from 1954 to 1968.
Honorary president, Graham Robson (who ran Standard Triumph's motorsport department from 1962-1965), was master of ceremonies on the day and TR Register chairman, Ian Evans, gave a vote of thanks to all the contributors. Dave Lewis and Chris Cunnington, who between them made the whole project possible, were presented with an inscribed piece of lead crystal as a sincere thank-you from the TR Register.
Past employees, works drivers, contributing clubs and individuals, and Standard and Triumph owners from all over the world had been encouraged to attend the ceremony and on the day over 500 people from Canada, USA, Europe and every corner of the UK watched as the silver ribbon was removed and the blue drapes revealed the stunning stainless steel structure commemorating a golden age of British motoring in the motor manufacturing heart of the City of Coventry.
The guest list included famous Triumph names such as Spen King, Stuart Turner, Brian Culcheth, Roy Fidler, John Hopwood, and Tony Mason. Fred Coultas represented British Motor Heritage and nearly all the contributing clubs were able to send representatives making 120 people in all.
We were especially pleased to welcome Don Elliott, representing Canada, and the person whose letter, back in 1997, started it all.
Standard Triumph Monument, contributing clubs:
Club Automobile Triumph CDA Inc. (Montreal)
Club Triumph
Club Triumph Eastern
Indiana Triumph Club
Minnesota Triumphs
Pre-1940 Triumph Owners Club
Spitfire Club of Holland
Stag Owners Club
Standard & Triumph Association
Standard Motor Club
TR Drivers Club
TR Register
TR Register Australia
Triumph 2000/2500/2.5 Owners Club
Triumph 2000/2500/2.5 Register
Triumph Roadster Club
Triumph Sports Six Club
Triumph Stag Enthusiasts
Triumph Stag Register
Triumph TR Car Club
Contributing Local Businesses
A-Plant
Arlington Securities PLC
G W Deeley Ltd
Earlsdon Sheet Metal Ltd
Exhall Plating Ltd
F Hawthorne (Coventry) Ltd
Signs Express
Target Achievement
Universal Fabrications
and numerous individual contributions