The birth and development of the Standard Motor Company is attributed to one man, Reginald Walter Maudslay, and first it is of interest to consider his background before he came to Coventry in 1902. Dick Maudslay, as he was known to his many friends, was born in London on September 1st, 1871.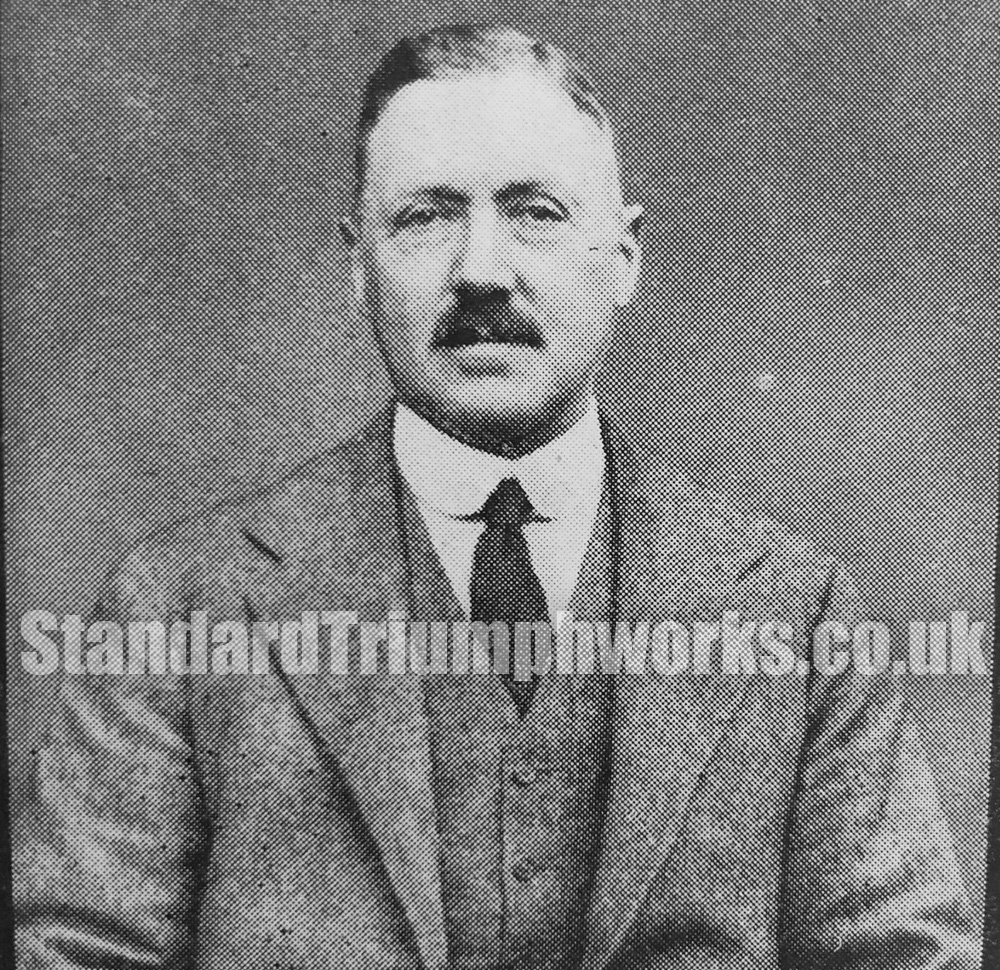 He came of sound engineering stock as his great-grandfather, Henry Maudslay, born in 1771, was one of the world's pioneers of marine engine building. From his Works came the invention of the steam hammer and the Whitworth screw, as both James Nasmyth and Sir Joseph Whitworth worked under him there. R. W. Maudslay's maternal grandfather was Sir Thomas Lucas, a founder of one of the largest Public Works contracting firms of the latter part of the nineteenth century. Maudslay was educated at St. David's School, Moffat, and later he went on to Marlborough. When the time came for him to find employment it was natural that he should become an engineer and he obtained articles as a pupil to Sir John Wolfe Barry, the son of the Architect to the Houses of Parliament. This opportunity to work with the progressive Wolfe Barry not only gave Maudslay an insight into engineering design, but it also meant that he became involved in public service and co-ordination of effort in the most modern and scientific way. His mentor was a shrewd business man and a born teacher and he had a powerful influence on the personality of his pupils.
The young Maudslay found himself with three or four other pupils in the London office which overlooked St. James's Park and Maudslay's family had to find a fee of five hundred guineas for his five years' training, but in the fifth year fifty pounds was paid back to those pupils who were considered to have earned it ! Wolfe Barry's partner was Henry Marc Brunel, son of the world-famous Isambard Kingdom Brunel, engineer of the Great Western Railway. It was to Brunel that Maudslay was indebted for his invitation to the opening of the Tower Bridge on June 30th, 1894, and among the notable works upon which Maudslay found himself engaged were the design and construction of Barry Dock, the survey of the West High-land Railway and many other civil engineering projects of the late nineties.
At about this time he saw some of the earliest examples of the automotive industry in the streets of London, preceded by men waving red flags, and at the age of 31 he decided to abandon his civil engineering work which he had always pursued with skill and untiring energy to come to Coventry in 1902* to start his own company. (*A cousin founded the Maudslay Motor Company in the same year ) Sir John Wolfe Barry supported this venture and as a practical demonstration of his desire to help he gave Maudslay a cheque for £3,000 to help him start his new business. His first job was to learn as much as possible about automobile engineering and he leased a small workshop in the Conduit Yard at the back of Smithford Street and whilst there purchased several single and twin-cylinder cars of various makes which he dismantled and examined.
Whilst he was at Conduit Yard he was visited by, among others, Alexander Craig, a Consulting Engineer, who was to influence the design of the first Standard cars and who later had a hand in the design of Lea-Francis and other vehicles made in Coventry.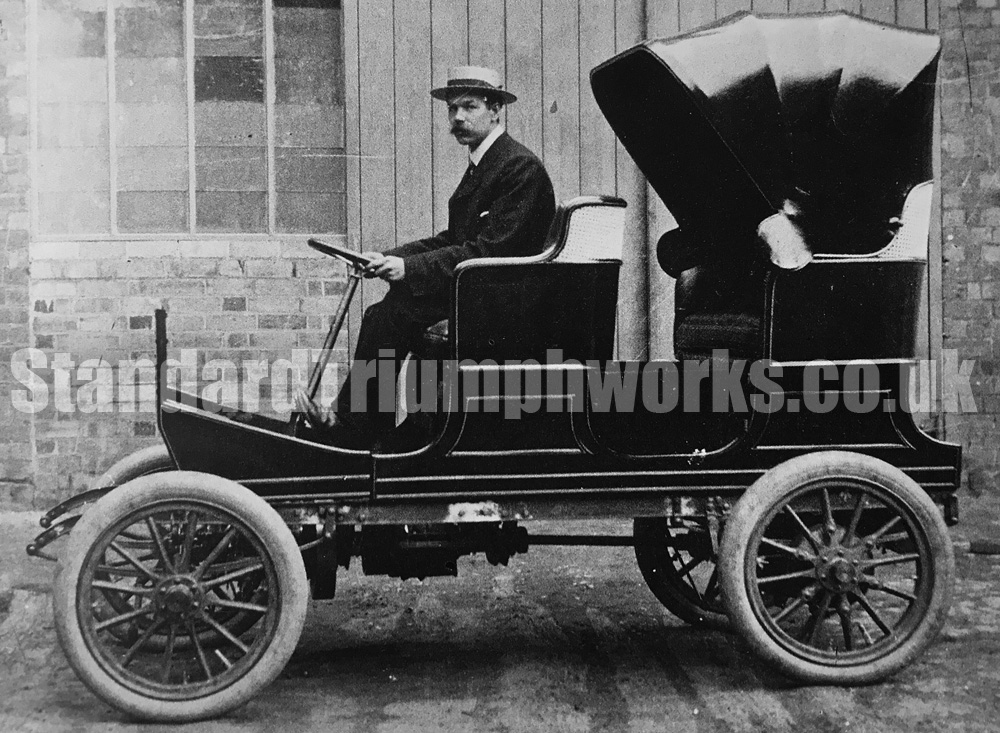 In the early part of 1903 Maudslay felt that he was now ready to proceed with the formation of his Company and asked his Solicitors to draw up the Articles of Association of a new Company with a nominal capital of £5,000 to be known as The Standard Motor Company Limited. It seemed from the word 'motor' which was incorporated in the title that the first intention of the Company was to build cars but, with extraordinary foresight, the founder included other objects amongst his business intentions. They included the manufacture of locomotive engines, cycles, boats and engines of every description, whether worked by steam, gas, oil or electricity, or any other form of power or energy and including aerial or aero-nautical machines, —builders and fitters of ships and other vessels.
These articles named R. W. Maudslay as Managing Director at a salary of £280 per annum and listed amongst the subscribers his old friend Rustat Blake who had been with him under Wolfe Barry and Alex Craig who had been instrumental in providing the new Company with its name. With the motor industry in an early stage of development new ideas were being introduced by the firms who were attempting to manufacture cars and many were of an impractical nature. It is reliably recorded that on one occasion Craig was allowing his imagination to get the better of his judgement until Maudslay, who was not impressed, said 'No, I don't want any of these new ideas Mr. Craig, I want my car to be composed purely of those components whose principles have been tried and tested and accepted as reliable standards, in fact, I will name my car the Standard car.' It would be unwise to assume that Maudslay was against new ideas but his particularly active brain, backed by his sound engineering experience, gave him the ability to assimilate new ideas with remarkable alacrity and reject those which were illogical. So it was that Maudslay in March, 1903, took a small factory in Much Park Street, Coventry, put in £400-worth of machinery and, with Craig, set about making his first motor car.
THE FIRST STANDARD CAR
IN THE PREVIOUS January Maudslay had drawn a sketch of a car which he described as a 'Motor Victoria' and in the summer of that year the 6-foot 6-inch wheelbase vehicle, in chassis form, was pushed proudly from the workshop. The single cylinder engine with a bore and stroke of five inches by three inches, giving six horsepower, was mounted well down between the chassis members and the power was transmitted via a three-speed gear box by shaft drive to the rear axle. Later the imposing body was fitted and the complete front seat was arranged to pivot rearwards to allow access to the petrol tank. The first car was used for some time in experimental form without mudguards and lamps and although it was completed and fully equipped for road use it never went into production.
This very short stroke policy continued and the second car built, a two-cylinder vehicle of 12/15 horsepower, weighing 15 hundred-weight, costing £367 10s. Od., was exhibited at the Crystal Palace Motor Show in February, 1904. The second Standard was purchased by Alexander Gibb, who had been one of Maudslay's fellow pupils under Wolfe Barry and who had become a shareholder in the Company, and used this car at his home near Felixstowe. Sir Alexander Gibb was later to become President of the Institution of Civil Engineers. Enthusiasm for the building of these first cars resulted in scant attention being paid to the commercial side of the new Company' business for the first few months and it was not until May, 1903, that, Maudslay found it necessary to buy his first 'time book' in which to record the wages paid to his employees, who now totalled seven.
In the week ended 21st May, 1903, the wage bill for these pioneer car-makers amounted to just £6 9s. 2d. ! A year later the number of employees had reached twenty and some were working more than seventy hours per week to produce Standard motor cars, which were slowly gaining in popularity. Three and four-cylinder models were introduced and th emphasis was on the production of engines with the catalogues of the period stating that the Company made a speciality of re-engining under-powered cars of other makes. Maudslay was his own salesman at this time and in a letter to his mother he stated that he 'was looking forward to receiving a cheque for £35 as a deposit on a car, which would be of great assistance' and in another he said that he had secured 'three orders which would last them for some time'.
During 1905 Standard cars continued to be sold in small numbers often to members and friends of the Maudslay family. Most of the original capital had been exhausted and the financial position of the Company was none too sound, partly due to incompetence on the part of the Cashier entrusted with this work. About the beginning of 1905, Mr. John Budge, who had previously been with the Triumph Cycle Company and Climax Motors, joined the Standard Motor Company as Chief Draughtsman at a wage of £3 per week.
Budge, together with Henry Cooper, who later became Company Secretary, spent many night hours working on the accounts and found that repairs had been made to customers' cars which had never been invoiced. From the barest information which they were able to gather from those workmen who had been employed on the jobs, they prepared invoices and, in this manner, gathered together more than £500 which would otherwise have been lost.
The Standard Motor Company, along with Rolls Royce and Napier, pioneered the introduction of the six-cylinder engine to this country. The first Standard Six, of 1905, was of 18/20 horsepower which could be fitted into another vehicle or supplied as a complete chassis. It was in this year too that the first recorded export of a Standard car was arranged. A gentleman called at the factory and remarked that he had been attempting to obtain a car for immediate shipment to Canada without success. When shown one of the stock cars he bought it without delay on the understanding that it would be prepared for shipment immediately. A temporary carpenter was engaged to make a case for the vehicle and it was shipped on its way to Canada the next day.
In the same day's edition of the Midland Daily Telegraph an article headed 'Coventry Firm makes a bold bid for the foreign market' appeared. In an attempt to publicise the Company Maudslay himself decided to enter a car in the first International Tourist Trophy which was to be held on September 14th, 1905, in the Isle of Man. The course was one of four bumpy laps totalling 208 miles in all and an allowance was made to all competitors sufficient to permit them to cover 22.54 miles per gallon of petrol. Maudslay decided to enter the normal touring model rather than build a special car as favoured by most of the other competitors. The Standard, which carried the competition number 32 in the race, was a 4-cylinder 20-horsepower model which as a concession to the racing conditions was equipped with four forward gears and the top speed was known as a 'sprint gear' giving the car a top speed of 42 miles per hour at 1,200 r.p.m. The car ran very steadily and finished the course in 7 hours, 28 minutes, 2 seconds, and crossed the line 11th out of 18 finishers. (There had been 44 entrants). When the filler cap was removed from the petrol tank at the finish there were only 1.3 pints of petrol left in the tank.
This is the only occasion on which a Standard car competed in a major international motor race. The financial position of the Company was still none too stable and cars were exhibited at the Olympia Motor Show in November of that year. The stand was visited by Mr. Charles Friswell, a Motor Agent with premises in Albany Street, London. He spoke in grandiose terms of being able to take all the cars that the Standard Motor Company could produce and following a visit to Coventry it was arranged that he should become the sole distributor of Standard cars. The mainstay of this increased production was to be the 18/20 horse-power 6-cylinder car which was to be produced in quantities of not less than ten per week and a larger factory at Bishopgate Green was taken, the working capital of the Company increased, and this was further supplemented by a guaranteed overdraft which Mr. Friswell had arranged with Barclays Bank in the sum of £10,000. Even with this guarantee it was difficult to maintain the goodwill of the Company with its creditors because so much more material was needed to build this quantity of cars and of course the labour force had also been increased and on January 1st, 1906, this force amounted to 101 employees.
Despite these difficulties production went ahead and by March, 1906, a 30-horsepower 6-cylinder Standard was available, with four forward gears, at a price of £725 and at the same time a 50-horsepower model was produced for £850. In this year the Standard Motor Company made its only excursion into the realm of air-cooled engines and 'The Autocar' was able to describe, in June of that year, a 6-cylinder air-cooled engine which had been produced as the result of co-operation between the Company and a Mr. W. H. Bradburn of Wednesfield, Wolverhampton. Nothing further was heard of this interesting vehicle, or indeed of the 10 horsepower air-cooled 4-cylinder miniature Standard car which was to have been sold by an Agent named Lindsay and which was shown on the Company's stand at Olympia in November, 1906.
While Friswell, or 'Frizzy' as he was nicknamed, the showman, was busy selling Standard cars in London, Maudslay, who always shunned publicity, was quietly getting on with the job of making cars which private owners fully appreciated as providing just what a car should provide in the way of comfort and convenience. Production went steadily ahead for a number of years with the Company making 4- and 6-cylinder motor cars, now with the distinctive shouldered radiator. In order to meet the demand for the Company's products the works of Pridmore & Company, elastic web weavers, of Cash's Lane, were taken and the old Bishopgate Green works were turned over to coach-building.
In this period premises were taken in Aldbourne Road, commonly known as the Widdrington Road Works, for repairs and servicing. Late in 1908 the distinctive Union Jack Radiator Badge which was used on all Standard cars until the end of 1930 (the Union Jack motif was used in other forms after this time) was introduced. Mr. Charles Friswell became the first Chairman of the Standard Motor Co. Limited, and, a very active individual, he did all he could to popularise motoring. In June of 1909 he had arranged to provide a fleet of 20 6-cylinder 20 h.p. Standard cars for the Imperial Press Conference and they ran an aggregate of 40,000 miles without giving trouble. The reliability of the Standard car was well publicised but Friswell, now Sir Charles Friswell, planned bigger things. Sir Charles sailed to India and 'The Autocar' of April 29th, 1911, stated that 'he had succeeded in impressing the Government of India with the desirability of Standard cars under all circumstances.
Sir Charles has entered into a contract with the authorities concerned to provide all the cars necessary to the proper entertainment for the guests at the Durbar Coronation ceremonies in December next. He has also made a contract with the Vice Regal Dept. for the provision of Standard cars for the whole of the Royal Suite, and last, but assuredly not least, Sir Charles is to provide two Standard cars for the personal use of H.M. King George during the Durbar celebrations. Ten Standard lorries will be supplied for the carriage of the beaters in connection with the tiger hunting expeditions which will, of course, form part of the Royal programme, and two more for the transport of the general impedimenta. Adequately to carry out these undertakings Sir Charles contemplates the despatch of no less than 100 Standard cars to India for this purpose'. In actual fact 70 cars were sent, of six different types. The Landaulette used by King George V was a 20 h.p. six-cylinder painted Royal blue with red lines and trimmed in blue leather. The cars for the Indian Government were painted cream and upholstered in green leather. Friswell went to India to supervise the cars in person and left England for Bombay on October, 20th, 1911, on the S.S. Moria.
With him went three engineers and drivers for the King's cars and other drivers were engaged in India. The 70 Standards were divided into four fleets at Bombay, Delhi, Nepal and Calcutta. It is interesting to recall that Sir Charles Friswell is down on record as being the first man ever to arrange the sale of motor cars by auction. About this time Mr. Maudslay and Mr. Budge came into opposition with Sir Charles Friswell about the design of the cars and Friswell offered to buy Maudslay out entirely. Maudslay was naturally reluctant to part company with the firm which he had founded and decided to make a counter-offer for the shares which Friswell held.
Mr. C. J. Band, a very well-known Coventry solicitor, came on the scene and together with some other local individuals, including Mr. S. Bettmann, who became Chairman, the necessary capital was raised to buy out Friswell.
The 'light car' vogue began late in 1912 and the 10 h.p. Morris Oxford and the 10 h.p. Singer were early in the field, but the Standard Motor Company had their plans laid for this market and the Standard Model S 9.5 h.p. light car was announced on March 1st, 1913. Although termed a 'light car' it was realised that the occupants of the vehicle would not necessarily be small or light and so a commodious 2-seater body was evolved. Secondly, they considered that if the car was small and handy to drive it would be put to constant work and therefore durability and freedom from trouble were prime con-siderations. So it was decided that the Model 'S' should embody large car practice on a miniature scale at a proportionate price. A 4-cylinder monobloc engine of 1087 c.c. was chosen to power this little Standard which was advertised for sale at £185 with a three year guarantee.
It was not until August, 1913, that the first customers began to receive their long-awaited cars, but the price of £185 remained only until September 30th when it was increased to £195, the same price as the Morris Oxford. In May, 1914, a Model 'S', the only Standard entered in the R.A.C. Light Car Trial, gained a gold medal for its performance — only 8 cars finished out of 32 starters. The model was also successful overseas, notably in Ireland and in South Africa. The most popular coachwork on this chassis was called the `Rhyr 2-seater, at the basic price, but there was also the `Rhyl Special All-Weather 2-Seater' at £210 which boasted a superior cape hood, sidescreens and a two-piece windscreen, in deference to the owner-driver who required better protection. In a more sophisticated vein, the buyer could choose from 'Hurlingham Victoria' coachwork, £250, `Ranelagh' coupe or 'Richmond' fixed-head coupe, both £275, which had been shown at Olympia in November, 1913, but which, by mid-1914 were only just going into serious production.
The first production Standard commercial vehicle, based upon this chassis, was available in August, 1914, at £205 and all Standard cars were now available with 12 volt electric lighting at from £15 15s. 0d. extra. The Model 'S' represented the Standard Motor Company's first attempt at volume production and 1,933 chassis were produced up to May of 1915 when it became necessary to abandon car production and devote the entire energies of the Company to the war effort.
Reproduced from J.R Davy, 1967